Geopolitics
Geopolitical considerations have an influence on investment returns, via their impact on policy direction in the affected countries, either directly or indirectly. Geopolitical factors are, in turn, becoming increasingly driven by the direct effects of climate change.
The primary and secondary socioeconomic impacts can affect all geographies but are more pronounced in low income countries where central government finances are weak, natural disaster planning is sub-optimal and the effectiveness of institutions is uneven. Unfortunately, these are also many of the countries that are likely to experience the most serious physical impacts of climate change.
For investors, these considerations are absolutely relevant, as they will have a potentially short-term and direct impact on the cash flow generation and growth of investee companies in many countries. This implies restriction of valuation potential and hence investment returns.
Migration
There are many potential transmission mechanisms of climate change impact on investment returns, but at the simplest level it is likely to be via regulatory or taxation changes to finance palliative action or to compensate segments of society and business.
Or it could be via population movements and subsequent erosion of economic conditions. In any case, it is important to be clear-eyed about the constraints of different countries' structural positioning (sovereign financials, geo-economic strength, healthcare security, demographic challenges etc.).
This report seeks to demonstrate by the use of case studies, that geopolitical risk is driven higher by climate change-related events, which then cause ripple effects on neighbouring countries, or even countries farther afield. The case of Syria provides an illustration of a particular set of circumstances which it could be argued inflamed an already tense society living under an oppressive regime. The case of India provides an entirely different background, of a plural, established democracy currently on the path to facing significant challenges, which do not appear to be on investors' radars.
Water stress
The second theme covers water as a driver of risk of geopolitical conflict in areas where river basins lie across national borders. There is an increasing unreliability of water supplies where a combination of historically poor governance, fast population growth and changing weather patterns have conspired to drive these factors higher.
Egypt, for example, has major concerns about the Grand Renaissance Dam under construction in Ethiopia on the Blue Nile, only 40 kilometres from the Sudanese border. India and Bangladesh are similarly concerned that China's need for freshwater resource in the north of the country might one day mean that Beijing's know-how in water diversion is applied to the Brahmaputra River. What's more, Pakistan and India have not yet reached a level of comfort over the 1960 treaty covering access to the Indus river. Clearly, there are many multinational organisations working to ensure these tensions are minimised, but these concerns have not gone away.
Climate change
Climate change has a direct impact on geopolitics as well as on investment returns.
The physical impacts of climate change manifest themselves in many ways including rising air and sea temperatures, increasing sea levels, changing rainfall patterns resulting in more severe floods and droughts, and increasingly frequent extreme weather events. It exacerbates countries' structural weaknesses, such as poor sovereign financials, healthcare security, or low capacity for emergency response – extreme weather events interfere with the normal process of government policy making and become the focus for social unrest, prejudicing governance.
This also places a strain on governments' ability to deliver promises and forces policy reprioritisation. Finally, climate change can augment tensions between countries, over water, air, pollution or environmental degradation.
Climate change has a direct impact on geopolitics as well as on investment returns.
Case Study: Syria
The Syrian Arab Republic gained its independence from France in 1946. Part of the famed 'fertile crescent1', Syria has a long-established agricultural tradition.
The newly independent Syrian economy consistently aspired to be self-sufficient in staples, which led to 76%2 of the country's land being used for agriculture. This remained an important driver of the economy, accounting for3 21% of GDP and (officially) 21% of the labour force in 2005. Although the cause and effects are still contested today, it is clear that from 2006 onwards a series of consecutive droughts had a catastrophic effect on Syrian agriculture. This triggered a large-scale flow of rural populations into the cities, to escape the drought.
The coincidence of this additional strain on infrastructure with the Arab Spring in early 2010s in neighbouring countries and an existing low-intensity guerrilla war against the Damascus government tipped the country into all-out civil war. One impact of the war is the population loss – Syria now has around 16 million citizens, down from a peak of 21.3 million in 20104. In 2018, the United Nations High Commissioner for Refugees (UNHCR)5 estimated that Syrian refugees numbered 6.6 million, by far the biggest population of forcibly displaced people in the world at the time.
Total number of forcible displaced people by origin country 2018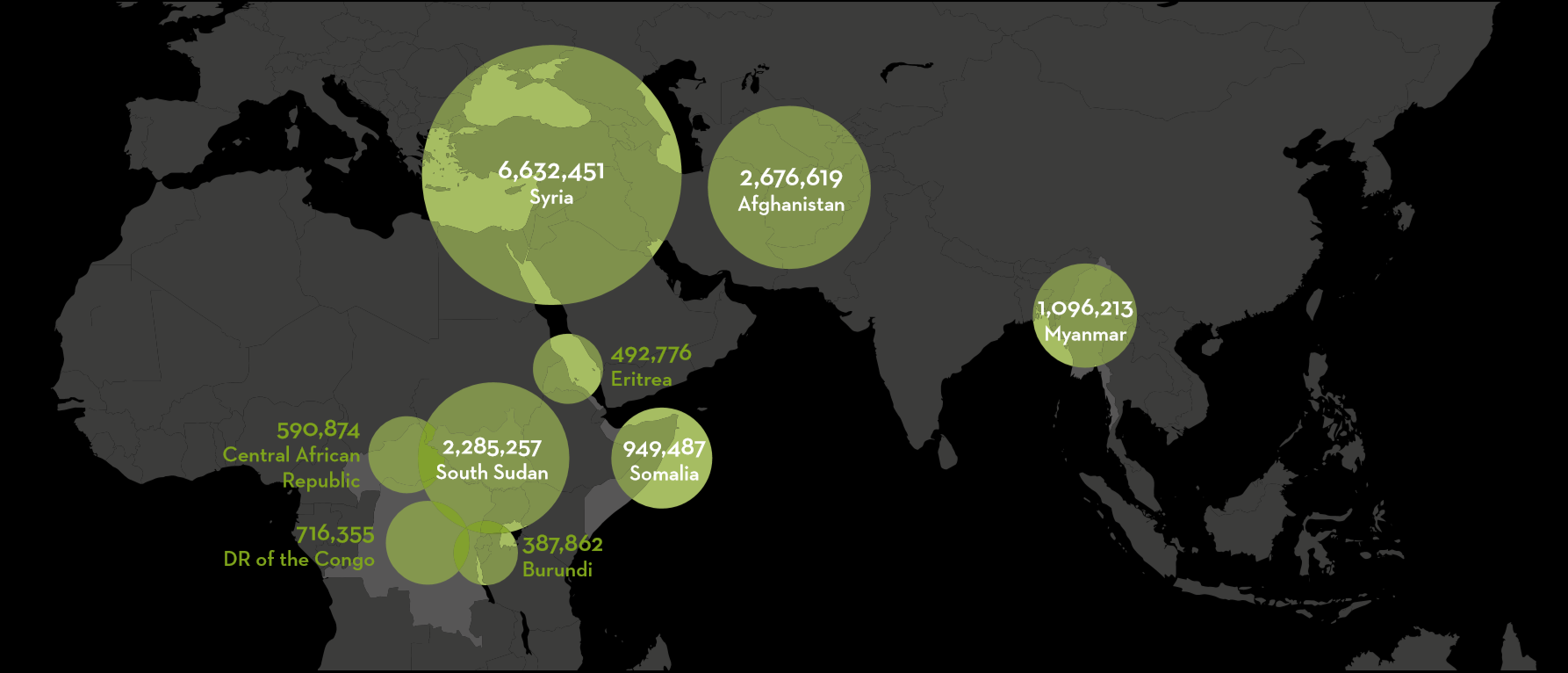 Source: Statista, UNHCR
Of the overall Syrian refugee population, 3.6 million went to neighbouring Turkey. They were welcomed there initially, as the AKP government was keen to burnish its credentials as a regional Muslim champion. Nine years later and the welcome has frayed. These people are now being pushed outwards into the EU as a mechanism of applying pressure and thereby seeking funds from member countries. Meanwhile a Turkish military ground offensive into northern Syria, if successful, will result in resettlement of the rest in the 'cleared' areas. Lebanon, a country of 6 million has taken in 944,000, Jordan, with a population of 10 million has accepted 676,000. Germany has taken in 532,000, Sweden 109,000 (all figures from the UNHCR and Statista6).
This flow of refugees, along with the many other migrants, has constituted one of the gravest challenges for the EU, resulting in some countries refusing to accept their allotted numbers and exacerbating internal tensions with Brussels. The World Bank has estimated the cost of reconstruction of Syria at up to US$41 billion7 in 2016, but that does not account for the collateral costs.
Undeniably, the geopolitical tensions in the region were there well before the Syrian Civil War began in earnest. But it is a clear example of a situation of geopolitical stress being exacerbated and broadened by climate change-related issues. Iran, Iraq, Turkey, Jordan, Lebanon and Egypt have been directly impacted, but so have the 27 members of the European Union, who were not actors in the regional drama. And finally, this situation has resulted in the entry of Russia as a powerful broker and shaper of events in the Middle East, following so fast on the heels of the US withdrawal that Russian special forces moved into camps abandoned by the US military literally within hours of their departure8.
Case Study: India
India's historic culture of the harmonious co-existence of man and nature is part of the country's heritage and of traditional practices.
This respect for all of nature is captured in the Vedas, (meaning knowledge in Sanskrit, a collection of poems written in the second millennium BCE by Indo-European peoples living in what is now Northwest India). One of these poems heads the Indian government's own Intended Nationally Determined Contribution (INDC) submission9 as part of the Paris Agreement on Climate Change: 'Unto Heaven be Peace, Unto the Sky and the Earth be Peace, Peace be unto the Water, Unto the Herbs and Trees be Peace'.10
The submission, presented in 2015, estimated the cost of delivering its INDC was US$1 trillion at the time.
India is the seventh-largest country in the world and has the second largest population – 1.35 billion in 2019, according to the World Bank. The annual growth rate of the population is 1.14% per annum and the average age is 29 years11. India has the second-lowest score in emerging markets on the World Bank's Human Capital Index, at 0.4412 out of 1.0 (the index measures the human capital that a child born today can expect to attain by his/her 18th birthday, given the risks of poor health and poor education in the country where he/she lives).
This is partly down to the high infant mortality ratio of 32/1,000 and the relatively low levels of educational achievement, as 57% of young people do not finish secondary school.
The key elements of India's climate change vulnerability are a 7,517 kilometre coastline, and a large population reliant on agriculture, forestry and fishing which contributes 14.6%13 to India's GDP, but employs 43.21% of the country's workforce. Fishing specifically accounts for 20% of all agricultural exports and employs over 14 million people, according to the country's National Fisheries Board14.
More importantly, the agricultural sector accounted for over 39% of male employment in 2019. This is particularly relevant in India because the country has the worst gender imbalance in the world, with 107 males to 100 females15. What this means is that approximately 4.5 million young men with only basic education join the job market, with inevitably low chances of a decent job, or of starting a family.
Heatwaves have become more frequent in India. The definition of the conditions that must be met to qualify for the term is set by the Indian Meteorological Department. It stipulates that there must be consecutive days of at least 40ºC in the plains, 37ºC in the coastal regions and 30ºC in the hilly regions. The consequences of heatwaves include lower (agricultural) productivity, increased heat-stress and increased mortality.
According to the country's Meteorological Department16, the average frequency of heatwaves was 8.5 per annum until 1999. From 2000 onwards, that annual frequency jumped to 74, with an especially brutal rise in 2017, which recorded 524, followed by 484 in 2018. The official numbers are not yet out for 2019, but it is estimated that 65% of the population were impacted by heatwaves last year, including the longest duration heatwave on record, reaching 48ºC in Delhi in June17, a record for that month.
Source: NASA Earth Observatory
Heatwaves are projected to increase in frequency, duration and intensity in the future, at least partly due to the lower regularity of pre-monsoon showers, which are valuable in bringing moisture to the country.
Another phenomenon is that the monsoon season itself is arriving later and further south than the long-term frequency rate suggests. If this trend of higher temperatures and lower rainfall continues, the adverse impact on agriculture and on food supply is very clear, not to mention the human cost as it has averaged 631 heat-related deaths18 per annum in the five years from 2014 to 2018. Putting all that together with the sectarian divide (around 200 million Indian citizens are Muslim19, the gender imbalance and the low educational attainment, there would seem to be significant potential for social unrest and/or emigration.
If Indians decide to emigrate, affordability and religious affiliation are key. For those who can afford the fee of US$40,000 (estimated as the going rate) to be smuggled illegally into the United States, there are flights to Europe or Central America and then Mexico to negotiate first. The US Border Patrol statistics20 bear this out: over the last decade, the numbers of Indian citizens who are apprehended trying to enter the US illegally has been growing steadily at a rate of 38% to reach 8,027 in 2019. In the UK, the immigration statistics21 are older (year end March 2019), showing only 1,855 Indian citizens arrested for attempted illegal entry.
For Muslims, Pakistan to the west, or Bangladesh to the east might appear to be potential destinations, but both are poor countries with relatively weak economies, facing the same if not worse challenges from climate change. The traditional route would be west to the Gulf States and Saudi Arabia but there are problems there too, especially in the matter of personal security and individual rights, amplified during the COVID-19 pandemic. China to the northeast, is simply not an option. Myanmar has an ethnic Indian population estimated at 3 million, which may or may not constitute a draw. What follows is less easy to predict.
If this trend of higher temperatures and lower rainfall continues, the adverse impact on agriculture and on food supply is very clear...
Water
The idea of geopolitical tensions increasing over water is not new.
To date, we have not seen full-scale war being waged over access to water, as most disputes over the resource seem to be domestic. But for many areas of the world, the conditions are set for a potential conflict. The EU's Science Hub has used a machine-learning approach to identify the factors that contribute to conflict and the results are published in a report22 identifying the hotspots for potential transnational water disputes in the world, focusing first on those geographies where water scarcity in shared resources such as river basins is being felt already.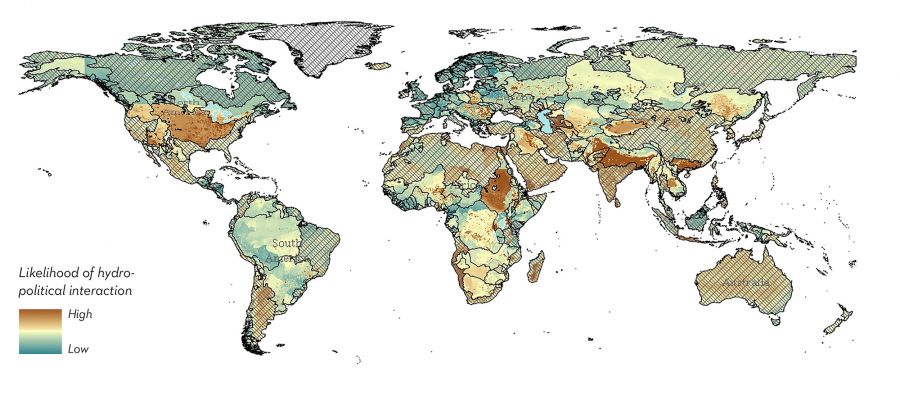 Source: An innovative approach to the assessment of hydro-political risk: a spatially explicit, data driven indicator of hydro-political issues – 2018 F. Farinosi, C. Giupponi, A. Reynaud, G. Ceccherini, C. Carmona-Moreno, A. De Roo, D. Gonzalez-Sanchez, G. Bidoglio.
The study has set out a series of tools designed to help policymakers calibrate their responses, including an index and a model which complements the United Nations Sustainable Development Goals23 (SDG) indicator '6.5.2 Proportion of transboundary basin area with an operational arrangement for water cooperation'.
The conclusions point to the combined effect of climate change and population growth increasing the likelihood of water-related tensions by between 75% and 95%, unless the level of preparation and engagement by the countries concerned can result in significant alleviation measures.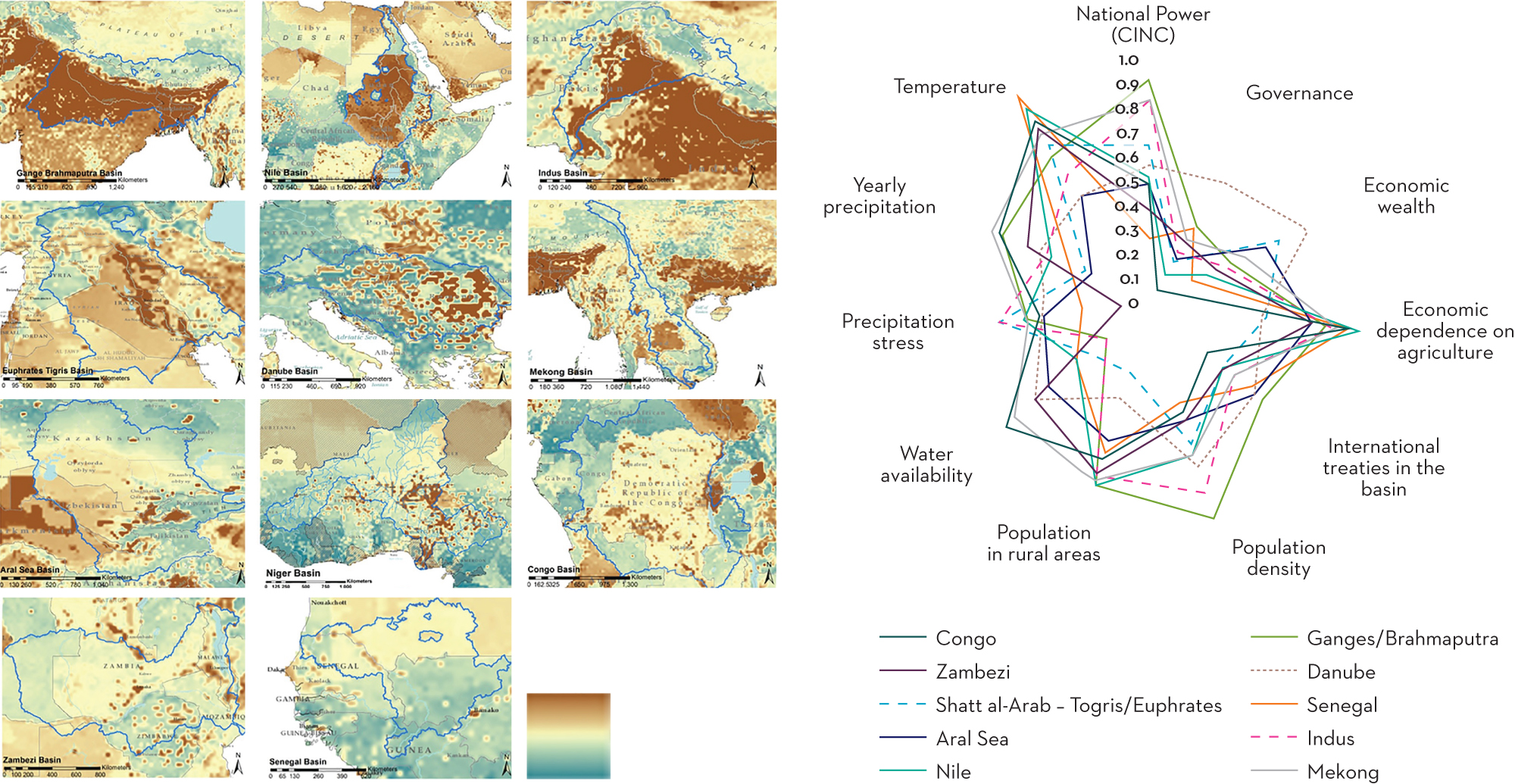 Source: An innovative approach to the assessment of hydro-political risk: a spatially explicit, data driven indicator of hydro-political issues – 2018 F. Farinosi, C. Giupponi, A. Reynaud, G. Ceccherini, C. Carmona-Moreno, A. De Roo, D. Gonzalez-Sanchez, G. Bidoglio.
The most vulnerable areas are around the Nile, Ganges-Brahmaputra, Indus and the Tigris-Euphrates According to the report, on a scale of 0-1, where 0 = minimum and 1.0 = maximum risk, the basins rank as follows: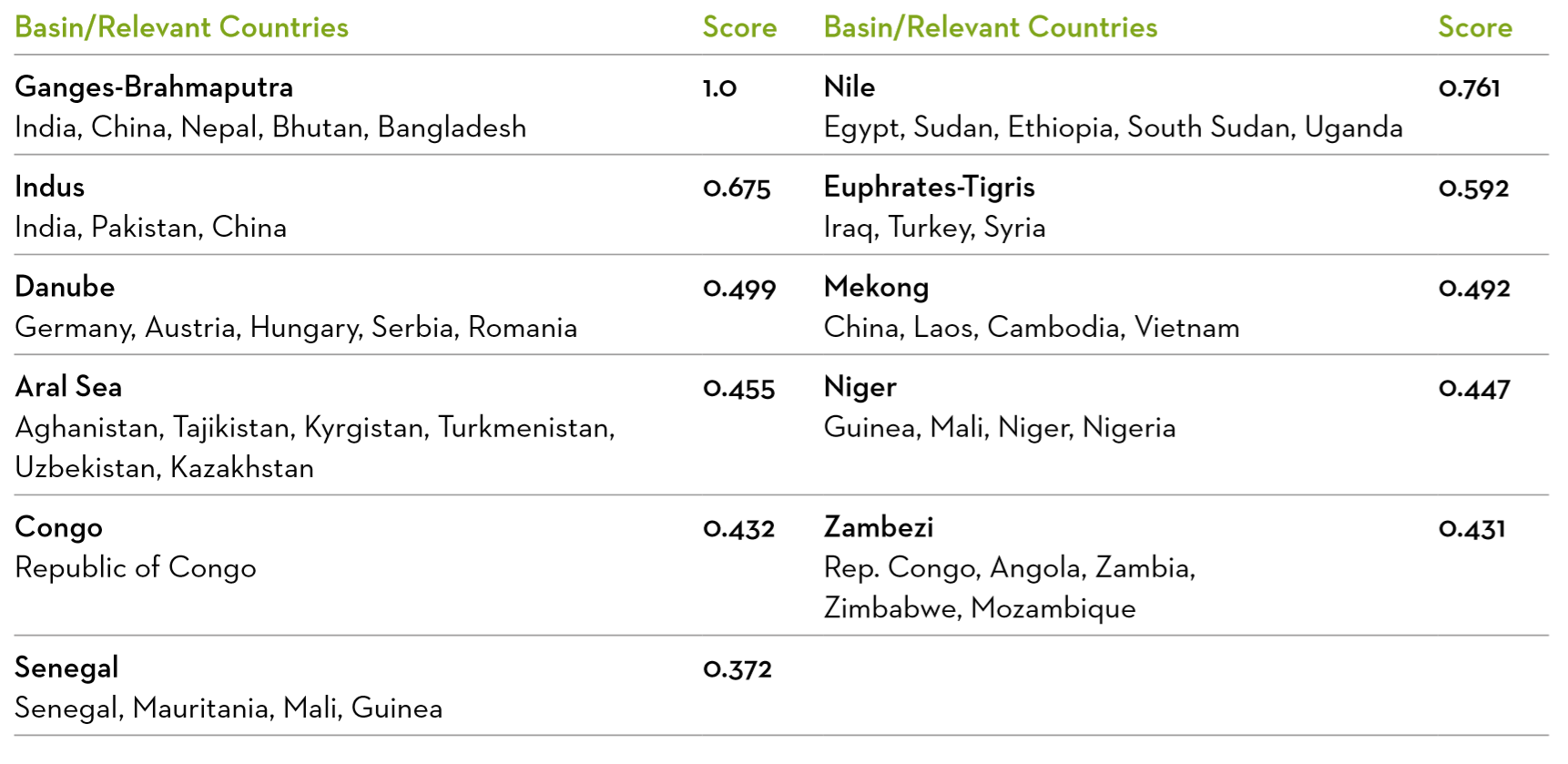 The Nile Delta basin rating is driven by the high potential for water scarcity issues, where it seems likely that there will be shortages in densely populated areas; this alongside the likely impact of rising sea levels. In the case of the Ganges-Brahmaputra Basin, which has the highest rating at 1.0 and the Indus (0.675), the key factors are low governance, high population density, physical water stress and an almost complete dependence on agriculture. India has two of the three highest-rated flashpoint areas in the report, one of which it shares with Pakistan, a country it has fought two wars and a number of limited conflicts with already since Partition. This unhappy history will hopefully prioritise engagement and agreements around water use.
The Future
The debate around climate change has so far resulted in widespread acceptance of the risks (and opportunities) for investment outcomes.
The direct impact that climate change has on geopolitics is less well known and accepted, probably because of the relatively sparse research on the subject. That makes it critical to investigate the links and causality, using real world examples. I have chosen Syria as the example of how badly things can spiral out of control when geopolitical, sectarian and socioeconomic tensions are literally inflamed by climate change-induced shocks.
India represents a good example of a high-profile, functioning plural democracy. But like all countries, it has economic and social weaknesses, which could be exacerbated by climate change-related shocks. Ultimately, as the negative impacts of climate change continue to raise the obstacles to living a normal life in certain low-income countries, the 'weaponisation' of migrants will be the main driver of an escalation of geopolitical tension around the globe.
Climate change has failed to hold the attention of many of the main players in world geopolitics, so there has been a singular lack of prioritisation and tangible cooperation. COVID-19 could have acted as a catalyst for greater cooperation across competing powers, all facing the common enemy.
Unfortunately, it hasn't so far. If the two biggest economic powers cannot reach an accommodation at a time of global pandemic, then all the other countries are left in the lurch, forced to band closer together to defend their common interests (like the Europeans) or fend for themselves in an increasingly tougher, Hobbesian world. Every dormant or low-intensity geopolitical stress point on the planet will now become more amplified. Effectively, this means everyone will feel free to ratchet up his/her own priority list.
For most countries, there are sources of geopolitical or even existential risk that have lain dormant for over 70 years and are reawakening now. Foremost among these is of course the US–China confrontation, but there is a myriad of other, less widely reported, from the South China Sea to the jungles of South America.
Conclusion
There is no doubt that geopolitical concerns drive economic, foreign and defence policy and consequently are instrumental in shaping investment outcomes over the longer term. Climate change is a powerful influence on geopolitics, as it can drive rapid and radical structural changes in the economy and the demographics of affected countries, creating ripple effects on neighbours and others with linkages, with mostly irreversible results.
A country's ability to deal effectively with these risk factors is dependent on its structural positioning (sovereign financials, geo-economic strength, healthcare security, demographic challenges, etc), the calibre of its technocratic planning and its government's ability and willingness to execute decisively.
For long-term investors like ourselves, it is very important that these considerations are pragmatically considered, but it does not drive investment decisions per se. Rather they serve to build a clear-eyed view of the limits of policymaking and the country risks implicit in company investment, whether via equity or fixed interest.
---
Regulatory information and risk warnings
This information is issued and approved by Martin Currie Investment Management Limited ('MCIM'). It does not constitute investment advice. Market and currency movements may cause the capital value of shares, and the income from them, to fall as well as rise and you may get back less than you invested.
The information contained in this presentation has been compiled with considerable care to ensure its accuracy. But no representation or warranty, express or implied, is made to its accuracy or completeness.
This document has been prepared for professional investors, it is intended for the recipient only and may not be distributed to third parties. The document does not form the basis of, nor should it be relied upon in connection with, any subsequent contract or agreement. It does not constitute, and may not be used for the purpose of, an offer or invitation to subscribe for or otherwise acquire shares in any of the products mentioned.
Past performance is not a guide to future returns.
Martin Currie has procured any research or analysis contained in this document for its own use. It is provided to you only incidentally, and any opinions expressed are subject to change without notice.
The views expressed are opinions of the portfolio manager as of the date of this document and are subject to change based on market and other conditions and may differ from other portfolio managers or of the firm as a whole. These opinions are not intended to be a forecast of future events, research, a guarantee of future results or investment advice.
For institutional investors in the USA:
The information contained within this presentation is for Institutional Investors only who meet the definition of Accredited Investor as defined in Rule 501 of the United States Securities Act of 1933, as amended ('The 1933 Act') and the definition of Qualified Purchasers as defined in section 2 (a) (51) (A) of the United States Investment Company Act of 1940, as amended ('the 1940 Act'). It is not for intended for use by members of the general public.
For wholesale investors in Australia:
This material is provided on the basis that you are a wholesale client within the definition of ASIC Class Order 03/1099. MCIM is authorised and regulated by the FCA under UK laws, which differ from Australian laws.