We have seen how the internet has disrupted many industries, none more so than the media industry. The impact has been felt most by newspaper publishers, but the once powerful TV broadcasters haven't escaped either.
TV audiences have been declining for decades, but this seems to have accelerated in recent years given the increased popularity of Subscription Video-on-Demand (SVoD) services.
The saving grace for the broadcast TV industry may lie in improving their own advertising-funded Video-on-Demand (AVoD) offerings.
Broadcast TV at risk of becoming a 'niche' product in a crowded SVoD market
One of the reasons for the popularity SVoD services such as Netflix is the convenience. The fact that you can watch what you want, when you want, where you want, has resonated highly with audiences.
Audiences have also demonstrated a wiliness to pay for this convenience in an advertisement-free format. As a result, Netflix has emerged from being a DVD reseller to become a media/entertainment juggernaut.
On the heels of Netflix are an increasing number of SVoD products in the Australian market:
local service STAN (owned by Nine Entertainment);
Foxtel Now and Kayo Sports (Telstra and News Corp)
Amazon Prime (Amazon);
AppleTV (Apple);
the recently launched Disney+ (The Walt Disney Company); and
a range of other minor offerings.
How many is one subscription fee too many?
The proliferation of subscription services is starting to raise questions about how many streaming services is enough for a household and when does the cost become a burden given the A$10-$15 cost per month per service?
Surveys of households across several countries seems to suggest that households max out at about three SVoD services1.
Free to view AVoD could have a place, with improved content
With audience appetite for more content, the opportunity is open for other models to provide an alternative to disrupt the SVoD model.
Advertising-funded video-on-demand service (AVoD), also known as Broadcaster Video on Demand (BVoD), has the same convenience as SVoD but it is free for the viewer – funded by advertising.
In Australia, each of the free-to-air channels has an AVoD / BVoD offering:
iView (ABC)
On Demand (SBS)
7Plus (Seven West Media)
9Now (Nine Entertainment),
TenPlay (Ten Network Holdings).
However, all of these platforms are mostly catch-up services and back catalogues of shows on conventional broadcast TV, rather than an offering of new and unique content.
AVoD can provide the data that advertisers crave
Broadcast TV as an advertising medium has also been challenged by online and social media platforms, with Google and Facebook taking billions of advertising dollars away from traditional media.
The advantage that Facebook and Google have had over traditional media is around data and technology. Online platforms have long been able to collect data on audiences, package it up, segment it and sell it to advertisers. Combine this with slick technology that makes the process of buying an audience easy, Facebook and Google have captured billions in advertising dollars.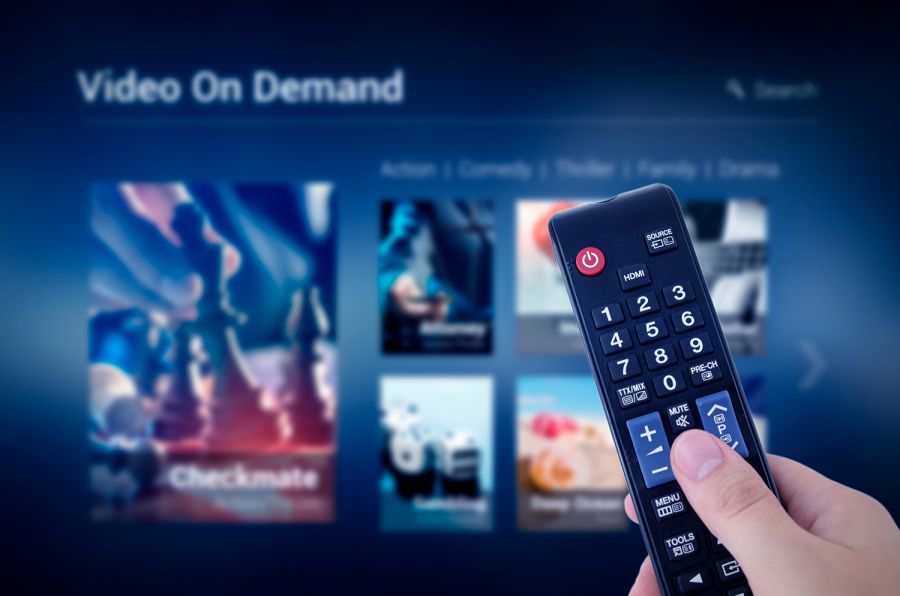 Broadcast TV has not been able to match this capability, because it can't collect data to the same extent. AVoD can now challenge the advantage that Google and Facebook have been enjoying for years.
Watching TV online, either live or by catch-up, has allowed the broadcast TV industry to be able to start collecting audience data. The email address supplied upon setting up an account becomes a unique identifier to that viewer.
When combined with collated data from third party suppliers, Broadcast TV companies can begin to build up profiles on audiences. This allows them to segment an audience of like-minded individuals and provide this to advertisers who want to market their product or service.
Traditional media is making gains in the data race
For an advertiser, the added advantage that a diversified media company such as Nine Entertainment has over online only players is the ability to sell across all of its broadcast TV, publishing, online and radio assets. Nine also has a growing database of ~11 million users across these assets 2.
The improvements that media companies are making in technology also extends to making it easier for ad buyers to buy advertising, further levelling the playing field from a data and technology perspective.
Engagement with advertising on AVoD is likely higher than social media
The appetite for more content, opens the opportunity for other models to disrupt the SVoD model.
As any Facebook user knows, most people probably only spend about one second looking at ads in their news feed. Similarly, very few users will watch a video ad on Facebook to the end. This means advertisers are not really getting the bang for their advertising buck online.
Up until recently there has been little alternatives for advertisers to participate in the hype of online advertising beyond Google and Facebook, but data on AVoD engagement is promising3. Surveys also suggest that viewers are increasingly willing to watch ads to avoid having to pay a subscription fee4.
Can AVoD save the broadcast TV industry?
Only time will tell, but we think at least it will help to dispel the idea that broadcast TV is a spent advertising medium.
People are still watching TV but they are watching it in different ways. The broadcast TV industry has been, arguably, a bit slow to react to this change but now seem to be catching up, adjusting operating models to better deal with this evolution of viewing habits.
The broadcast TV industry probably won't ever return to its pre-internet glory days, but the ability to still deliver a large and targeted audience in the internet age via AVoD remains valuable for advertisers wanting to build brands. Robust data should help put it on the same level playing field as the internet giants.
TV is dead, long live AVoD TV.
The information provided should not be considered a recommendation to purchase or sell any particular security. It should not be assumed that any of the security transactions discussed here were, or will prove to be, profitable.
1Source: Bank of America Global Research 4Q19 Streaming survey
2Source: Nine Entertainment company reports, aggregate of user on 9Now, The Sydney Morning Herald, The Age, The Australian Financial Review, Domain, Pedestrian Group and Car Advice
3Source: Deloitte, Media Consumer Survey 2019
4Source: Nine Entertainment company report, H1FY20 results presentation
---
Regulatory information and risk warnings
Past performance is not a guide to future returns
This information is issued and approved by Martin Currie Investment Management Limited ('MCIM'). It does not constitute investment advice. Market and currency movements may cause the capital value of shares, and the income from them, to fall as well as rise and you may get back less than you invested.
The analysis of Environmental, Social and Governance (ESG) factors form an important part of the investment process and helps inform investment decisions. The strategy does not necessarily target particular sustainability outcomes.
The opinions contained in this recording are those of the named manager. They may not necessarily represent the views of other Martin Currie managers, strategies or funds. These opinions are not intended to be a forecast of future events, research, a guarantee of future results or investment advice.
The information contained has been complied with considerable care to ensure its accuracy. However, no representation or warranty, express or implied, is made to its accuracy or completeness. Martin Currie has procured any research or analysis contained in this recording for its own use. It is provided to you only incidentally and any opinions expressed are subject to change without notice.
The information provided should not be considered a recommendation to purchase or sell any particular security. It should not be assumed that any of the security transactions discussed here were, or will prove to be, profitable.