Significant positive change
These trends have given rise to some truly world-class companies that are benefiting, not only from the higher economic growth found within emerging markets but in many cases are leading the way in a global marketplace.
There are a number of shorter-term factors that we feel could increase the attraction of emerging markets this year
This exciting new breed of companies exists in many areas including: Taiwanese technology, South Korean cosmetics, Russian fintech and Chinese internet-related businesses. Whilst these companies represent a new face of emerging markets, there are also many longer established companies operating in domestic markets who are benefitting from strong consumption trends and structural reforms.
Why invest now
Emerging markets have long represented an attractive investment opportunity and this has not gone unnoticed. The trends outlined above have been developing over many years and we believe that investors will increasingly be attracted to the new breed of sustainable growth opportunities in emerging markets.
There are however, a number of shorter-term factors that we feel could increase the attraction of emerging markets this year.
Attractive valuations:
The price to book valuation of the MSCI Emerging Markets Index is trading at close to its 15-year low relative to the MSCI World Index.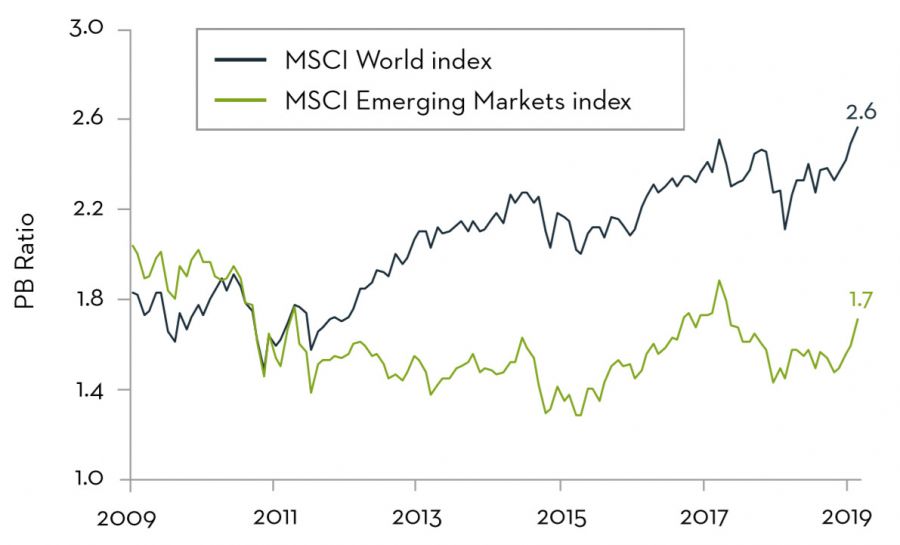 Past performance is not a guide to future returns
Source: Bloomberg and MSCI as at 31 December 2019. MSCI makes no express or implied warranties or representations and shall have no liability whatsoever with respect to any MSCI data contained herein. The MSCI data may not be further redistributed or used as a basis for other indexes or any securities or financial products. This report is not approved, reviewed or produced by MSCI.
Low interest rates:
Almost all emerging market central banks lowered interest rates in 2019 and this trend has continued in 2020. We expect this will promote higher economic activity in 2020 and beyond.
Economic rebound:
We believe many emerging market economies will see an uptick in growth in 2020. In some cases, such as Russia, South Africa and Turkey this represents a rebound after years of subdued growth.
Earnings acceleration:
We expect an earnings acceleration across emerging markets in 2020. The associated growth rate is also expected to be higher than for developed markets and this may be a key catalyst in closing the valuation gap between the two asset classes.
Fewer headwinds:
Emerging market investors have faced a multitude of headwinds in recent years in the form of trade wars, recession fears, a crowded electoral calendar, dollar strength and reminbi weakness. Whatever the future holds, these particular challenges appear to have settled for now.
Accessing emerging markets in the right way can make a significant difference to any investment strategy. We firmly believe our high conviction, stock driven approach is the best way to benefit from the positive developments taking place in emerging markets.
---
Regulatory information and risk warnings
Past performance is not a guide to future returns.
This information is issued and approved by Martin Currie Investment Management Limited (MCIM), authorised and regulated by the Financial Conduct Authority. It does not constitute investment advice. Market and currency movements may cause the capital value of shares, and the income from them, to fall as well as rise and you may get back less than you invested.
The information contained in this document has been compiled with considerable care to ensure its accuracy. But no representation or warranty, express or implied, is made to its accuracy or completeness. Martin Currie has procured any research or analysis contained in this presentation for its own use. It is provided to you only incidentally, and any opinions expressed are subject to change without notice.
The views expressed are opinions of the portfolio managers as of the date of this document and are subject to change based on market and other conditions and may differ from other portfolio managers or of the firm as a whole. These opinions are not intended to be a forecast of future events, a guarantee of future results or investment advice.
This document has been prepared for professional investors, it is intended for the recipient only and may not be distributed to third parties. The document does not form the basis of, nor should it be relied upon in connection with, any subsequent contract or agreement. It does not constitute, and may not be used for the purpose of, an offer or invitation to subscribe for or otherwise acquire shares in any of the products mentioned.
The information provided should not be considered a recommendation to purchase a particular strategy / fund or sell any particular security. It should not be assumed that any of the security transactions discussed here were or will prove to be profitable.
For investors in Australia, this material is provided on the basis that you are a wholesale client within the definition of ASIC Class Order 03/1099. MCIM is authorised and regulated by the FCA under UK laws, which differ from Australian laws.
Risk warnings – Investors should also be aware of the following risk factors which may be applicable to the strategy shown in this document.
Investing in foreign markets introduces a risk where adverse movements in currency exchange rates could result in a decrease in the value of your investment.
This strategy may hold a limited number of investments. If one of these investments falls in value this can have a greater impact on the strategy's value than if it held a larger number of investments.
Smaller companies may be riskier and their shares may be less liquid than larger companies, meaning that their share price may be more volatile.
Emerging markets or less developed countries may face more political, economic or structural challenges than developed countries.
Accordingly, investment in emerging markets is generally characterised by higher levels of risk than investment in fully developed markets.
The strategy may invest in derivatives LEPWs (Low Exercise Price Warrants), Index futures and FX forwards to obtain, increase or reduce exposure to underlying assets. The use of derivatives may result in greater fluctuations of returns due to the value of the derivative not moving in line with the underlying asset. Certain types of derivatives can be difficult to purchase or sell in certain market conditions.