Challenging a bad reputation
The mining industry has earned a bad reputation for its environmental and social impact, but our in-depth research has found that not all miners, and minerals, should be tarred with the same brush.
Environmentally mining is disruptive of physical geography, destroying natural landscapes and contributing to noise, dust and greenhouse gas pollution. The discharge of mining waste can also lead to contamination of land, rivers and groundwater.
Fresh water usage is also an important factor in the mining process and mining activity can have a significant impact on surrounding communities through water deprivation.
More obvious social risks relate to the treatment of contract workers in the sector who are often sourced from local communities. They work in physically high-risk conditions and are often at risk of unfair labour agreements or modern slavery.
It is vitally important for companies in this sector to address these risks if they seek to achieve sustainable growth and profitability. Fortunately, there are some Latin American copper miners who are challenging the industry's negative stereotype by making a positive contribution to society whilst striving for best-in-class sustainable working practices.
This enables us to gain exposure to an important industry while avoiding those companies which fail to mitigate environmental and social impact risks.
Investing in sustainability via copper
As a result of our rigorous environmental, social and governance (ESG) research, Global Emerging Markets portfolios have longstanding exposure to the mining sector, through investment in Latin American copper producers – initially Southern Copper and, more recently, Antofagasta.
Latin America is particularly rich in copper deposits. As one of the most important industries in the region, copper mining can bring employment and prosperity to local communities hand-in-hand with the aforementioned risks.
Additionally, copper is a key component in the theme of electrification and the global move toward decarbonised forms of energy (away from fossil fuels).
More than any other core mineral identified by the World Bank and summarised in the table below, copper is a critical resource for many low-carbon technologies. It is one of only four of the identified 17 with uses in eight or more low-carbon technologies and itself is the most widely used across them. These include wind, solar, hydro, geothermal, energy storage and nuclear, as well as helping to connect these technologies to our homes and other establishments.
Mapping of Minerals in Low-Carbon Technologies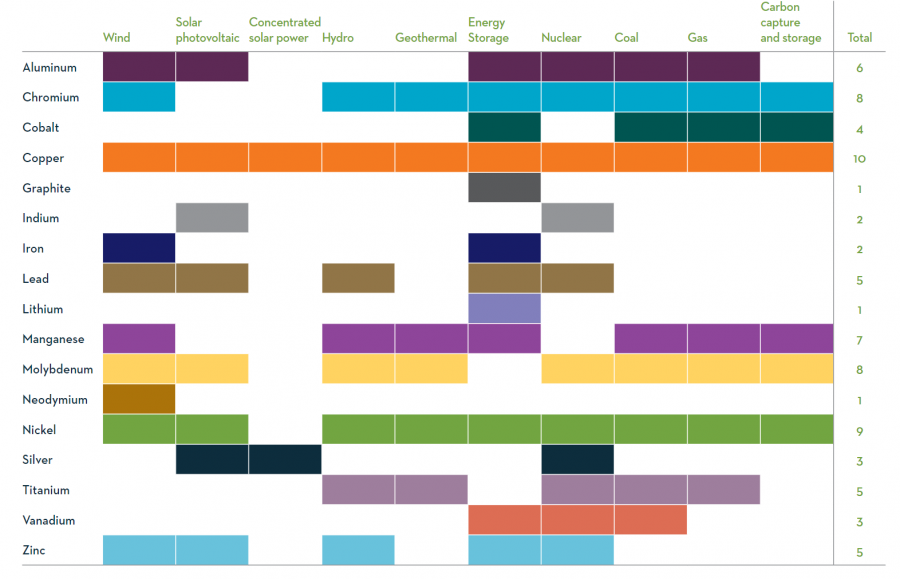 Source: Martin Currie and World Bank, 'Minerals for Climate Action' (2020), p.37.
Searching for a best-in-class copper producer
In a review of the mining sector at the start of 2021, we reconfirmed our positive view on the outlook for copper demand but also identified what we believe is a more attractive company through which to achieve portfolio exposure. This led us to exit our position in Southern Copper, held in our portfolios since 2014, in favour of an investment in Antofagasta.
Southern Copper is a mining company headquartered in Mexico with mine sites in Mexico and Peru. Our decision to exit this investment was based on both valuation and ESG characteristics.
From a valuation perspective, the company no longer appeared undervalued relative to its own trading history or against its materials sector peers.
From an ESG perspective our analysis highlighted that, despite improvement in recent years, the company's management of labour relations and environmental risk still left the company exposed to material risk.
Antofagasta's primary business is mining and processing copper in Chile. While many of the environmental and social risks are consistent with those of Southern Copper, our analysis showed that Antofagasta's approach to managing these ESG risks was best-in-class.
Antofagasta has a history of good relations with contractors (around 75% of the operations workforce) and it recognises employees' right to union membership. Its mining operations have 11 unions covering the vast majority of employees and last year the company successfully negotiated five labour agreements without any strikes.1
However, where the company stands out most is in its management of water and associated risks.
As one of the most important industries in the region, copper mining can bring employment and prosperity to local communities.
Rehydrating local communities
The impact of water deprivation and contamination on local communities is an important negative social risk for copper miners.
Antofagasta has addressed this risk by making use of desalinated sea water instead of fresh water, reducing the share of fresh water used in its mining process and minimising water impact on local communities. It is currently expanding its desalination capacity, with completion of an additional plant at Los Pelambres targeted for the end of 2022. We anticipate that the next mining expansion phase of Los Pelambres will also be served by desalinated water, requiring further desalination capacity by 2026.
Antofagasta has a long history of risk awareness and responsible management, reflected in its sustainability reporting which explicitly addresses areas such as climate risk and its commitment to the Sustainable Development Goals. Its success in reducing fresh water consumption is demonstrated by its fresh water withdrawal intensity being more than a third lower than its peer group average. Its most recent sustainability report confirms that half of the water consumed in its operations is sourced from the sea, with the aim to increase this to 90% by 2025.2
The company has equally ambitious plans to source its electric power needs entirely from renewable sources, part of its commitment to cut greenhouse gas emissions by 30% by 2025 and achieve carbon neutrality by 2050.3
The road ahead
Forecast electric vehicle battery demand worldwide 2020-2050
Source: Statista and The Faraday Institution, Faraday Insights - Issue 6 Update: June 2020. page 2
Antofagasta's recently lowered production guidance for 2022 is a reminder of the climate challenges that await the copper industry as it seeks to meet rising demand. As the winter rainy season in Chile finished with almost no rainfall, the company lowered its production guidance for 2022 by as much as 10% versus previous expectations.4 While this is impacting Antofagasta's near-term growth, the company's expansion of desalination plant capacity should support long-term sustainable growth of production at Los Pelambres.
With copper demand estimated to increase by 50% in the next 20 years5, we anticipate that a sustainable copper miner such as Antofagasta should stand to benefit. The increased consumption of electronics, the proliferation of electric vehicles and the increased use of renewable energy sources will all be supportive of demand. The projected growth of electric vehicle batteries alone, as shown in the adjacent chart, is staggering.
By reallocating funds from Southern Copper to Antofagasta, we not only continue to have exposure to an industry at the heart of the clean energy transition, but we also align our client funds to the most sustainable mining practises. In this way we are acting in line with our corporate purpose - Investing to Improve Lives ™.
---
Regulatory information and risk warnings
This information is issued and approved by Martin Currie Investment Management Limited ('MCIM'), authorised and regulated by the Financial Conduct Authority. It does not constitute investment advice. Market and currency movements may cause the capital value of shares, and the income from them, to fall as well as rise and you may get back less than you invested.
The information contained in this document has been compiled with considerable care to ensure its accuracy. However, no representation or warranty, express or implied, is made to its accuracy or completeness. Martin Currie has procured any research or analysis contained in this document for its own use. It is provided to you only incidentally and any opinions expressed are subject to change without notice.
This document may not be distributed to third parties. It is confidential and intended only for the recipient. The recipient may not photocopy, transmit or otherwise share this document, or any part of it, with any other person without the express written permission of Martin Currie Investment Management Limited.
This document is intended only for a wholesale, institutional or otherwise professional audience. Martin Currie Investment Management Limited does not intend for this document to be issued to any other audience and it should not be made available to any person who does not meet this criteria. Martin Currie accepts no responsibility for dissemination of this document to a person who does not fit this criteria.
The document does not form the basis of, nor should it be relied upon in connection with, any subsequent contract or agreement. It does not constitute, and may not be used for the purpose of, an offer or invitation to subscribe for or otherwise acquire shares in any of the products mentioned.
Past performance is not a guide to future returns.
The distribution of specific products is restricted in certain jurisdictions, investors should be aware of these restrictions before requesting further specific information.
The views expressed are opinions of the portfolio managers as of the date of this document and are subject to change based on market and other conditions and may differ from other portfolio managers or of the firm as a whole. These opinions are not intended to be a forecast of future events, research, a guarantee of future results or investment advice.
Please note the information within this report has been produced internally using unaudited data and has not been independently verified. Whilst every effort has been made to ensure its accuracy, no guarantee can be given.
The information provided should not be considered a recommendation to purchase or sell any particular strategy/fund/security. It should not be assumed that any of the securities discussed here were or will prove to be profitable.
The analysis of Environmental, Social and Governance (ESG) factors forms an important part of the investment process and helps inform investment decisions. The strategy do not necessarily target particular sustainability outcomes.
Risk warnings – Investors should also be aware of the following risk factors which may be applicable to the strategy shown in this document.
Investing in foreign markets introduces a risk where adverse movements in currency exchange rates could result in a decrease in the value of your investment.
This strategy may hold a limited number of investments. If one of these investments falls in value this can have a greater impact on the strategy's value than if it held a larger number of investments.
Smaller companies may be riskier and their shares may be less liquid than larger companies, meaning that their share price may be more volatile.
Emerging markets or less developed countries may face more political, economic or structural challenges than developed countries. Accordingly, investment in emerging markets is generally characterised by higher levels of risk than investment in fully developed markets.
For institutional investors in the USA:
The information contained within this presentation is for Institutional Investors only who meet the definition of Accredited Investor as defined in Rule 501 of the United States Securities Act of 1933, as amended ('The 1933 Act') and the definition of Qualified Purchasers as defined in section 2 (a) (51) (A) of the United States Investment Company Act of 1940, as amended ('the 1940 Act'). It is not for intended for use by members of the general public.
For wholesale investors in Australia:
This material is provided on the basis that you are a wholesale client within the definition of ASIC Class Order 03/1099. MCIM is authorised and regulated by the FCA under UK laws, which differ from Australian laws.