Using the same framework of analysis that we set ourselves at the end of 2018, we comment on our areas of focus, the risks we are seeing, and what we think the market is missing for the rest of 2019 and beyond.
SUMMARY
Areas of focus in 2019
Attractive long-term trends in our three mega-themes
(i) demographic change,
(ii) future of technology and;
(iii) resource scarcity, all highlight attractive opportunities for investors.
The risks in 2019
Geopolitical risks are increasing – notably with ongoing trade tensions between the US / China, and the US / EU, a higher chance of a no-deal Brexit and the risk of armed conflict with Iran.
Macro-economic momentum is weakening but monetary policies are supportive for markets – monetary policies are turning more dovish again, providing some support for economies and markets, potentially heading towards a global synchronised rate easing cycle again.
Style rotation likely to become a key talking point – the valuation spread between the Quality and Value styles has reached extremes. Whilst a short-term adjustment is more likely, it is difficult to time and it will in part be dictated by monetary policies.
What the market is missing
Pricing power remains a key focus – growing concern about the lack of inflationary pick up highlights the need for companies to focus on pricing power.
Recession risk still low for now – we are in the later stages of the cycle, but this could last for another two to three years before we see a material increase in risk of recession (although somewhat dependent on whether the trade tensions flare up further). As we said before, it isn't a risk of recession that the market should be focusing on, but rather the shape of any recession.
China is unlikely to hard-land – given supportive policies to ensure its GDP growth is >6%.
M&A will continue to provide support – so far this year, there has been sustained activity both in M&A and IPOs, providing some support to the markets.
And finally – two predictions for the latter end of 2019:
An earnings recession is upon us – with ongoing risk of downgrades to consensus earnings estimates from current levels which have already been brought down sizeably since the start of the year.
Brexit could be delayed (again) – based on the assumption that a rational outcome prevails, but it will mean an ongoing negative outcome for the UK economy given the prolonged uncertainty.
Our area of focus for the remainder of 2019 (and beyond)
Unsurprisingly given our long-term time horizon, our focus remains on the long-term trends that will shape economies and markets, which are centred around three mega-trends, namely (i) demographic change, the (ii) the future of technology and (iii) resource scarcity.
Demographic change remains an important focus for us, both in terms of ageing population trends, urbanisation drivers, ongoing growth in the emerging markets middle-class, healthy living and vanity. All of these trends are very apparent, and there are exciting ways to gain exposure to them for the long term.
The future of technology is a fascinating trend, one that is showing some explosive under-currents, both in terms of cyber security, outsourcing, gaming and bespoke healthcare opportunities – specifically robotics and AI (artificial intelligence) deployed to the healthcare industry at large. We have been focusing some of our research work on continuing to analyse disruptive threats coming from adjacencies of some of the US technology giants, as they keep deploying their substantial cash piles on future areas of growth. One interesting development that has come to the forefront of these US tech giants has been the ongoing regulatory scrutiny, which has stepped up this year, and which is worth following closely given the long-term risk to their business model, even if developments will likely be slow to come through. We have developed a new analytical framework to analyse the technological platforms, to help us navigate around the various companies, and assess all risk exposures.
Finally, resource scarcity remains an important focus both for us, and for the broader market, given the increasing political focus and the popular concerns emanating from this mega-trend. We have continued to work on finding attractive companies that can harness some of the long-term trends, in particular, in robotisation and electric vehicles.
The risks in 2019
Geopolitical risks are increasing
On the macroeconomic front, since our 2019 outlook piece, things have become more uncertain on the outcome of trade tensions between the US and other trading partners – not just China, but also Europe, Mexico and Vietnam among others. We believe the outcomes of such trade tensions are more difficult to predict than we initially projected, notably in relation to the US-China tensions, which have taken more than just a trade dimension, becoming political and strategic: the Huawei issue, for instance, is at the heart of such escalation.
The Brexit path remains unclear as we write, fuelling more uncertainty and continuing to impact the UK economy negatively. The change in political leadership further increases the risks of a disorderly Brexit; we re-ran a Brexit stress-test on our portfolios at the start of the year and we are comfortable with our current positioning. The situation is fluid, and the final outcome is still highly uncertain, both in terms of shape and timing, despite the 31 October 2019 deadline.
To add to the geopolitical uncertainty of Brexit and trade tensions, Iran and the US have come close to armed conflict in the past two months, which although didn't materialise, has heightened the temperature in the region and needs careful monitoring.
Macroeconomic momentum is weakening, but monetary policies are supportive for markets
Global macroeconomic momentum has been weakening, leading central banks to either
back-track on their hawkish intentions from late last year, as per the US Federal Reserve turning more dovish at the start of 2019 or;
reiterate their dovish stance as per the European Central Bank and the Bank of Japan.
Looking at leading indicators generally, the trends remain soggy, and direction of travel uncertain on aggregate, and somewhat dependent on the trade tensions outcome.
Purchasing Managers' index (PMI) Manufacturing
Purchasing Managers' index (PMI) Services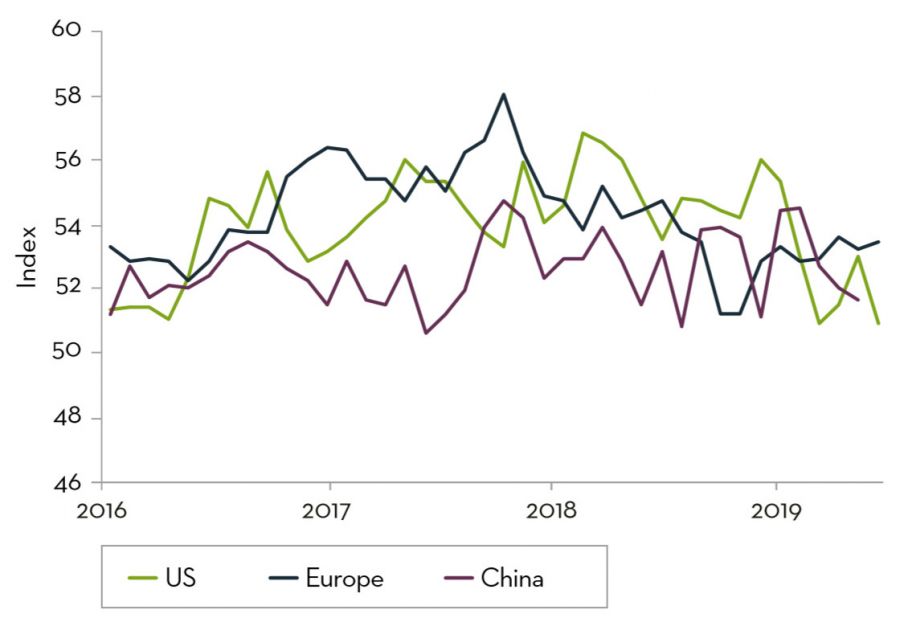 Source: Martin Currie, OECD and FactSet as at 31 August 2019.
On the macroeconomic front, since our 2019 outlook piece, things have become more uncertain on the outcome of trade tensions between the US and other trading partners – not just China, but also Europe, Mexico and Vietnam among others.
While central banks' support is welcome for equity markets, it highlights the fact that the global economic recovery remains fragile, and the strong deflationary undercurrents we have discussed previously remain an important risk for investors. Government bond yields remain very low as a result.
US versus Eurozone bond yield
Source: Martin Currie, OECD and FactSet as at 31 August 2019.
The weaker economic backdrop is likely to put pressure on consensus earnings estimates globally, which some short-term investors will be particularly sensitive to. We think the downward revisions to earnings could actually be quite substantial in some of the more cyclically exposed names.
Forecast EPS growth – next 12 months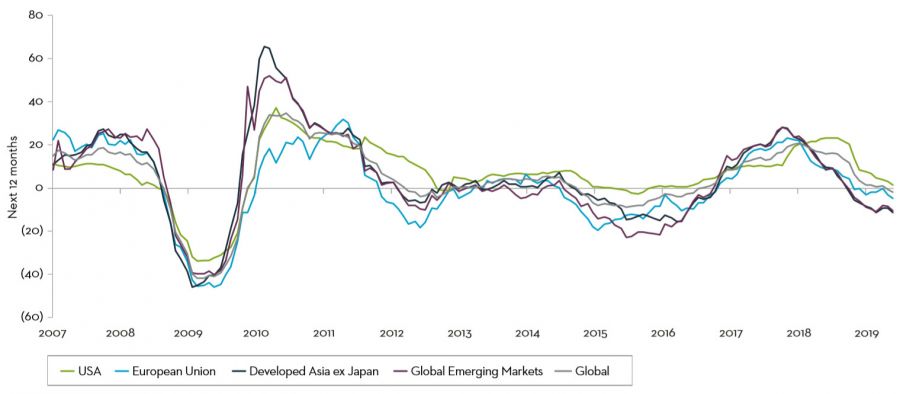 Source: Martin Currie and FactSet as at 31 August 2019.
Style rotation likely to become a key talking point
A final area of uncertainty and risk for the remainder of 2019 is around investment styles. The valuation spread between 'quality' and 'value' is very extended and has reached historic extremes – as shown in the chart below. In the short term, there is a risk of a snapback and rotation out of quality into value.
Price earnings spread extended: Global – growth versus value

Source: Martin Currie and FactSet as at 31 August 2019. Spread is MSCI ACWI Growth versus MSCI ACWI Value.
However, we believe that it is very difficult to predict the timing of any style rotation, and such a rotation will be driven in part by monetary policy direction. Indeed, the valuation spread of quality-value has been strongly correlated with bond yields, as the chart below shows. Furthermore, our style is persistently anchored in the 'quality growth' space, something that provides an assurance to our investors. As such, we do not spend any time worrying about the short-term style rotation risk. But given that the market is going to spend time discussing this at length, we think it is worth highlighting it as an intra-market risk that investors should be aware of.
Value spread correlates to bond yields (MSCI ACWI)

Source: Martin Currie and FactSet as at 31 August 2019. Spread is MSCI ACWI Growth versus MSCI ACWI Value.
What the market has been missing
Pricing power remains a key focus
Inflationary pressures have been short lived, and there is growing concern about the lack of inflationary pick up, as shown from central bank actions. Underlying deflationary trends kindled by technological developments highlight the ongoing need to focus on companies with strong pricing power. The market has increasingly been coming to the same conclusion, with many of these companies re-rating since the start of the year.
Recession risk still low for now
The market has been gyrating between fear and calm around the recession risk, although sentiment has recently deteriorated as trade tensions have escalated, yields have been pushed into ever lower levels and yield curves have been inverting across key developed markets. As reported previously, this has typically been a good lead predictor of a pending recession as far as the US yield curve is concerned. This has increased the market fears around the macroeconomic picture. It is important to highlight two things on this topic: (i) equity markets can continue to perform for some time after an initial yield curve inversion, and (ii) there are potentially more technical currents at play pushing yields down into negative territory, which could somewhat muddy the predictability of such indicator. In any case, this is something that the market will be spending a lot of time focusing on, and commenting on. As we mentioned before, we find that a more productive debate should be on shape of any upcoming recession that might come our way in the next 2-3 years.
China is unlikely to hard land
We predicted a renewed pick up in economic momentum in the US and China in 2019 as a potential positive surprise – on the basis of a constructive trade deal and easing of tensions. However, since then, the tensions instead flared up, so we believe this projection is less likely to come through at this stage, although it is still very much dependent on whatever outcome US-China trade negotiations take. There is a lack of visibility on this front to say the least, and we note that both sides are digging their heels deep. To outweigh this less positive outcome, central banks have so far this year surprised the market positively in their shift to being more dovish, which ultimately could be somewhat supportive. In the meantime, the weakening economic momentum in the US and China has been quite apparent. Regarding China specifically, we believe the measures taken by the authorities, both on tax cuts and government spending should ensure that the economy doesn't hard land, i.e. it should ensure that the GDP growth is in the 6–7% range, although more likely to be at the bottom of that range this year.
M&A will continue to provide support
We mentioned in our original 2019 outlook that there would be a further pick up in M&A activity. This has indeed been the case so far, with M&A deals announced this year amounting to around US$1.4 trillion which is on track to surpass the US$2.35 trillion total in 2018*. We estimate that if we annualise the 2019 deals so far, 2019 would end up being 31% higher than 2018 in terms of deal size. Our prediction remains unchanged here – M&A should remain supportive.
And finally, two predictions for the second half of 2019:
An earnings recession is already upon us and could further worsen – with consensus estimates currently standing in a range of +1–6%* depending on the region, and likely to come down to close to 0% or below in our view, given the weaker economic momentum and the overly optimistic earnings expectations currently in consensus estimates. Further downgrades to be expected for the remainder of the year therefore, despite the already significant downgrades seen year-to-date (consensus earnings growth estimates on S&P 500 for example have gone from +8% at the start of the year, to +2% now, whilst the same figure for MSCI World has gone from +7% to +0%). And worth also highlighting that 2020E estimates are looking demanding, currently sitting at +10% earnings growth for MSCI World.
Brexit delay whilst less likely, is a non-negligible probability still – we think Boris Johnson could potentially fail to follow through on his statement to take the UK out of the EU with no deal. This could be either because he is blocked to do so in some way (Parliament block, loss of snap election), or because it will not be rationally and feasibly possible to enact the threat without it being disorderly for the UK. However, we acknowledge that rationality might not be the focus of the current government, and therefore this prediction is uncertain to say the least.
Our focus remains on long term investing
Given our long-term approach, in a period of increased economic and geopolitical uncertainty, we continue to focus our fundamental research work on finding undervalued companies that have strong competitive advantages. Specifically, those that operate in industries with high barriers to entry, generate high returns, have a good growth profile, and importantly have strong pricing power in a world where there is likely to be a lack of growth for some time to come.
In this context, we maintain our focus on the core components of our investment process: the careful assessment of the risk-reward in choosing stocks, considered portfolio construction and constant risk monitoring to ensure the optimal outcome for our investors.
*Source: FactSet as at 31 August 2019.
---
Regulatory information and risk warnings
Past performance is not a guide to future returns
This information is issued and approved by Martin Currie Investment Management Limited ('MCIM'). It does not constitute investment advice. Market and currency movements may cause the capital value of shares, and the income from them, to fall as well as rise and you may get back less than you invested.
The analysis of Environmental, Social and Governance (ESG) factors form an important part of the investment process and helps inform investment decisions. The strategy does not necessarily target particular sustainability outcomes.
The opinions contained in this recording are those of the named manager. They may not necessarily represent the views of other Martin Currie managers, strategies or funds. These opinions are not intended to be a forecast of future events, research, a guarantee of future results or investment advice.
The information contained has been complied with considerable care to ensure its accuracy. However, no representation or warranty, express or implied, is made to its accuracy or completeness. Martin Currie has procured any research or analysis contained in this recording for its own use. It is provided to you only incidentally and any opinions expressed are subject to change without notice.
The information provided should not be considered a recommendation to purchase or sell any particular security. It should not be assumed that any of the security transactions discussed here were, or will prove to be, profitable.