A recent research trip to India gave me the opportunity to visit a range of assets held by listed Indian commercial office REITs, many of which house globally significant IT and financial services tenants.
Overall, my impressions were positive, not only on the quality of the assets but also on the medium-term prospects for office demand in the country.
India has advantages in outsourcing
Indian BPO leadership and its young, skilled work force looks attractive for ongoing commercial office demand
India is a world leader in outsourcing for large mutinationals1. This Business Process Outsourcing (BPO) sector has continued to grow, buoyed by growth in global IT spend and trends towards seeking increased efficiencies as well as better cost outcomes.
The Indian operations of many large global corporates (Cisco, Dell etc.) are now so significant, it would be hard to operate without this sizable talent pool.
India's workforce offers many benefits to global corporates, including:
1. Cost competitive2
Full stack developer salary in 2019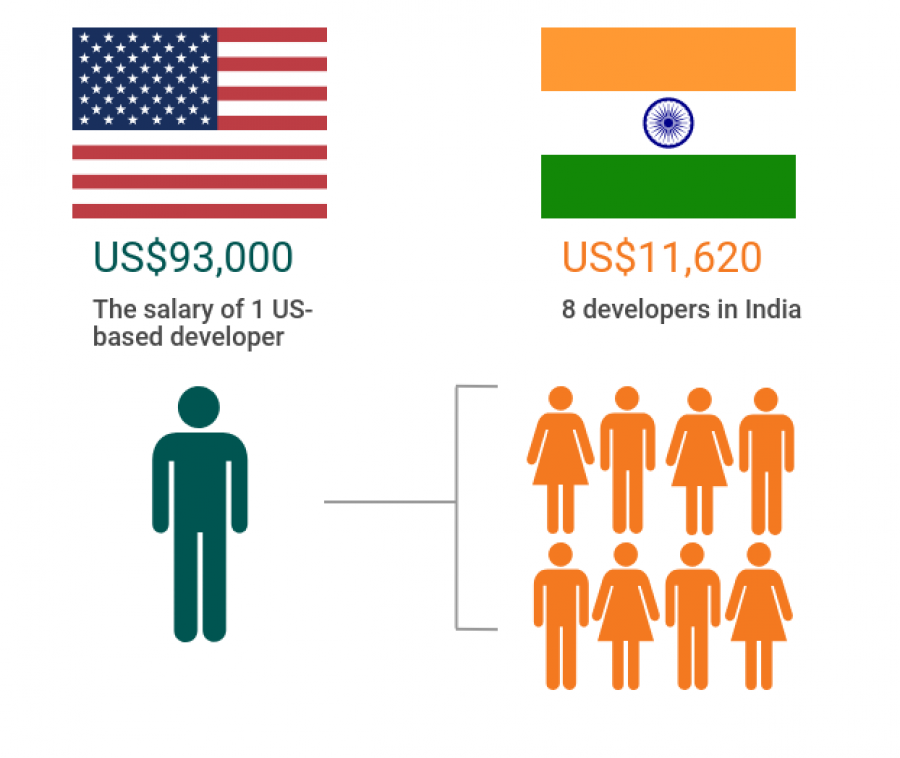 2. Good proficiency in English (especially in key cities)3
English Proficiency Index
3. A high number of annual STEM graduates (second to China)4
Graduates of STEM subjects in 2016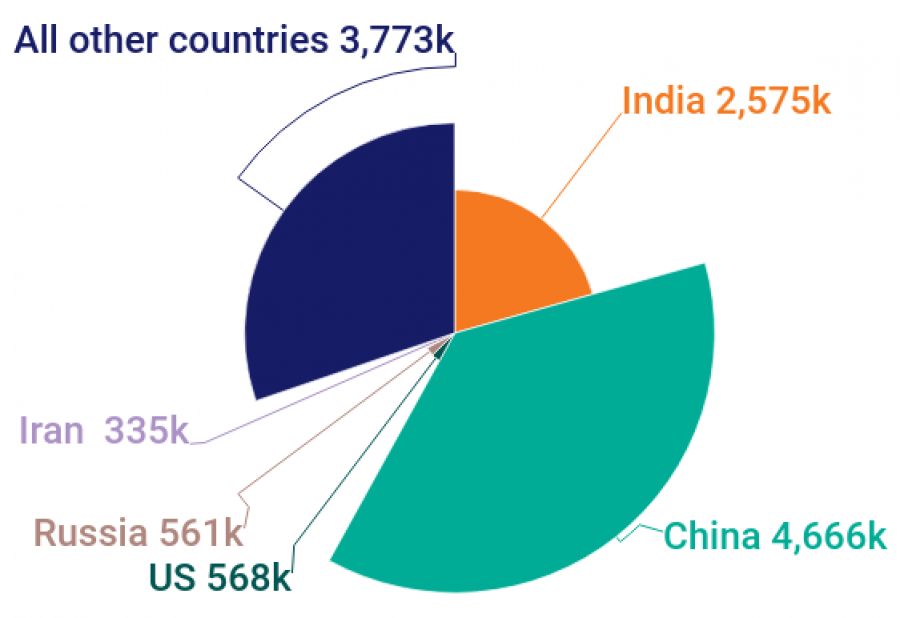 4. A growing, young workforce5
Population aged 0-24 in 2015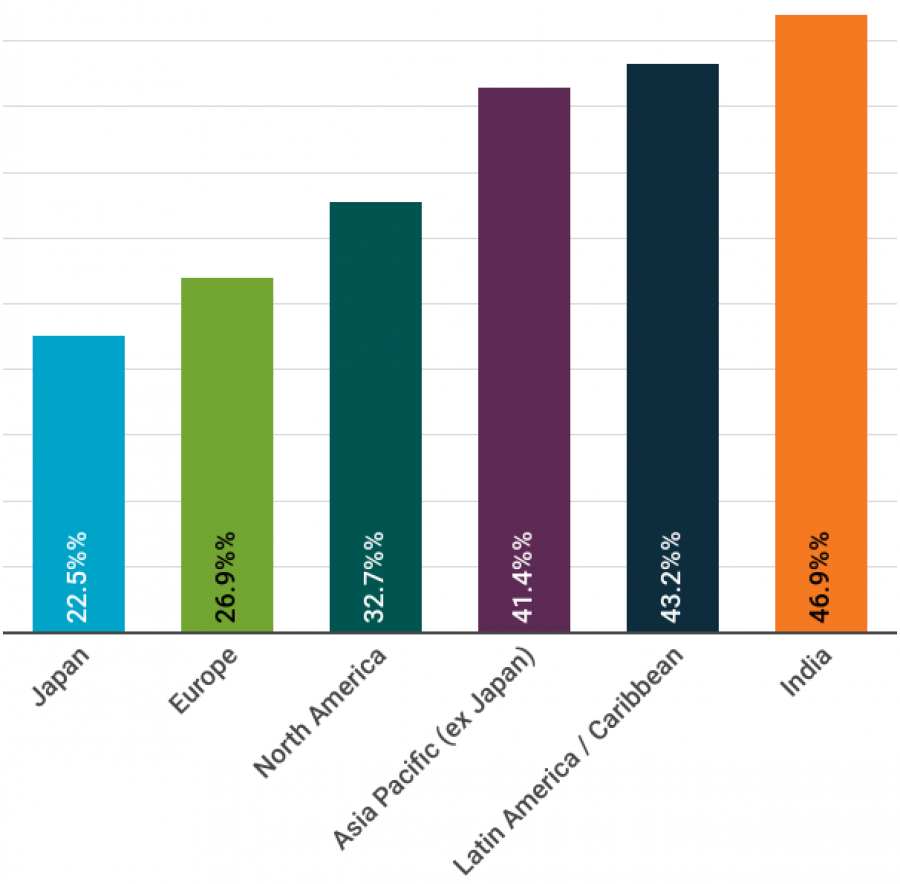 Bangalore levered to outsourcing growth
It was visible during my research trip that success in the outsourcing sector (in particular IT) has been driving job growth and ultimately population growth in Bangalore.
This population growth has seen the city enter in to "megacity" status in 2015 (see below) and population growth forecasts keep exceeding estimates. This bodes well for real asset demand in property, but also across other real asset sectors.
The UN has currently forecast the city's population to finish the 2010-2020 decade up 49%6. This top quartile growth has far surpassed earlier UN forecasts7.
UN population forecasts
One real asset sector which is benefiting from the increased job and population growth is property. In Bangalore, we see a striking example of this. Office demand has seen some of the strongest levels of any city globally. Interestingly, most large Indian cities have seen office absorption well above other large global cities over the last 5 years.
Cumulative absorption CY 2013- Q1 2018 (million sq ft)8
Demand for office space for BPO operations remains strong, especially in Bangalore, and, based on our conversations with leasing managers, most tenants are looking for additional space to expand their footprint.
Large multinationals such as Ford, Cisco, Microsoft, and IBM have significant operations in India, and the roles based there are across a range of services including design, IT and engineering. In the case of Cisco, its Research & Development facility in Bangalore is its largest outside the US9. The quality, cost and sheer number of engineers that can be sourced in a place like Bangalore is very hard to replicate anywhere else.
Quality assets in our REIT holdings
The large-scale business parks that I saw on my trip through Bangalore were particularly attractive for outsourcing tenants.
The assets appear to be difficult to replicate given their size10 and wide-range of amenities offered including sports grounds, green space, parking, restaurants, hotels and conference centres, giving them a greater ability to raise rents and maintain high tenant retention over time.
To give a sense of the scale involved in some of the business parks visited, one individual asset, the 11.5 million square foot Embassy Manyata (owned by Embassy Office Parks REIT) is equivalent to around one quarter of Melbourne's central business district (CBD) total office stock11.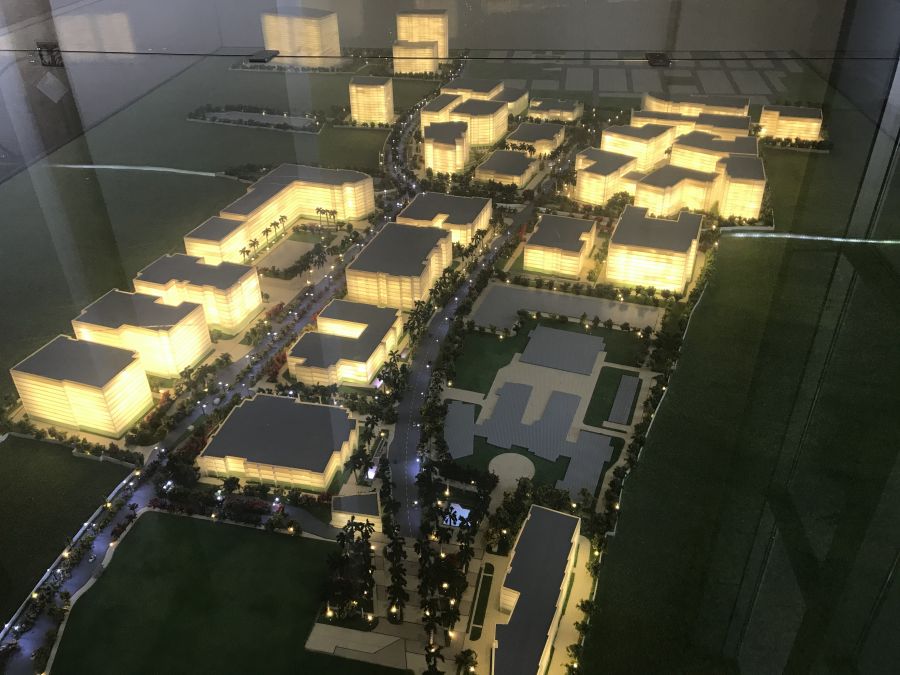 Some of the attractive features for investors in office REITs in India are the long-term nature of the leases (5-15 years), embedded rental escalators and the high-quality tenant base (mainly international multi-national corporations). Also, given tenants pay for the initial fit out of office space, this incentivises them to stay longer, leading to higher tenant retention.
Embassy Golflinks (owned by Embassy Office Parks REIT) was particularly impressive. A 4.5 million square foot office park located in a central part of Bangalore, the asset houses a range of high-quality tenants (Swiss Re, JP Morgan, Microsoft etc.), has a large amount of green space as well as impressive infrastructure and amenities (restaurants, 500-person amphitheatre, creche, hotel, health clinic etc.).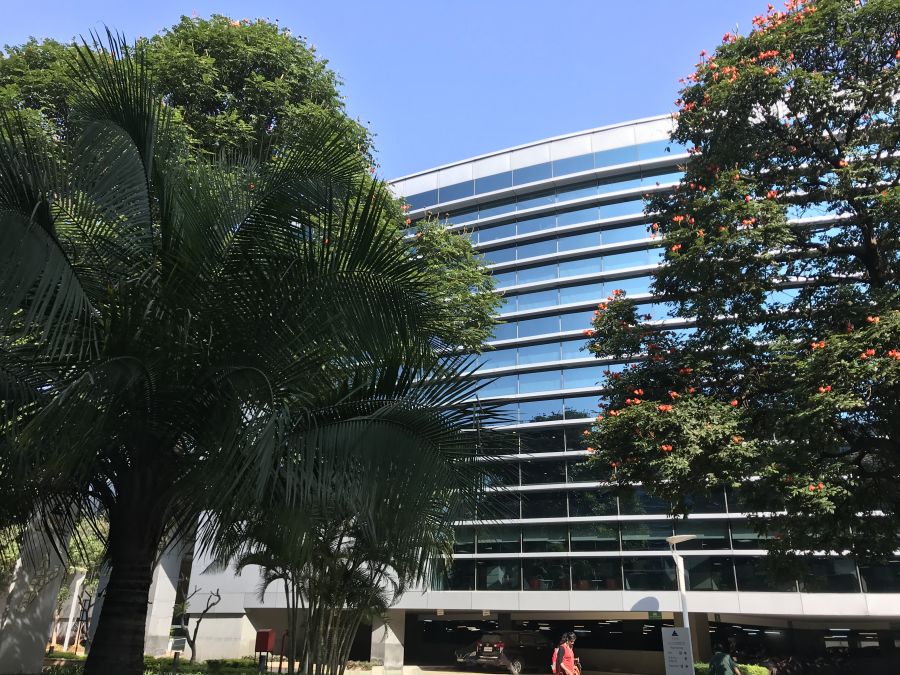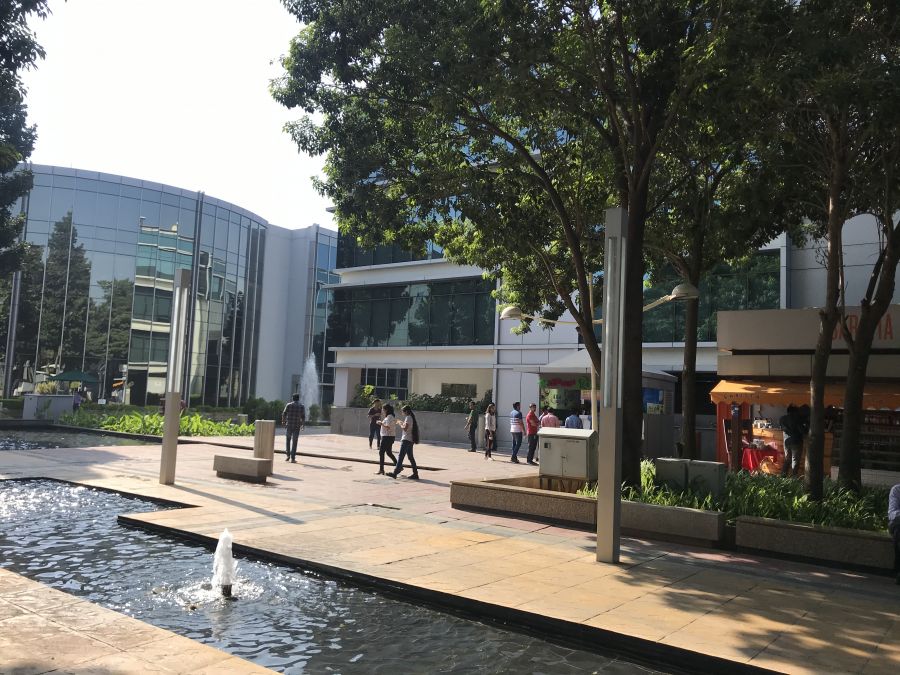 New transport amenities set to expand attractiveness of assets
Visiting both Mumbai and Bangalore, it was interesting to note the significant rail and road based infrastructure being constructed to help ease traffic congestion, reduce pollution and improve productivity.
In a number of cases, the rail lines under construction, will link up with assets and business parks held by companies such as Embassy Office Parks REIT and Ascendas India Trust, thus adding to their attractiveness to tenants long term.
More Indian REITs set to list
As discussed in REITs In Asia - An Exciting "Emerging" Asset Class last year, REITs as a phenomenon are a new concept in India.
We invested in the country's first REIT, Embassy Office Parks REIT when it was launched in April 2019. This IPO was a resounding success with the stock price up significantly since listing12, prompting other developers to look at the REIT model.
The market is expecting at least two additional IPOs to be launched in the next few years - both office REITs.
The first is a commercial office REIT ("Mindspace Business Parks REIT") from Blackstone and K Raheja Corp (a large local developer). K Raheja Corp currently has assets in technology parks in Mumbai, Pune, Hyderabad, Bangalore and Chennai.
The second likely candidate is a REIT sponsored by Bangalore-based Prestige Group.
Other possible candidates include a retail REIT from Nexus, an office REIT from RMZ Corp, and an office / retail REIT from DLF.
This bodes well not only for Indian capital markets, but also for the investible universe of Asia Pacific Real Assets.
With a meaningful portion of commercial assets still held within large private property developers, we believe that the REIT opportunity set will continue to grow long term as companies and governments look to recycle assets to fund new developments and projects. From speaking to an industry property consultant, they suggest there is ~250m sq ft of listable office space in the country, 10x the current listed universe.
BPO and demographic trends look good for Indian office REITs future
Regardless of any ups and downs in the economy, we remain positive on India from a Real Asset perspective. The country remains an internally focused economy, with high levels of population growth and a rapidly growing middle class, key drivers of Real Asset growth.
Overall, I came away positive not only on India but also on the quality of the assets held within REIT holdings within the strategy.
Indian outsourcing leadership and its young, skilled work force look attractive for ongoing commercial office demand, especially in a world in which corporates are seeking to lower costs through automation, outsourcing and increasing IT spend.
We look forward to further listings and developments in this dynamic and vast market.
---
Past performance is not a guide to future returns.
The information provided should not be considered a recommendation to purchase or sell any particular security. It should not be assumed that any of the security transactions discussed here were, or will prove to be, profitable.
1 Source: A.T. Kearney, Statista (2019), Digital Resonance: The New Factor Impacting Location Attractiveness. GSLI overall country rankings
2 Source: Stack Overflow (2019), Developer Survey. Comparison of Indian and US median annual salary for full-stack developer with 5 years' experience and a bachelor degree
3 Source: EF EPI (2019), EF English Proficiency Index: India. EF EPI score
4 Source: World Economic forum, Human Capital Index and UNESCO (2016), The Human Capital Report. Global Distribution of recent graduates of Science, Technology, Engineering and Mathematics ("STEM") subjects
5 Source: United Nations, Department of Economic and Social Affairs, Population Division (2019). World Population Prospects. The 2019 Revision. File POP/8-1: Total population (both sexes combined) by broad age group, region, subregion and country, 1950-2100 (thousands); based on estimates for 1 July 2015.
6 Source: United Nations, Department of Economic and Social Affairs, Population Division (2018). World Urbanization Prospects: The 2018 Revision. File 12: Population of Urban Agglomerations with 300,000 Inhabitants or More in 2018, by Country, 1950-2035 (thousands)
7 Source: United Nations, Department of Economic and Social Affairs, Population Division (2007, 2011, 2014, 2018). World Urbanization Prospects: The 2007 Revision, World Urbanization Prospects: The 2014 Revision , World Urbanization Prospects: The 2014 Revision.
8 Source: CBRE Research (2019), Embassy REIT. Years refer to the calendar year ending December 31 respectively.
9 Source: Cisco (2019), Cisco India Overview
10 Hard for competitors to secure large land parcels to build new supply.
11 Source: Source: Embassy Group (2019), About Embassy Manyata Business Park ; Property Council of Australia (2019), Office Data Room . Current total Australian office stock (Net Lettable Area) by market
12 Source: FactSet, as at 7 January 2020.
---
Regulatory information and risk warnings
Past performance is not a guide to future returns
This information is issued and approved by Martin Currie Investment Management Limited ('MCIM'). It does not constitute investment advice. Market and currency movements may cause the capital value of shares, and the income from them, to fall as well as rise and you may get back less than you invested.
The analysis of Environmental, Social and Governance (ESG) factors form an important part of the investment process and helps inform investment decisions. The strategy does not necessarily target particular sustainability outcomes.
The opinions contained in this recording are those of the named manager. They may not necessarily represent the views of other Martin Currie managers, strategies or funds. These opinions are not intended to be a forecast of future events, research, a guarantee of future results or investment advice.
The information contained has been complied with considerable care to ensure its accuracy. However, no representation or warranty, express or implied, is made to its accuracy or completeness. Martin Currie has procured any research or analysis contained in this recording for its own use. It is provided to you only incidentally and any opinions expressed are subject to change without notice.
The information provided should not be considered a recommendation to purchase or sell any particular security. It should not be assumed that any of the security transactions discussed here were, or will prove to be, profitable.