Four years into an escalating confrontation and a year into the first truly global pandemic in a century, the world is poised for a geopolitical and economic rollercoaster ride. The reality is that Beijing and Washington, DC hold very different views of how the international order ought to work. At this stage, ideology appears to be driving policy and that results in a significant challenge for investors. Materials, agricultural produce and energy are natural beneficiaries of globalisation and have suffered the brunt of the trade wars as a result. However, their 'low technology' characteristics render them the least likely to suffer long-term trade disruption.
Materials
The materials sector is as important as the energy sector in terms of its contribution to a country's industrial capacity. The headlines are usually about iron ore and very rarely about 'rare earths'.
Iron ore
Iron ore is not rare, nor is it overwhelmingly geographically concentrated. However, the powerhouse producers globally are Brazil and Australia, due to the quality of the ore and the relatively low production cost.
World reserves of iron ore by country (2019)1
China is very clear eyed about its energy vulnerability.
The biggest buyer globally is China, importing just over a billion tonnes per annum for the last five years2. China's imports are predominantly supplied by Australia (62%) and Brazil (21%)3. These proportions are set to change over the next decade, at least partly due to the deterioration in relations between Canberra and Beijing. Australia is unequivocally in the US geopolitical camp, but its economy depends on exports to China (31%4 of total exports) more than any other country in the world. The relationship soured after Australia became the first country to follow the US in banning Huawei and ZTE from its 5G market. This worsened when Prime Minister Scott Morrison demanded an international independent inquiry into China's handling of COVID-19. In response, the Chinese embassy in Canberra sent a dossier5 of grievances to top media outlets, in an apparent move to pressure the Australian government. Chinese tariffs could reach A$20 billion (out of a total of A$123 billion6) of exports (wine, beef, barley and coal) and although iron ore has yet to be hit, it's probably only a matter of time. There is a low likelihood that China cuts off Australian iron ore completely, because it has been a very reliable supplier of good-quality ore and it takes time to diversify from 62%. The biggest beneficiary looks to be Brazil, especially as the Bolsonaro government has so far baulked at banning Huawei and also expects a cooler relationship with the new Biden Administration (which is likely to have more concerns over the deforestation of the Amazon).
World iron ore mine production and reserves (top five producers)7
Prodn 2018
Prodn 2019
Iron content 2018
Iron content 2019
Reserves ore
(million metric tons)
Iron content
(million metric tons)
Australia
900,000
930,000
557,000
580,000
48,000
23,000
Brazil
460,000
480,000
250,000
260,000
29,000
15,000
China
335,000
350,000
209,000
220,000
20,000
6,900
India
205,000
210,000
126,000
130,000
5,500
3,400
Russia
96,100
99,000
56,700
59,000
25,000
14,000
World total
2,460,000
2,500,000
1,470,000
1,500,000
170,000
81,000
Iron ore appears to be immune to the disengagement between China and the US-aligned countries. Should Brazil raise iron ore production swiftly, the Australian share of Chinese imports will fall just like the US soybean exports (see Agriculture section below).
Rare earths
Rare earth metals are a misnomer, in the sense that they are not particularly rare, but the minable concentrations are less abundant than for other ores. Crucially, they are important inputs to the manufacture of semiconductors, wind turbines and electric vehicles and have many military applications; this serves to enhance their perceived value. Their processing is particularly expensive, technically challenging and environmentally hazardous, which contributes to their 'rarity'. In this area, China has a strong hand to play, given its dominant position in the world market. As shown in the adjacent table, China produced 63% of world production in 2019.
Historically, the world has been content to depend on China for virtually all production of rare earths. So much so that the combined production of the rest of the world would need to increase significantly to replace Chinese supply. Although most countries baulk at the prohibitive set up costs of rare earth production, the US Department of Defence has recently announced9 a string of financing contracts which will try to incentivise domestic production. The EU has also been thinking along similar lines, updating its own 'critical raw materials' list10 in August 2020.
World rare earth mine production and reserves8
| | Mine Prodn (t) 2018 | Mine Prodn (t) 2019 | Reserves (tons) |
| --- | --- | --- | --- |
| Australia | 21,000 | 21,000 | 3,300,000 |
| Brazil | 1,100 | 1,000 | 22,000,000 |
| Burundi | 630 | 600 | NA |
| Canada | 0 | 0 | 830,000 |
| China | 120,000 | 132,000 | 44,000,000 |
| Greenland | 0 | 0 | 1,500,000 |
| India | 2,900 | 3,000 | 6,900,000 |
| Madagascar | 2,000 | 2,000 | NA |
| Myanmar | 19,000 | 22,000 | NA |
| Russia | 2,700 | 2,700 | 12,000,000 |
| South Africa | 0 | 0 | 790,000 |
| Tanzania | 0 | 0 | 890,000 |
| Thailand | 1,000 | 1,800 | NA |
| Vietnam | 920 | 900 | 22,000,000 |
| United States | 18,000 | 26,000 | 1,400,000 |
| Others | 60 | 0 | 310,000 |
| World Total (rounded) | 190,000 | 210,000 | 120,000,000 |
Separately, the US Department of State and the Bureau of Energy resources combined to set up the Energy Resource Governance Initiative (ERGI), with the stated objectives of promoting sound mining sector governance and creating resilient supply chains. It is hard to avoid the impression that the 'resilient supply chains' are the priority here. Without mentioning China by name, it underlines that 80% of the world's supply of rare earth elements is controlled by 'one country' and one of the strategic objectives is explicitly given as 'identifying options to diversify supply chains'11. The original founding partners are the United States, Canada and Australia. According to the Department of State, they were joined in a Memorandum of Understanding by Botswana and Peru on 21 October12.
In 2010, China applied export quotas to rare earth exports, in order to boost domestic electronics companies, triggering a serious global supply crisis. It was resolved via a combination of a World Trade Organisation (WTO) case being brought by the US and with China broadly complying, but also because higher market prices justified increased production from previously unprofitable mines in Australia. As shown in the adjacent chart13, the years since have seen a decline in China's production dominance. However, given its continuing status as the country with the biggest reserves, China could, in theory, flood the market or create another supply squeeze as desired. Ultimately, both supply and demand will remain inelastic and if it chooses to ignore short-term profitability, Beijing can disrupt and create disincentives virtually at will.
At this stage, ideology appears to be driving policy and that results in a significant challenge for investors.
Agriculture
All through history, the ability to grow enough food for a growing population has rightly been a national security issue. It has often proved to be the most significant limiting factor to economic advancement and fragile states are usually those with endemic food insecurity. Some countries are blessed with high-quality arable soil, favourable weather patterns and good access to the fertilizers and ancillary goods that drive food production. Even though agriculture's contribution to GDP is continuously falling, the US remains an outstanding beneficiary of its favourable geography, weather patterns and efficient farming.
The country's farming associations have developed excellent export markets over decades, building good relationships with international buyers and enjoying a reputation for being dependable suppliers. Then came the trade war unleashed in 2017, which triggered a backlash on US goods, especially in China.
Having borne the brunt of China's retaliation against the tariff wars since 2017, US farmers received a record US$46.5 billion14 of direct federal payments in 2020, composed of farm programme payments paid directly to farmers and ranchers.
This number excludes USDA loans and insurance indemnity payments made by the Federal Crop Insurance Corporation. The 'Phase I' mini trade deal between the Trump Administration and China stipulates that US$36.6 billion15 of agricultural goods must be bought in 2020. As at the end of November 2020, actual purchases were still below this at US$22.5 billion.
There are three elements that could explain this shortfall. Firstly, seasonality – as the majority of Chinese buying typically comes in the fourth quarter of the calendar year. This will not be reflected in printed numbers until the start of 2021. Secondly, the figures show the impact of the Coronavirus, which shut the economy for most of quarter one in China. Thirdly, Beijing has been dealing with a virulent outbreak of African swine flu, obliging the government to destroy a significant number of hogs; consequently, demand for soybean (a substantial foodstuff) has crashed this year. It may take some considerable time to rebuild the client base that has become used to buying Brazilian soybean over the last three years, especially given the currency advantage in this period. And increasing reliance on direct federal payments in the face of flat or negative long-term pricing for their goods is an unhealthy position for the sector in general.
US exports vs. Phase I16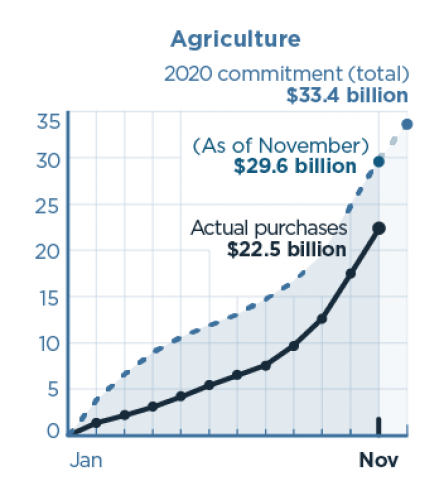 Source: Peterson Institute for International Economics
China's situation is quite different. The country has regularly struggled with a semi-arid north and west and a tropical south. Climatic variation is unhelpful to any attempt in emulating the agricultural production power of the US. The sector's contribution to Chinese GDP was 23% in 1960, falling to 7% in 201917. Further, according to a 2019 report by China's Ministry of Ecology and Environment18, 86.2% of the country's groundwater was graded as 'poor quality' in 2018. Lastly, an unintended consequence of the breakneck urbanisation of the late 1990s and early 2000s has been the loss of arable land to other, more economically attractive uses. At the same time the percentage of the population classed as 'undernourished'19 has fallen dramatically (according to the Food and Agriculture Organisation20 (FAO) of the United Nations, in 2001, 10.6% of China's population was classified as 'undernourished'. In 2018, this was 2.5%). As the percentage of population which is classed as undernourished has declined and the middle-income cohort has increased, this has created a long-term structural deficit to meet the demand for more protein-rich foodstuffs – hence, until recently, the symbiotic relationship with US farmers. Despite its strong production of rice, corn and wheat, China remains dependent on imports of soybeans and, as it tries to rebuild its hog herd, it faces a short-term pork shortage.
Market share of leading soybean suppliers to China, 201921
Overall, China is the world's largest importer of agricultural goods, (US$133 billion in 201922) particularly soybean, which is traditionally referred to as the most concentrated sector of global agricultural trade, because supply is dominated by the US and Brazil, who together account for 80% of supply to China. US exports to China were US$12.5 billion in 2017, then fell to US$3 billion in 2018 due to the escalation of the trade wars. By 2019, Brazil supplied 62% of China's imports and it now seems unlikely that the US producers will regain their previous market share. The US is no longer a favoured trade partner and the state-owned enterprises that are the biggest Chinese traders of commodities are very responsive to Beijing's signals.
Many observers have pointed to the long-established presence of China's state-owned enterprises (SOEs) in the form of agricultural projects in Africa, concluding that they form part of the long-term planning by Beijing to address food security. Relatively little research has been done on the subject and the conclusions are that there appears to be no co-ordinated plan. Imperfect access to records of completed transactions and no evidence of significant volumes of relevant trade going to China imply that Africa will not be feeding China any time soon. One interesting factor however, which does not appear to be measured, is the emergence of impromptu immigration of Chinese citizens who set up businesses in agriculture on the continent. Typically, they may be led by contacts working on infrastructure or mining projects and then stay, supplying the growing expatriate Chinese community. It may well be that these smaller, individual investors end up creating a lasting legacy, but it will take decades.
In August 2020, Beijing launched a campaign to avoid waste and safeguard food security, called "empty plates" as a reaction to the spike in food prices in the summer. That may help at the margin, but it remains notoriously difficult to diversify imports of foodstuffs. Going forward, even with the inevitable disengagement in many sectors of the economy, it seems that agricultural goods will continue to be traded between the US and China, simply because necessity dictates.
Materials, agricultural produce and energy are natural beneficiaries of globalisation and have been suffering the brunt of the trade wars as a result.
Energy
China's primary energy source mix, shown in the adjacent EIA23 chart, remains coal-heavy but gas and renewable energy have both grown exponentially over the last 15 years. The country has been restructuring its energy sector to promote energy efficiency and anti-pollution measures, increasing competition and establishing market-based prices.
In the period 2008-2018, the country's gas consumption grew 13.2% per annum, while renewable energy generation grew 33.4%24.
Beijing has just committed to achieving net carbon neutrality by 2060, but it will continue to require fossil fuel imports for a long time yet.
With domestic oil production insufficient to make a dent on the country's demand, China's oil import dependency ratio is estimated to exceed 80%25 in 2030. As a result, Beijing will likely continue to cultivate a variety of non-aligned producers and diminish its imports from the US, unless it proves diplomatically expedient in building better relations with the new Biden Administration.
China total primary energy consumption by fuel type, 2019
Source: BP Statistical Review of World Energy 2020
Note: Total may not equal 100% because of independent rounding. Includes only commercial fuel sources and does not account for biomass used outside of power generation.
Oil
China's oil industry is now over 70 years old and the water cut in the oldest fields of Daqing are in the extra high water cut phase, meaning the deposits left are sparse and increasingly uneconomic. Newer fields, particularly offshore in the South China Sea and in the relatively shallow waters of Bohai are now doing the heavy lifting, but the country still imported over 10 million barrels of crude in 201926. China's oil demand is now back to pre-pandemic levels and Liquified Natural Gas (LNG) demand is above 2019 levels. Gas pipeline imports, however, are still below pre-Covid levels, while jet fuel demand is predictably weak.
The next decade will likely see increasing efforts to disassociate the two largest economies in the world.
China's crude oil imports by source, 2019
Source: FACTS Global Energy Services, China Oil Monthly, February 2020 Note: Total may not equal 100% because of independent rounding.
In the context of the continuing split between the US and China, it is important to understand the patterns of buying by Beijing. From 2017 until March 2020, OPEC (Organization of the Petroleum Exporting Countries) had been voluntarily reducing its production, to support the oil price. This meant that China had to buy more from non-OPEC producers. But as the adjacent chart27 shows, sanctions on Iran and Venezuela rendered their exports very difficult, so the beneficiaries were Russia and Brazil. Given the fragile nature of the global oil market, OPEC+ have agreed a cautious increase of 500k bpd of production for Q1 next year. It seems upstream investment is being downgraded in favour of downstream, especially in China.
An oil price around $45-$55 per barrel is good enough for Russia, but nowhere near acceptable for Saudi Arabia, the Emirates and the rest of OPEC. In terms of each country's breakeven price, Saudi still requires $78.2 per barrel28 in order to achieve a fiscal breakeven. UAE needs $75.9 per barrel29; Russia has spent a long time readying its sovereign financials and its fiscal breakeven point is commonly estimated at $40 per barrel30.
Logically, it also matters who your biggest buyers are. For Saudi, it is China, Japan and India. For Russia it is the EU, China and the US. Arguably the havoc wreaked by Saudi's spat with Russia and OPEC in March 2020, just as COVID-19 was hitting the Western world, has been a major factor in Chinese buying, although all buyers will naturally be opportunistic short term, taking the Saudi discounts to fill inventories and strategic supplies.
Gas
Gas is still a small contributor to electricity generation in China, only 97GW31 of installed capacity at October 2020. Total installed capacity is 2,100 GW, so at 4.6% of total, it has a long way to go to be relevant in the overall structure of electricity generation. The direction is clear, thanks to Beijing's recent commitment to reach net carbon neutrality by 2060, reaching peak emissions in 2030. This certainty is down to the characteristics of gas: when used in electricity generation, depending on the sophistication of the plant, gas can produce between 40% and 50%32 of the greenhouse gases that coal fired plants do. The country's 13th Five Year Plan (to 2020) had stipulated installed capacity of 110GW, and it is safe to assume that when the 14th Five Year Plan details are published in April 2021, that number will be significantly higher. However, it is not merely a question of overall carbon neutrality. Beijing must explicitly embark on a different policy direction and address the basic obstacles of cost (coal is significantly cheaper) and supply, as imported gas is relatively expensive and domestic supply is not yet onstream in large enough volumes.
When it comes to sourcing, the strategy is pretty straightforward, with a balance between long term 'take or pay' contracts by pipeline and shorter term by LNG. As is shown in the EIA chart33 below, the biggest suppliers are Australia and Turkmenistan. Expect the Russian volumes to grow from here, although volumes remain limited by pipeline capacity, aside from the LNG export terminals at Sakhalin, which have historically focused on the high value Japanese market.
China's natural gas imports by source, 2019
Source: Global Trade Tracker
Note: Total may not equal 100% because of independent rounding.
Protecting the physical supply lines
China is very clear eyed about its energy vulnerability. It must be able to ship oil and gas in vast quantities from the Middle East in a secure and reliable way. Almost all the oil currently comes via ship, involving 26 days on the water, from Saudi Arabia's port of Ju'Aymah to Guangzhou. Just as the Belt and Road Initiative (BRI) has launched the China-Pakistan Economic Corridor (CPEC), providing Beijing with the deep-water port of Gwadar, the China-Myanmar Economic Corridor offers the port of Kyaupkyu on the Indian Ocean, which is only 16-17 days sailing time from Ju'Aymah. And to ensure free passage to Chinese shipping, there is already a string of Chinese ports, from Djibouti on the Horn of Africa, to Gwadar (Pakistan), to Hambantota (Sri Lanka) to Kyaupkyu (Myanmar). Djibouti is Beijing's first permanent overseas military base, and the modernisation of its navy, the objective being to develop a 'blue water fleet', capable of guaranteeing free navigation for Chinese shipping in waters far from China itself.

Conclusion
The next decade will likely see increasing efforts to disassociate the two largest economies in the world. Investors are well aware of the mounting pressure on governments to take sides. In the developing countries, China's offer of the Coronavirus vaccine and the infrastructure buildout of the BRI has already found a warm welcome. The only issues that could potentially derail this development are a sudden and commensurate generosity of finance from the US, evidence of poor-quality execution in the BRI, or a particularly shocking political misstep by Beijing. All seem unlikely at this point, thus underlining that should the US-China decoupling continue, there are many countries already committed to the Chinese sphere of influence.
Materials, agricultural produce and energy are natural beneficiaries of globalisation and have been suffering the brunt of the trade wars as a result. However, their 'low technology' characteristics and the obvious benefit to both exporter and importer renders them the least likely to suffer long-term trade disruption. Where China is most vulnerable, is in the area of energy security. Beijing is taking decisive steps to address this, via the BRI, the establishment of a network of friendly ports (from Djibouti on the Horn of Africa to Gwadar (Pakistan), to Hambantota (Sri Lanka) to Kyaupkyu (Myanmar)) and the modernisation of its navy. The objective is to develop a 'blue water fleet', capable of guaranteeing free navigation for Chinese shipping in waters far from China itself. Finally, given that today's 58% dependence on coal as a source of primary energy, must be replaced, Beijing's projection of 2030 as the year of peak oil imports looks very credible.
As a result, trade in energy should continue relatively unmolested, although it will always be top of the list whenever any government wants to send a signal of displeasure.
---
1 Source: Statista – World reserves of Iron Ore by country (2019)
2 Source: Statista – Import volume of iron ore in China between 2009 and 2019 (Nov2019)
3 Source: Statista - Breakdown of iron ore import volume to China in 2019, by major country of origin
4 Source: Department of Foreign Affairs & Trade, 2018 numbers
5 Source: Sydney Morning Herald, November 18, 2020 China threatens Australia over Victoria Belt and Road Initiative, media bias
6 Source: Department of Foreign Affairs & Trade, 2018 numbers
7 Source: U.S. Geological Survey, Mineral Commodity Summaries, January 2020, p89
8 Source: U.S. Geological Survey, Mineral Commodity Summaries, January 2020, p133
9 Source: U.S. Department of Defense press release, November 17, 2020 DOD Announces Rare Earth Element Awards to Strengthen Domestic Industrial Base > U.S. DEPARTMENT OF DEFENSE > Release
10 Source: EU Science Hub, Raw Materials Information System, CRM List 2020 Raw Materials Information System (europa.eu)
11 Source: US Department of State, June 2019 - 2019-06-06 ERGI Fact Sheet (state.gov)
12 Source: US Department of State Press release, October 21, 2020 United States Signs Memorandum of Understanding with Peru and Botswana on Critical Energy Minerals - United States Department of State
13 Source: Statista – China's rare earth monopoly is diminishing, February 10, 2020
14 Source: U.S. Department of Agriculture, Economic Research Service – "Farm sector income forecast" updated Wed December 2, 2020 USDA ERS - Farm Sector Income Forecast
15 16 Source: Peterson Institute for International Economics, Phase I Tracker. December 4, 2020
17Source: The World Bank IBRD IDA data – Agriculture, forestry & fishing, value added (% of GDP) China Agriculture, forestry, and fishing, value added (% of GDP) - China | Data (worldbank.org)
18 Source: China Water Risk – Review of the 2018 State of Ecology and Environment Report June 18, 2019
19 FAO Definition: The prevalence of undernourishment (PoU) is an estimate of the proportion of the population whose habitual food consumption is insufficient to provide the dietary energy levels that are required to maintain a normal active and healthy life. It is expressed as a percentage. This indicator will measure progress towards SDG Target 2.1 Source: FAO Sustainable Development Goals
20 Source: World Bank Data, FAO
21 Source: Statista – Top country suppliers China: leading suppliers of soybeans by country 2019 | Statista
22 Source: US Dept of Agriculture, Foreign Agricultural Service - China: Evolving Demand in the World's Largest Agricultural Import Market | USDA Foreign Agricultural Service
23 Source: US Energy Information Administration (EIA) – Country file China September 30, 2020
24 Source: BP Statistical Review of World Energy, All data 1965-2019
25 Source: Wang, Qiang & Li, Shuyu & Li, Rongrong, 2018. "China's dependency on foreign oil will exceed 80% by 2030: Developing a novel NMGM-ARIMA to forecast China's foreign oil dependence from two dimensions," Energy, Elsevier, vol. 163(C), pages 151-167
26 Source: US Energy Information Administration (EIA), March 23, 2020
27 Source: US Energy Information Administration (EIA) – Country file China September 30, 2020
28 29 Source: IMF Statistics
30 Source: IMF Article IV Consultation
31 Source: China Electricity Council, November 21, 2020
32 Source: Parliamentary Office of Science and Technology, June 2011, fig 1
33 Source: US Energy Information Administration (EIA) – Country file China September 30, 2020
---
Regulatory information and risk warnings
This information is issued and approved by Martin Currie Investment Management Limited ('MCIM'). It does not constitute investment advice. Market and currency movements may cause the capital value of shares, and the income from them, to fall as well as rise and you may get back less than you invested.
The information contained in this document has been compiled with considerable care to ensure its accuracy. But no representation or warranty, express or implied, is made to its accuracy or completeness.
The document does not form the basis of, nor should it be relied upon in connection with, any subsequent contract or agreement. It does not constitute, and may not be used for the purpose of, an offer or invitation to subscribe for or otherwise acquire shares in any of the products mentioned.
Past performance is not a guide to future returns.
Martin Currie has procured any research or analysis contained in this presentation for its own use. It is provided to you only incidentally, and any opinions expressed are subject to change without notice.
The views expressed are opinions of the portfolio managers as of the date of this document and are subject to change based on market and other conditions and may differ from other portfolio managers or of the firm as a whole. These opinions are not intended to be a forecast of future events, research, a guarantee of future results or investment advice.
For wholesale investors in Australia: This information is issued and approved by Martin Currie Investment Management Limited ('MCIM'). It does not constitute investment advice. Any distribution of this material in Australia is by Martin Currie Australia Limited ('MCA'). Martin Currie Australia is a division of Legg Mason Asset Management Australia Limited (ABN 76 004 835 849). Legg Mason Asset Management Australia Limited holds an Australian Financial Services Licence (AFSL No. AFSL240827) issued pursuant to the Corporations Act 2001.
For institutional investors in the USA: The information contained within this presentation is for Institutional Investors only who meet the definition of Accredited Investor as defined in Rule 501 of the United States Securities Act of 1933, as amended ('The 1933 Act') and the definition of Qualified Purchasers as defined in section 2 (a) (51) (A) of the United States Investment Company Act of 1940, as amended ('the 1940 Act'). It is not for intended for use by members of the general public.
The information provided should not be considered a recommendation to purchase a particular strategy / fund or sell any particular security. It should not be assumed that any of the security transactions discussed here were or will prove to be profitable.