Geopolitical imperatives directly target the technology sector
Four years into an escalating confrontation and nearly a year into the first truly global pandemic in a century, the showdown between the US and China dominates every facet of policymaking. The Biden Administration comes with significant knowledge of China and with similar intent, so further distancing is virtually guaranteed, and technology is viewed by both sides as critical to the geopolitical struggle.
Semiconductors – the underrated key
The electronics industry worldwide was worth US$5.2 trillion1 in 2018, led by China, the US and Japan. The leading countries are in the chart on the right. The industry is crucial for virtually every sector of the economy and is therefore strategic in its importance. Inconveniently, it totally depends on semiconductors, an underrated but key component, the global market for which was worth US$412 billion2 in 2019.
One of the reasons why the semiconductor supply chain has worked so well over the past 20 years is that after many iterations it has separated itself into well-defined divisions of labour, with companies becoming specialists. The benefits of lower costs and faster development have been shared across the whole chain, across many countries and time zones, resulting in high-quality, competitively priced products for consumers. One of the key pre-requisites of such a supply chain is, of course, the combination of free trade and freedom of association – meaning the freedom to sign contracts with any corporate anywhere in the world. That has come to an end, as geopolitical objectives are increasingly becoming a source of interference and obstruction.
Leaders in Electronics by market size 2016
Source: Statista 2020
...the showdown between the US and China dominates every facet of policymaking.
The 'division of labour' of the global semiconductor supply chain
As a result of this specialisation, there are stages in the supply chain where a single company has a disproportionately dominant position. This creates bottlenecks which are now well understood by governments around the world and we have seen moves by both the US and Japan to block access to certain component parts of the supply chain for geopolitical rationales.
The biggest players in the semiconductor supply chain are based in the United States, South Korea, Japan, Taiwan, the European Union and more recently, China. Given the US moves to block Chinese companies from accessing US intellectual property, the industry structure is being dismantled. Shareholder value is prejudiced and both management teams and investors must think laterally to identify alternative routes around these actions.
Snapshop: HiSilicon semiconductors spanning Huawei's business lines
Huawei subsidiary HiSilicon licenses IP for its designs from ARM Holdings and designs the chips using US electronic design automation tools. All of Huawei's core business lines include high-end chip designs from HiSilicon that are also manufactured at TSMC in Taiwan. New US export control regulations have resulted in TSMC ending its relationship with HiSilicon and Huawei.
Source: Eurasia Group and Huawei
For their part, Chinese companies like SMIC have been ordering significantly higher volumes of inventories of specialist machinery and consumable parts, while Huawei has been stockpiling supplies of chips for its products. Observers estimate that they may both have 12 months' worth of supply. Chinese companies have also ramped up imports of machinery from Japanese supplier Tokyo Electron. The company financials show3 sales to China are up 83% year on year in the six months to September 2020. The Chinese government has redoubled its efforts by providing financing and incentivising investment in R&D. Some industry analysts believe that the country is potentially 4–5 years away from self-sufficiency in semiconductors. But the specification required is inexorably higher, driving demand for smaller chips, bigger memory and lower energy requirement, to enable longer battery life. To put things in perspective, SMIC currently produces chips with 55–65 nanometres (nm), with its most advanced version at 14 nm. The industry leader, TSMC of Taiwan, produces a 5 nm specification. Meanwhile, US semiconductor companies had a 48.8% market share in China in 2019, worth US$70.5 billion4.
There are those who believe that in technology, being a latecomer is relatively good, because (assuming you have access to capital), you can leapfrog most of the stages of development. But there is another reason: semiconductor technology is developing more slowly today, as should be expected, when the industry is at the 5 nm stage (which is equal to five billionths of a metre). So, it is clear from Beijing's offer of lucrative positions, large research budgets and 10-year visas to high-quality people from the sector, that they mean to catch up. One such is Yukio Sakamoto, a 73-year old Japanese semiconductor veteran, who accepted a post5 with Tsinghua Unigroup, one of the leaders in China's high-tech sector, affiliated with the prestigious Tsinghua University. The role is to oversee the launch of a Dram memory chip manufacturing capability.
Artificial Intelligence and Machine Learning
Artificial intelligence, referring to the creation of intelligent hardware or software, able to replicate 'human' behaviours such as learning and problem solving, is a field of computer science that has been the subject of people's imaginations and science fiction movies for decades. Although the term was coined by Stanford professor John McCarthy in 1956, it has become a commonplace term. Artificial intelligence already allows machines to complete various 'human' tasks, from driving automobiles and reacting to their environment, to providin virtual assistance to playing games. Robots are already used widely in numerous industries, and are projected to spread throughout the ;consumer market in the next few years
The People's Liberation Army (PLA) has been running 'Artificial Intelligence Challenge6' competitions for some years, as a way of exposing the PLA's research and development acquisition mechanism to bright, new talent from outside the military. The prize money is one million yuan7 (US$151,000). The 2020 task – 'Stratagem at Heart, Jointness to Win' Joint Operations Challenge – according to the official website8, is to wargame a combined air and seaborne attack on a fortified island (!) with the competing teams then submitting both their attack and defence AI algorithms to the PLA. The official competition website lists its sponsorship by the Central Military Commission's Equipment Development Department. Competitors must be Chinese citizens and can form teams of up to five.
Other wargaming competitions are being run by different units of the PLA:
PLA Rocket Force (PLARF): 'Intelligent Rocket and Fire Eyes'
PLA Strategic Support Force (PLASSF): 'Intelligent Space Cup'
PLA Air Force (PLAAF): 'Intelligent Aerospace' and 'Unmanned Dominance'
PLA Army (PLAA): 'Unmanned Platform'
PLA Navy (PLAN): 'UUV Tech Demo Exchange Activities'
This clearly constitutes evidence that China has already been making significant commitments to changing the culture of the PLA and views the modernisation of Defence as a top priority.
Share of projected worldwide AI contribution to GDP in 2030, by region
Source: Statista 2020 and Worldwide; Bahrain FinTech Bay; PwC; 2018
Meanwhile, the promise of Artificial Intelligence is clear in terms of increased efficiency and potential contribution to GDP. Given a combination of the starting points and the commitment shown by governments, it is instructive to see the significant gap in projected contribution to GDP in different countries, as per the chart below, from Statista:
Robotics
The concept (and the word) first appeared in a 1920 play, written by Karel Čapek, a Czech author who used it to describe a human-made machine that did the hard work (robota). The global robotics market turnover hit US$50 billion9 in 2019, including robot systems, software and peripherals, according to the International Federation of Robotics (IRF). The operational stock of 2.7 million industrial robots are dispersed globally with 62% in Asia, 21% in Europe and 17% in the Americas, as of 2019. One third are deployed in the automotive sector and a quarter in the electrical/electronics sector9. Historically, the robotics industry has been split along the two main functional lines of industrial and service robots; however, the line of separation between the two has been blurring as new software enables cross-functionality. One key nuance change is the use of the term 'collaborative' robots, meaning robots that work alongside humans, usually lifting the heavy loads or doing the literally dirty or dull work, where the human avoids risks of accidents or repetitive strain injury and supervises the robot.
Robot density in the manufacturing industry 2019
Source: International Federation of Robotics, Press Conference, September 2020
To clarify China's seemingly low density of robots in manufacturing, scale is clearly a factor, but let's not assume that this is static. Technological advancement remains the top priority for Beijing, in all facets of the economy. Annual installations of robots clearly demonstrate China is well ahead of the field in the pace of adoption.
Annual installations of industrial robots
Source: International Federation of Robotics, Press Conference, September 2020
Given the extent of the economic decoupling between China and the US, there will have to be significant investment made in restructuring supply chains as manufacturing relocates from China to other Asian countries, or even back to the US. As that process plays out, there will inevitably have to be a radical adoption of automation technology in all industries, leading to a major disruption of labour markets as the cost and efficiency benefits unfold in many industries. Over the next decade, countries with ageing populations (Japan, China, Germany, Italy, Poland and Czech) have a chance of accelerating the process, as their working populations shrink. Those with 'middle aged' populations (UK, US, Australia, Canada) will have to carefully balance the rate of adoption with retraining and social welfare programmes, to minimise social unrest. The worst affected are the countries with young, less-educated populations and weak government capacity. Bangladesh, Pakistan, India look the most exposed, but Indonesia, Brazil and Mexico also seem ill-equipped for the challenge. The International Labour Organisation (ILO) estimates10 that 56% of jobs in the five ASEAN countries of Cambodia, Indonesia, Philippines, Thailand and Vietnam are at high risk from automation.
In the context of the COVID-19 pandemic, investors should be under no illusions regarding the likelihood of cyber-attacks being deployed in the domain of healthcare security.
Japanese case study
It is well known that Japan has the oldest demographics profile in the world. It is also a wealthy country that has long been investing successfully in research and development, so it is naturally the most advanced at incorporating robotics into everyday life. The retail sector is a current example and two jobs are becoming clearly affected: security – one security guard can control three robots to patrol a building, essentially reducing headcount by 75%; and shelf stacking – the robot 'learns' human movements and allows one employee to remotely stack shelves at two or more locations simultaneously. This is particularly popular in the convenience store subsector. And finally, the pandemic has triggered the use of robots which can emit ultraviolet beams to disinfect door handles and other surfaces.
Medtech
Most countries have struggled with providing access to medical care for their populations. The traditional view is that there are not enough doctors to go around. Now there is an opportunity to deliver medical diagnosis and advice to a wider proportion of the population very efficiently via online consultations, at least for general practice. The clear proviso, however, is government support; it will require a drive from the relevant health ministries in order to ensure prescription compliance and empowerment of general practitioners. The telemedicine market worldwide is estimated at US$45.5 billion in 2019, according to Statista11, who project it to nearly quadruple to US$175 billion in 2026.
The line between medicine and technology has blurred. In the context of the current geopolitical struggle, health and medical technology is right in the middle of the battlefield. COVID-19 has only served to intensify the focus, as the first country to develop a safe and effective vaccine will clearly strengthen its diplomatic hand and be in a position to influence third parties' ability to deal with the pandemic. Hence the apparent attempts at hacking scientific research institutes and high-profile companies.
The technology to enable communications is already there – but it remains broadly underutilised, other than for basic consultations, presumably because of inertia and perceived data-collection limitations. But data collection is not a problem. Many routinely used bracelets measure blood pressure and heartbeat rates to look for arrhythmia; some measure haemoglobin levels to detect anaemia. More importantly, patients have proved acutely sensitive to the potential for their medical records to be compromised. Whether it concerns a medical condition or a medical procedure, most prefer to keep these private. So that means that cybersecurity becomes extremely important as a tool for building confidence in the telemedicine domain.
Quantum computing
The size of the enterprise quantum computing by industry is still very small, but the breadth of its use is impressive – life sciences, automotive, manufacturing, civil engineering and oil & gas are the biggest users to date12 Consensus in the sector is that adoption is accelerating in areas such as material science, chemistry, pharma and drugs – where it will be implemented in drug delivery first, rather than drug discovery. One of the key drivers is optimisation (DHL's logistics is an early example); the other is for natural language processing.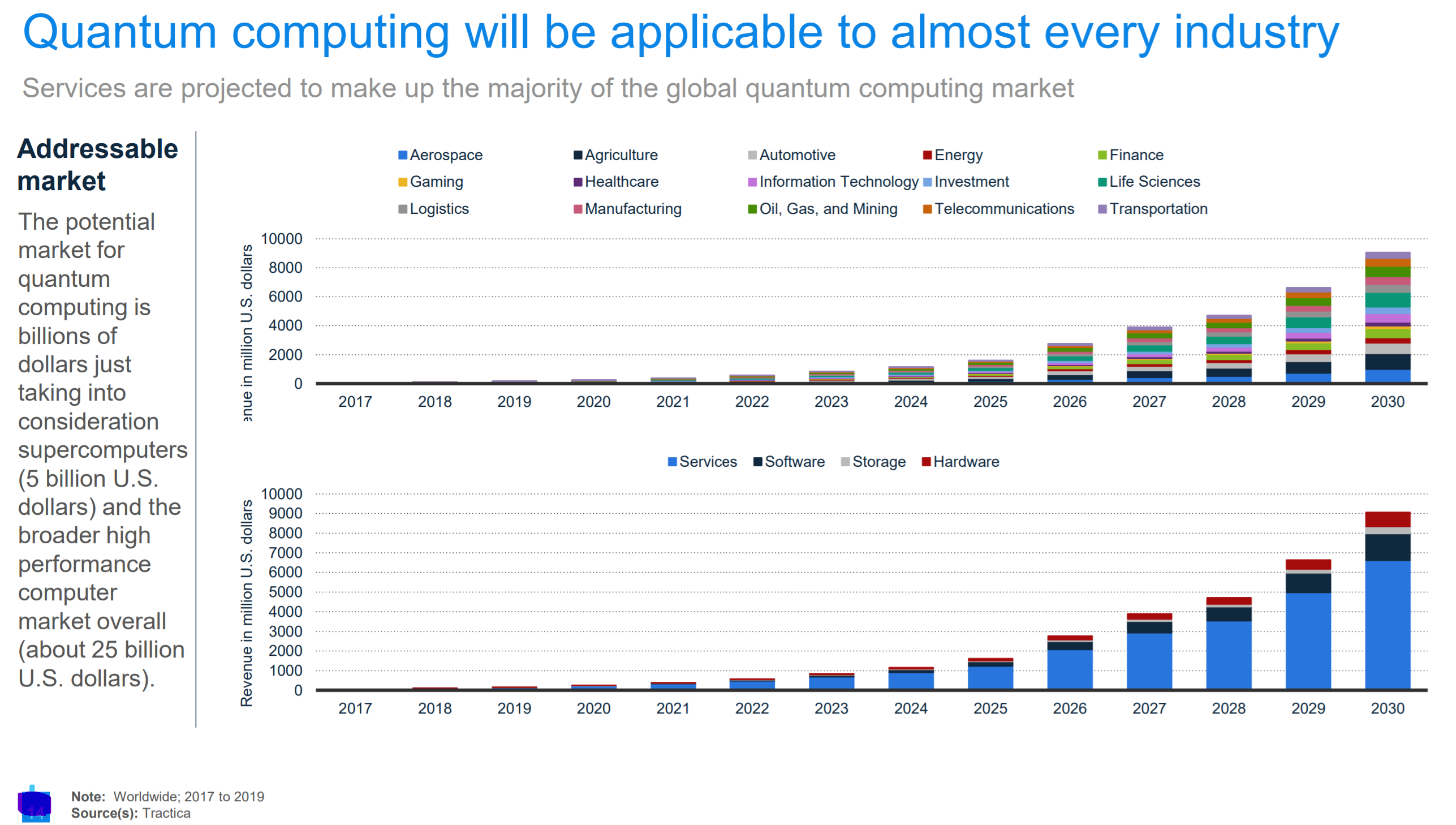 Source: Statista – Dossierplus on the state and outlook of the 5th generation of computing, April 2019 p14
As of March 2019, China had outstripped everyone else in terms of government funding for research into quantum computing, according to Statista13.
Government funding / investment into QC technology
Source: Statista – Dossierplus on the state and outlook of the 5th generation of computing, April 2019 p26
Western intelligence agencies are very concerned at China's explicit commitment to attaining a leading position in this field. The view is that Beijing is pursuing a civil-military partnership in innovation, research and development – the PLA believes that the next war will be won by the use of technological advances, even in 'experimental' fields. If attained, quantum technology leadership will give China an advantage in offensive intelligence operations and encryption. The resultant advanced weapons systems will increase China's geopolitical and combat options, threatening the West. This fear guarantees a heightened focus from governments going forward.
Cybersecurity
Cybersecurity attacks are generally thought to originate from one of cybercriminals, 'hacktivists', and state-sponsored groups. In many ways, plausible deniability reigns, but it is clear that a country's preparedness for attacks is not enough. There are a number of surveys of cybersecurity strength, but possibly the most interesting is the newest: the Belfer Centre's National Cyber Power Index14. It is particularly interesting because of its coverage of offensive capabilities, as well as cyber defence and its focus on resourcing, the private sector and innovation. The top-ten countries are the US, China, the UK, Russia, Netherlands, France, Germany, Canada, Australia and Israel. China is top on Defence and Surveillance, while the US leads in Offense and Information Control. Some of the smaller countries rank highly, such as Estonia, Lithuania and Taiwan, perhaps because of recent experience. This is an area of operations that will remain a high priority, but where investors may only obtain news tangentially, for obvious reasons.
In the context of the COVID-19 pandemic, investors should be under no illusions regarding the likelihood of cyber-attacks being deployed in the domain of healthcare security.
Microsoft recently announced15 that hackers operating from Russia ('Strontium', also known as 'Fancy Bear' of the US Democratic Party hack fame in 2016) and North Korea ('Zinc', responsible for the Sony Pictures and UK's NHS attacks in 2014 and 'Cerium') have been attacking vaccine makers that have Covid-19 vaccines currently at various stages of clinical trials. Seven companies have been attacked, based in Canada, France, India, South Korea and the United States. Most were unsuccessful, but some did work, and it is not clear if proprietary research information was compromised.
Aside from the obvious hacking to obtain access to vaccine research information, we ought not to forget the role of the now well-established art of asymmetric warfare; the use of social media to spread disinformation and to delegitimise science is potentially a particularly powerful tool if used when there is a health security emergency like this pandemic. Rose Bernard, a research fellow at King's College London, has written a thought-provoking piece16 on 'Disinformation and Epidemics: Anticipating the Next Phase of Biowarfare', for those interested in reading more on the subject.
Regulatory framework changes in China
In June 2020, the National People's Congress released a draft new Data Security Law, the centre piece of the revamped regulatory framework for data related to national security. In the focus on control over data, it seems to be a parallel legislation to the US, going as far as defining the relationship with foreign governments and companies. In a nod to US legislation, article 2 extends legal liability beyond the territory of China and explicitly implements export controls on data. Article 24 clarifies the concept of reciprocity of treatment of foreign companies aligned with the treatment of Chinese companies abroad. Article 33 circumscribes foreign law enforcements' access to Chinese data. But most interestingly perhaps, it also appears to limit, or at least set the legal pathway for China's security services to request data from companies, as per the often-quoted Article 14 of China's National Intelligence Law. This particular section is regularly cited in the US Congress to demonstrate that Chinese companies cannot be 'private sector' in the way that Western companies are. The new draft may provide guard rails, but it seems unlikely that it will silence the critics. Most Western countries have a legal framework that addresses the boundaries for intelligence agencies, but post-Snowden, a healthy cynicism abounds. In the ongoing struggle, it will be a case of ends justifying the means in most countries.
Conclusion
The next decade will likely see increasing efforts to disassociate the two largest economies in the world. Investors are well aware of the mounting pressure on third-country governments to take sides. China's response is to accelerate its efforts to cut its dependence on Western technology, while the US is unlikely to drop its currently aggressive stance. Technology is as central to this struggle as it is in government and in normal life. Up until recently, the overt confrontation has been on telecommunications, in the shape of 5G rollouts. Going forward, the focus of anti-China policy will spread to every conceivable implementation of technology, which complicates matters for investors in many sectors. But unlike telecommunications, quantum computing, cybersecurity and (to a certain extent) artificial intelligence have developed without the free-flowing exchange of ideas and theories. The logical outcome will be duplication of R&D and slower rollouts of advances, but essentially trying to 'nationalise' technologies like AI is futile, as it is like trying to nationalise knowledge. Blocking China doesn't help the US or the West to develop AI faster. It just slows everyone down and costs more.
In the developing countries, China's offer of the Belt and Road Initiative (BRI) has already been accepted. The only issues that could potentially derail this development are a sudden and commensurate generosity of finance from the US, evidence of poor-quality execution in the BRI, or a particularly shocking political misstep by Beijing. All seem unlikely at this point, thus underlining that should the US-China decoupling continue, there are many countries already committed to the Chinese sphere of influence. The aggressive moves against specific companies by the Trump administration, however, have set dangerous precedents.
It is not just a question of adverse publicity being driven by an unguarded tweet, it can impact the revenues and profitability of third-country companies, as has been demonstrated by the pressure campaign on Taiwan's TSMC in order to get at China's Huawei. In this case, TSMC enjoys a leading position in the industry, so the company has options that others would not. Investors need to stay abreast of developments and understand the perspective to identify companies that are particularly vulnerable. At the same time, investors should be planning for a future where an asset owner's geography effectively determines the investment universe – something we have not considered for decades.
1Source: Statista, Zwei – 'Welt-Elektromarkt, Ausgabe August 2020 p4
2Source: Statista and WSTS, SIA
3Source: Tokyo Electron investor relations presentation, October 29, 2020
4Source: Semiconductor Industry Association 2020 Factbook, p5
5Source: Nikkei Asia, October 21, 2020 Semiconductor tech trends favor China - Nikkei Asia
6 7 8Source: official website of 2020 contest
9Source: International Federation of Robotics, Press Conference, September 2020
10Source: International Labour Organization Copyright © International Labour Organization 2016
11Source: Statista
12Source: Statista, Tractica 'Size of the enterprise quantum computing market by industry from 2017 to 2030'
13Source: Statista – Quantum Computing DossierPlus – October 2019 page 26
14Source: Belfer Centre National Cyber Power Index 2020
15Source: Microsoft "Cyberattacks targeting healthcare must stop"
16Source: Health Security Disinformation and Epidemics: Anticipating the Next Phase of Biowarfare
Regulatory information and risk warnings
This information is issued and approved by Martin Currie Investment Management Limited ('MCIM'). It does not constitute investment advice. Market and currency movements may cause the capital value of shares, and the income from them, to fall as well as rise and you may get back less than you invested.
The information contained in this document has been compiled with considerable care to ensure its accuracy. But no representation or warranty, express or implied, is made to its accuracy or completeness.
The document does not form the basis of, nor should it be relied upon in connection with, any subsequent contract or agreement. It does not constitute, and may not be used for the purpose of, an offer or invitation to subscribe for or otherwise acquire shares in any of the products mentioned.
Past performance is not a guide to future returns.
Martin Currie has procured any research or analysis contained in this presentation for its own use. It is provided to you only incidentally, and any opinions expressed are subject to change without notice.
The views expressed are opinions of the portfolio managers as of the date of this document and are subject to change based on market and other conditions and may differ from other portfolio managers or of the firm as a whole. These opinions are not intended to be a forecast of future events, research, a guarantee of future results or investment advice.
For wholesale investors in Australia: This information is issued and approved by Martin Currie Investment Management Limited ('MCIM'). It does not constitute investment advice. Any distribution of this material in Australia is by Martin Currie Australia Limited ('MCA'). Martin Currie Australia is a division of Legg Mason Asset Management Australia Limited (ABN 76 004 835 849). Legg Mason Asset Management Australia Limited holds an Australian Financial Services Licence (AFSL No. AFSL240827) issued pursuant to the Corporations Act 2001.
For institutional investors in the USA: The information contained within this presentation is for Institutional Investors only who meet the definition of Accredited Investor as defined in Rule 501 of the United States Securities Act of 1933, as amended ('The 1933 Act') and the definition of Qualified Purchasers as defined in section 2 (a) (51) (A) of the United States Investment Company Act of 1940, as amended ('the 1940 Act'). It is not for intended for use by members of the general public.
The information provided should not be considered a recommendation to purchase a particular strategy / fund or sell any particular security. It should not be assumed that any of the security transactions discussed here were or will prove to be profitable.