Packaging is an important enabler of modern consumption and therefore a critical element of daily life. Plastic as a packaging material has a strong overall value proposition, but its sub-optimal end of life outcomes are a sustainability concern for consumers, brands, retailers and investors.
Plastics have hidden sustainability street cred
Plastic is designed to be practically indestructible, which provides a number of benefits, like durability through the supply chain.
According to research by PTIS Global and Amcor, flexible plastics and PET bottles actually have a lower greenhouse gas footprint when compared to glass, aluminium and even composite paper carton alternatives1. This has been reiterated to us in conversations with bottling companies such as Coca-Cola Amatil.
Why plastic?
Durable
Light weight (leads to less packaging and less transport costs)
Resealable
Food preservation & waste reduction benefits
Cheap
Low capital investment for production
Technically recyclable
The plastic paradox
But, to ensure consumers can use plastic with confidence as a sustainable packaging solution, we need to address the negative externalities.
The challenge is that it's often only used once – and that same durability means it survives for a long time (hundreds of years) in the natural environment.
End of life solutions are underdeveloped
While plastic can technically be recycled, not all plastic packaging is recyclable. This is generally due to the use of multiple substrates, for example, a plastic pet food bag lined with aluminium, which makes commercial recycling virtually impossible.
In addition, even for plastic packaging products that are recyclable, collection and recycling rates are low, and an unacceptable volume of plastic leaks into the environment – including our oceans. Increasingly obvious concentrations of plastic waste are driving growing consumer backlash, and this is a key sustainability issue for consumers, retailers, brands and investors.
A global environmental issue
The 8+ million tons of plastic entering our oceans every year2 have devastating consequences for marine and bird life. Researchers from Germany have estimated that 90% of the plastic in our oceans originate from just 10 rivers - eight in Asia and two in Africa3.
Given the outlook for consumption growth, particularly in developing economies, it is likely the pollution issue gets worse before it gets better as it will take years to roll out adequate collection and recycling infrastructure.
The good news is there are solutions to close the plastics loop
The heightened focus this issue has received over the past couple of years is driving action on multiple levels, including from manufacturers in Australia.
Leading Australian listed packaging companies like Amcor and Pact Group have committed to make all of their products 100% recyclable by 20254,5. This is an important first step.
Both companies are seeking to increase recycled content in their plastic packaging products. This will help facilitate a more closed loop plastic economy, where demand for recycled resin helps improve the recycling economics, which in turn will encourage higher recycling rates.
Challenges for regulation
Regulation and Government intervention is responding, although there will still be some time before the playing field will be properly set.
In late 2017, NSW's container deposit scheme officially commenced, followed by Queensland's in late 2018, adding to schemes already in place in South Australia, the ACT and the NT. In addition, Tasmania has announced it will be launching a scheme by 2022. This will leave Victoria as the only State without a scheme. These schemes help increase collection and recycling rates by creating an economic incentive, and also produce a relatively clean end material which has high recycling value.
A key challenge from a regulatory standpoint in Australia is the state-based nature of waste regulation, which means there are many different standards, approaches, requirements, and even economic incentives. The lack of harmonised waste regulation and recycling standards adds complexity, increases costs and slows investment.
Reduction needed in unnecessary plastic
The reduction of unnecessary plastics will need to be part of the solution, whether this be excessive secondary packaging, or even bans of particularly problematic packaging, like single use plastic bags.
In Australia, non-reusable plastic bag use is a particularly hot topic for consumers. A ban on lightweight plastic bags came into effect in Victoria on 1 November 20196, with bans in force for all states barring NSW (where it is still being debated).
Woolworths said at a recent shareholder meeting with Martin Currie Australia that reducing plastic packaging is the most important sustainability issue for their customers. The company is reducing unnecessary packaging where possible and is also trialling paper bags in 20 stores.
Woolworths also announced in October 2019 a new partnership with zero-waste shopping platform, Loop, which will allow shoppers to receive certain products in reusable containers when they shop in store or online from mid-20217. It will be interesting to see how consumers respond to this re-use alternative.
Coles is seeking to reduce unnecessary secondary plastic packaging, for example by reducing the amount of plastic packaging used for fruit8.
The reality however is for many types of packaging, the benefits of reducing use are outweighed by the trade-offs, such as increased food waste, and higher transportation costs (and emissions).
The global waste management challenge
The most significant investment in collection and recycling infrastructure will be required in the developing world, however the developed world also has much work to do.
Many developed countries, including Australia, had previously relied on China to reprocess much of their plastic waste into value added material. China's National Sword policy, enacted in 2018, included bans on the import of low-quality (highly contaminated) recovered waste products. This policy change revealed, amongst other opportunities for improvement, a lack of recycling infrastructure in the developed world.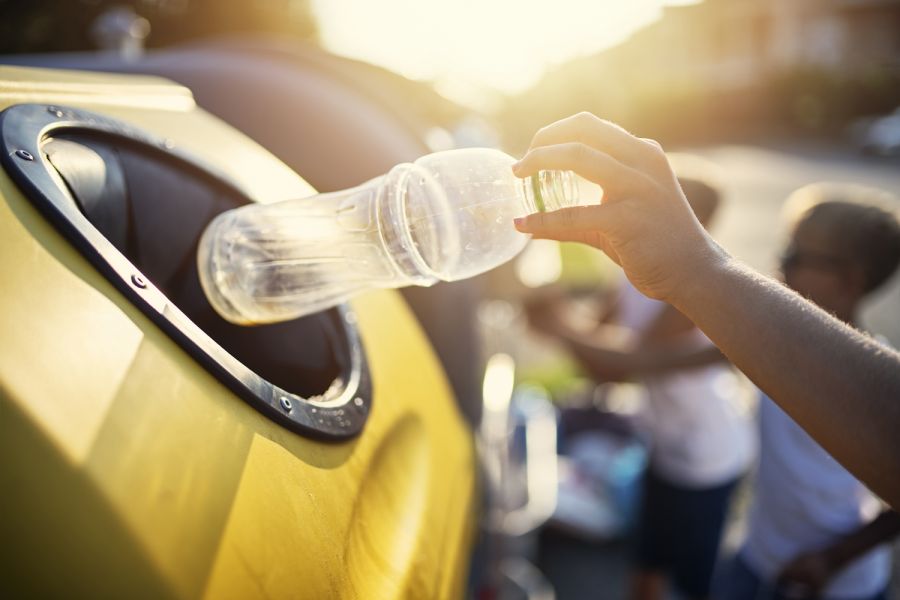 At a meeting of Australian state and federal Environment Ministers on 8 November 2019, it was agreed that waste plastic, paper, glass and tyres that have not been processed into value-added material should now be subject to an export ban.
Clearly, there is a major opportunity for waste management companies to grow their collections revenue streams and also move into additional value adding activities, whether that be directly, or through joint ventures or other forms of partnerships.
Australia's leading waste company, Cleanaway, is playing a role in facilitating this transition, improving its capabilities by recently acquiring the assets of a bankrupt recycling company impacted by, amongst other things, China's National Sword policy, and taking the necessary steps to further develop the recycling industry in Australia to improve plastic resource recovery rates.
In addition, the company announced that it will commence manufacturing certain plastic waste collection containers previously made in China in Sydney, using locally collected recycled plastics – closing the loop by collecting and sorting waste products and remanufacturing into a new product – all within Australia.
Consumers need to play a key role
To ensure consumers can use plastic with confidence as a sustainable packaging solution, we need to address the negative externalities.
Responsible disposal of packaging products – both in the home and outside of the home – is critical. Recycling is clearly better than landfill, however landfill is clearly better than allowing plastic and other packaging substrates to leak into the natural environment.
Proactive consumer selection of the greener alternatives (e.g. high recycled content plastics) is also important, but for the market for recycled products to gain sufficient scale, it will require incentives for action. Consumers will likely need to foot the bill, albeit on a per item basis, the extra cost is not expected to be material.
Plastics can have a greener future
Paradoxically; we believe leading plastic packaging companies can benefit from the backlash against plastic by leading the sustainability charge. This means helping customers make all their plastic packaging recyclable, using increasing amounts of recycled resin, eliminating the most problematic packaging, growing reusable packaging solutions and championing higher recycling rates.
We see full substitution of plastics with other substrates only at the margin, and this will most likely be at the expense of the smaller, lower-quality players offering low value product and who are less able to assist brands with implementing sustainable plastic solutions. While growth rates will be lower in certain product areas; we expect plastic packaging volumes to grow at least in line with population growth for the foreseeable future.
Despite the persistent sentiment risk as the global plastic waste challenge gets worse before it gets better, there are ample opportunities for Australian consumers, brands, retailers and investors to be part of a more sustainable plastic solution.
---
This information provided should not be considered a recommendation to purchase or sell any particular security. It should not be assumed that any of the security transactions discussed here were, or will prove to be, profitable.
1Source: Amcor Company Reports; 2020 First Quarter Results, as at 8 November 2019
2Source: Jambeck, J. R., et al; "Plastic Waste Inputs from Land into the Ocean" Science, vol. 347, no. 6223, 13 Feb. 2015, pp. 768–771., DOI:10.1126/science.1260352
3Source: Christian Schmidt, Tobias Krauth, Stephan Wagner; "Export of Plastic Debris by Rivers into the Sea" Environmental Science & Technology, 2017; DOI: 10.1021/acs.est.7b02368
4Source: Amcor Press Release; 23 January 2018
5Source: Pact Group Press Release; 26 September 2019
6Source: Victorian State Government DELWP; Plastic bag ban, 21 October 2019
7Source: Woolworths Group Press Release; Woolworths and TerraCycle to bring revolutionary 'Loop' platform to Australia to tackle plastic waste, 29 October 2019
8Source: Coles Group Press Release; Coles commits to crush waste and reduce landfill, 4 June 2018
---
Regulatory information and risk warnings
Past performance is not a guide to future returns
This information is issued and approved by Martin Currie Investment Management Limited ('MCIM'). It does not constitute investment advice. Market and currency movements may cause the capital value of shares, and the income from them, to fall as well as rise and you may get back less than you invested.
The analysis of Environmental, Social and Governance (ESG) factors form an important part of the investment process and helps inform investment decisions. The strategy does not necessarily target particular sustainability outcomes.
The opinions contained in this recording are those of the named manager. They may not necessarily represent the views of other Martin Currie managers, strategies or funds. These opinions are not intended to be a forecast of future events, research, a guarantee of future results or investment advice.
The information contained has been complied with considerable care to ensure its accuracy. However, no representation or warranty, express or implied, is made to its accuracy or completeness. Martin Currie has procured any research or analysis contained in this recording for its own use. It is provided to you only incidentally and any opinions expressed are subject to change without notice.
The information provided should not be considered a recommendation to purchase or sell any particular security. It should not be assumed that any of the security transactions discussed here were, or will prove to be, profitable.