Introduction
Climate change is a systemic and 'unhedgeable' risk, presenting major challenges to the global economy, as well as to the health and well-being of nations around the world. As a systemic risk, where shocks can result in significant, widespread materialisation, it requires a system-level approach to address the challenges presented. In this paper we set out how, as investors, we build our understanding and monitoring of climate change risk, and how we identify the opportunities that also present themselves.
Part One of this paper sets out:
the drivers of climate change and the likely impacts
the risks for investors
the response required to address climate change
what the transition to a lower-carbon economy looks like
Part Two of this paper sets out:
how we approach climate change analysis and its integration into our process
the importance of consistent, decision-useful disclosure on climate change
how we consider both physical risk and transition risk and opportunities
Part One
The background
For the last two centuries economic development has been grounded on the basis of unprecedented energy abundance. Almost all aspects of economic growth over this period, including the expansion of trade, the improvements in yields and productivity in agriculture, along with many aspects of social progress, have all been made possible by a plentiful supply of carbon-based energy sources.
But this has come at a cost. Increasing quantities of carbon dioxide (CO2) have been released into our atmosphere trapping heat and raising average global land and ocean surface temperatures. The consequences of these rises are multifarious and impactful across all parts of the globe. Extreme weather events, including droughts, floods and storms, are increasing in their frequency and severity, while rising ocean levels and acidification of seas are also now undeniably evident. We are already seeing major effects of these changes in terms of water availability, increasing disease vectors, habitat degradation and species loss.
For the last two centuries economic development has been grounded on the basis of unprecedented energy abundance.
The risks for investors
Climate-related risks present themselves to investors in two principle ways: physical risks and transition risks. Physical risks manifest in increasingly impactful climate and weatherrelated events. These events can significantly damage property and other infrastructure, disrupt business supply chains, hamper agricultural output and more broadly can lead to loss of life and migration. This can have a material impact on asset values, on corporate profitability and public finances.
Transition risks are associated with the pivot towards a carbon-neutral economy, which will require significant structural changes to the economy. The transition to a low-carbon economy implies a fundamental transformation of energy generation and consumption away from a dependence on hydrocarbons. This transformation will directly or indirectly impact every sector of the economy and for investors will necessitate a reassessment of a wide range of asset values and the creditworthiness of some borrowers. The transition to a lower-carbon economy will also present investors with opportunities where companies produce goods or services that contribute to, or benefit from, these changes; for example, in building energy efficiency, renewable energy and carbon-neutral transportation.
The required response
Understanding the challenge
A key challenge in addressing climate change is that CO2, the main driver of global warming, persists in the atmosphere for hundreds of years. As a result, in the absence of large-scale action to remove CO2 from the atmosphere, nearly all of the warming that occurs will be 'permanent' on societally relevant timescales. Additionally, because of the strong thermal inertia of the ocean, more warming is likely to be already locked in over the next decade, regardless of what future emission pathways look like.
What this means is that, irrespective of any actions taken now, the next decade will continue to see the resultant impacts of increased temperatures, for example through the increased physical impacts of extreme weather events. However, beyond 2030, climate science tells us that further warming can only be stopped by achieving net-zero greenhouse gas (GHG) emissions.
Net-zero emissions
Achieving zero emissions requires either substantially reducing the rate of emissions (mitigation) or increasing the rate of removal emissions (sequestration) or a combination of both. Currently, however, sequestration is not available at the scale required (or at a realistic economic or environmental cost) to make enough of a difference to the climate system.
Another way of thinking about the required response is to consider a 'carbon budget' – effectively the total quantity of GHG that can be emitted to limit the extent of the potential warming. In its 'Special Report on Global Warming of 1.5ºC' published in 2018, the International Panel on Climate Change (IPCC) took this approach. In the report, experts considered that, as at 2018, the CO2 budget that would make it possible to limit global warming to below 2°C (with a 66% probability) was 1,170 GtCO21; and to limit below 1.5°C ( again with 66% probability) was 420 GtCO2. For context, total GHG emissions in 2018 reached 55.3GtCO2 outlining the scale and speed of the adjustment required.2
Mitigation and adaptation
Mitigation is clearly the main pathway currently available and this requires encouraging emissions reductions. There are two main ways that this can be achieved: market-based approaches and regulatory approaches. The former generally involves some form of general pricing of carbon, whereas regulatory approaches tend to be more sector-specific. In our experience, we are observing governments using a combination of both approaches to address climate change. The form that these approaches take clearly has implications for investors, with the potential for significant impacts on the value of portfolio holdings.
Alongside mitigation it is also going to be necessary to consider adaptation – this means dealing with climate change impacts that are already happening or are expected to occur. This will require substantial investments across a wide range of applications and presents a range of opportunities for investors.
There is a clear long-term interplay between transition and physical risks – more of the former means less of the latter, and this is summarised very effectively in a Network for Greening the Financial System report.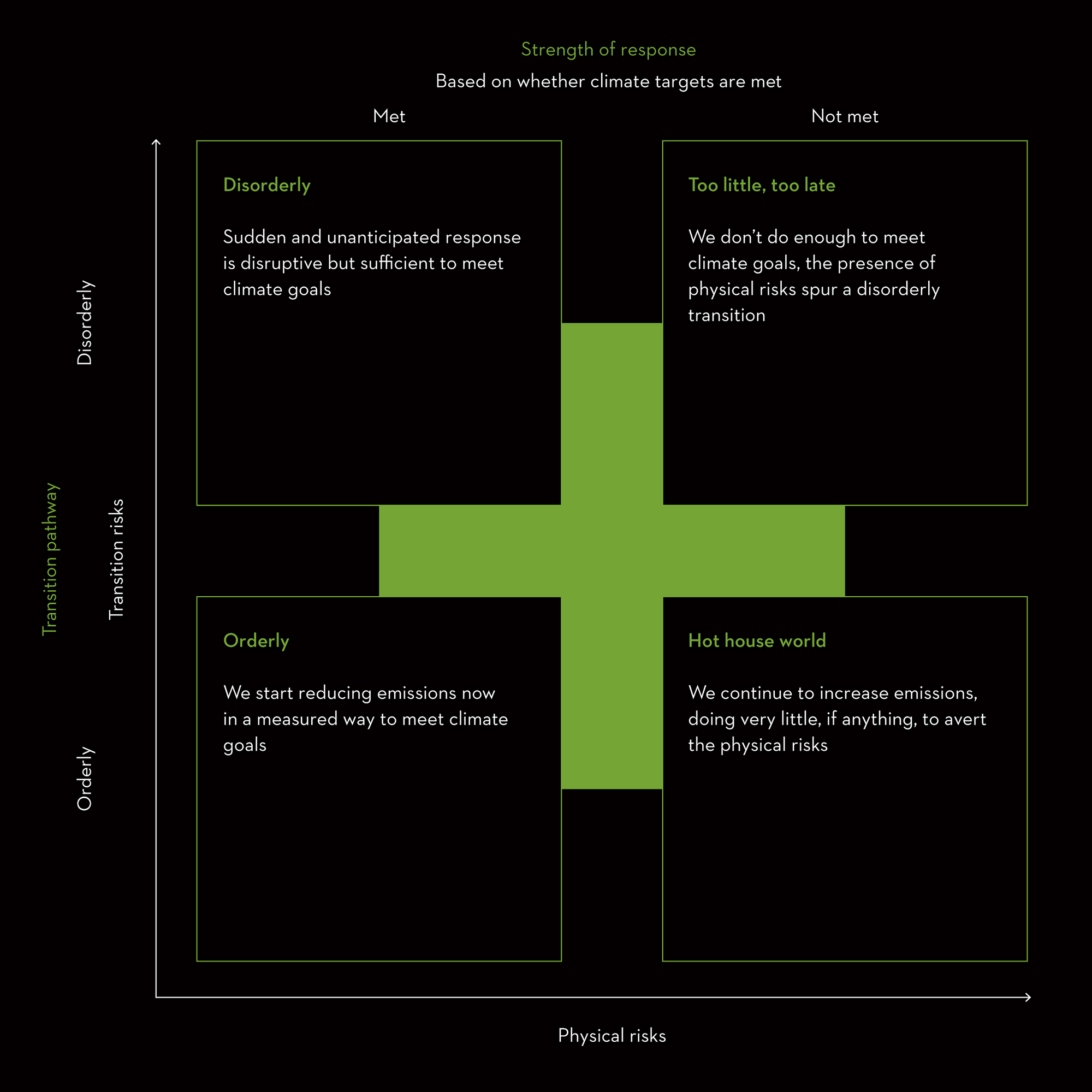 Source: NGFS Comprehensive Report 'A call for action: Climate change as a source of financial risk' 2019.>
What the transition to a lower-carbon economy looks like
Transition pathways
The transition to a lower-carbon economy involves system-wide changes and as a global challenge also requires broad participation. There are also many potential pathways or scenarios to reach the desired outcome. The pathways vary depending on the level of ambition that is set out and the timescale for achieving this ambition.
The differences in outcomes can be substantial (as illustrated in the IPCC 2018 Special Report, which looked at the significant differences between a 2-degree and a 1.5-degree pathway). The Paris Agreement of 2015, signed up to by 193 countries, sets out a framework for national targets used as a starting point in this process. It is worth noting that the initial pledges made for the Paris Agreement do not actually achieve the ambitions of the Agreement (which is to limit global warming to a rise of 2-degrees or less from pre-industrial levels).
Modelling scenarios
Given the interdependencies of the many factors involved, we do not know the exact pathway that the transition to a lower-carbon economy will take, but the potential pathways are set out in 'scenarios'. Scenarios are coherent futures, each with advantages and disadvantages, but importantly they are not forecasts and there is no one 'correct' scenario.
Modelling climate change and its potential impacts is incredibly complex and there are a number of organisations who have developed these models and associated scenarios. Perhaps the most commonly used scenarios are those produced by the International Energy Agency (IEA). These are based on an energy system model (not considering the physical risks from climate change) and focus on future expectations for the energy mix under different degrees of ambition.
Its scenarios are based on: (i) the Current Policies Scenario (CPS – a baseline of what is currently in place); New Policy Scenario (NPS – what countries have in place plus what is currently proposed); and the Sustainable Development Scenario (SDS – aligned with the ambitions of the Paris Agreement). The SDS also looks at what it would take to achieve the main energy-related components of the 2030 Sustainable Development Goals (SDGs) adopted by the members of the United Nations – effectively outlining where the energy sector needs to get to, to achieve this. The scenarios are represented here: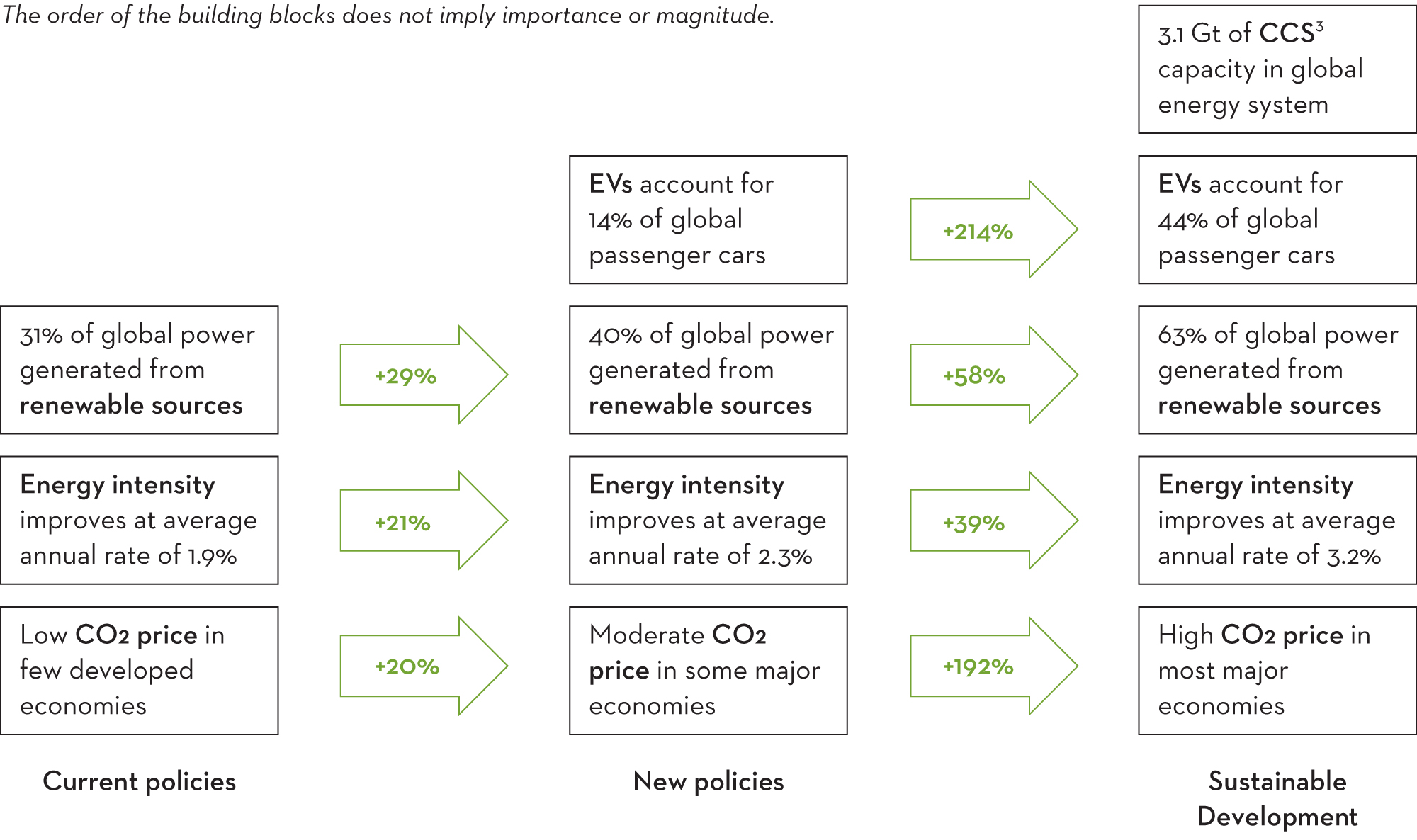 Source: Cicero. Climate scenarios demystified, a climate scenario guide for investors. Report 2018:02.
Inevitable Policy Response
A more recent, and potentially very useful development for investors, has been the publication of the Inevitable Policy Response (IPR) scenario developed by the Principles for Responsible Investment (PRI) in conjunction with Vivid Economics and Energy Transition Advisers and a consortium of climate research specialist groups. The IPR is a policybased scenario that is founded on the ratchet mechanism of the Paris Agreement which expects strengthening of the Nationally Determined Commitments (NDCs) every five years.
The IPR is global, broader in scope than the IEA modelling (that is, it includes macro, energy and land use models linking crucial aspects of climate across the entire economy), and is transparent on expectations for both policy and the deployment of key technologies, such as Negative Emission Technologies.
COP26
The 2015 Paris Agreement identified 2020 as a critical next step in communicating its updated or 'second round' of climate pledges (hence the focus on the crucial COP26 talks, now delayed until 2021) followed by a 'global stock take' on climate mitigation efforts in 2023.
As such, it envisions the use of multiple policy levers to achieve the goals of the Paris Agreement drawing on the current trends already observed – for example, existing policy actions on the use of coal, the sales of Internal Combustion Engine (ICE) vehicles, carbon pricing etc.
These policy forecasts are set out below:
Source: Principles for Responsible Investment. The Inevitable Policy Response: Policy Forecasts. December 2019.
The detailed forecasts behind this framework have recently been published. For investors like ourselves, the IPR provides a useful alternative way of looking at the risks and opportunities associated with the transition to a lower-carbon economy.
Investors play a key role in addressing global warming, with the power to influence change through capital allocation and corporate engagement...
Part Two
This section looks in more detail at how we, as investors, approach analysis and integration of climate change into our process, our active ownership strategy on climate change and how we work with our clients and report to them on climate change.
Climate change is non-diversifiable risk – both the physical and the transition risks associated with climate change will affect companies across all sectors of the economy to differing degrees. In many cases it will require them to adapt their business models accordingly. As such it is essential that both companies and investors understand, manage, disclose and, where possible, mitigate these risks.
Climate change as a governance issue
Climate strategy
As well as being a social and environmental issue, climate change is also a governance issue. It requires clear oversight by company boards to be able to position companies for the dynamic policy environment that will evolve around climate change. This will include building an understanding of the direction of government policy and regulation and the types of market mechanisms that are coming into play in order to inform strategy, planning and risk management.
As we highlighted in the first section, there is no 'one' pathway to address climate change and to transition to a lower-carbon economy, so the use of credible scenarios is an important tool to inform these decisions. Investors expect boards to both understand the potential issues, as well as be able to explain how climate change has been factored into decision making around strategy.
Materiality matters
For companies in certain sectors, for example fossil fuels or utilities, the climate-related risks are relatively obvious and will have a direct impact on the businesses. Fossil fuel producers will need to understand the future pathways for demand for their products, as well as showing awareness that parts of their reserve base may become uneconomic/ stranded as regulation changes or carbon prices rise. Utilities will need to evolve their business to address and support changes in the energy mix and understand the implications of efforts to increase energy efficiency.
For other sectors the risks can be hidden in their supply chains – for example, for food producers, manufacturing or technology companies that have chosen to outsource elements of production. This may not, however, reduce the potential materiality of the impact and therefore needs to be a consideration for the board and the management of companies.
Climate change and its impacts will therefore frame decisions around capital allocation and risk. To differing degrees, companies can also choose to play a part in the transition to a lower-carbon economy. So, for some companies, this will also be an opportunity to identify the potential for long-term sustainable value creation. Climate change is therefore likely to be central to corporate strategy and, as such, the accountability and oversight of the board is key.
Disclosure
Decision-useful information
Another key issue is the disclosures that are made to the providers of capital. Investors essentially need decisionuseful information to help them understand the materiality of the challenges (or opportunities) that a company faces; how the company is managing and mitigating or embracing these; the assumptions that are being made when framing capital allocation decisions; and the extent to which these are embedded into strategic decisions. Equally, when looking at mitigation efforts it is helpful to understand the level of ambition around any targets concerning, for example, emissions reduction or efficiency targets.
Likewise, it is important to help investors understand the scenarios that are being used in examining climate change risks and opportunities which can be set out in a cohesive narrative. All of this requires transparency about the assumptions and assessment being made.
A global framework for disclosure
In its work starting in 2015, following on from the Paris Agreement, the Financial Stability Board, under the leadership of Mark Carney, was tasked with setting out a meaningful and decision-useful framework to disclose the financial risks associated with climate change. From this ambition, the Taskforce for Climate Related Financial Disclosures (TCFD) was established which has produced a globally recognised disclosure framework. It is designed to provide decision-useful information on climate-related risks and opportunities; as such, the financial impacts of climate change can then be better integrated into the investment process. The disclosure framework consists of guidance for disclosures on four key components: governance; strategy; risk management; and metrics and targets.
The TCFD framework is designed to produce consistent, comparable decision-useful information and is now seen as the benchmark for climate-related disclosures with most reporting frameworks now aligning with the TCFD. This includes CDP (formerly the Carbon Disclosure Project) and the Sustainability Accounting Standards Board (SASB). TCFD reporting by listed companies is also now an important tool to understand how companies are managing climate-related risks.
Adoption momentum
Effective TCFD disclosures have a dual purpose. Firstly, they can influence internal corporate decision-making regarding how to identify, assess and manage climaterelated risks and opportunities, thereby strengthening policies, programmes, practices and behaviours. Secondly, they ensure that the climate-related financial information disclosed is decision useful for investors.
As of December 2019, support for the TCFD has grown to over 930 organizations, representing a market capitalisation of over US$11 trillion, with asset managers accounting for 160 of the supporters. New supporters are added on a continuous basis. The TCFD recommendations are currently voluntary in nature (although in the UK for example there is a proposal to make this mandatory) and have been devised by the private sector – 'by the market, for the market'. As a voluntary initiative, TCFD relies on industry support to drive adoption and implementation of the recommendations.
Asset managers have a key role to play in how they manage the risks and opportunities presented by climate change...
The role of investors
Investor influence
Investors play a key role in addressing global warming, with the power to influence change through capital allocation and corporate engagement, as well as engagement with policy makers.
There are different approaches that investors take to managing climate change risk, but an important first step is to build an understanding of the potential risks through an analysis and understanding of what these look like when aggregated up at a portfolio level.
Divestment vs engagement
For investors with very broad exposure to markets (universal owners) one approach to managing these risks (and opportunities) is divestment. This is when investors choose to divest those companies where climate risk is perceived to be high. This approach has been adopted by an increasing number of institutional investors, broadening its reach from the origins in universities, with the movement driven forward by a range of climate action groups. One argument associated with the divestment movement is to effectively deprive the offending companies of capital.
In reality, however, many companies in these sectors are not looking to equity markets for additional capital. So this can amount to purely a transfer of ownership in shares, perhaps to someone who cares less about the issue. If anything, the accountability and opportunity to influence positive change is then lost.
An alternative approach is to engage rather than divest – using the ownership rights that are conveyed on a shareholder to influence companies for change. This is the approach that we take.
Our approach
Fundamental analysis
As active equity specialists, we build global, stock-driven portfolios based on bottom-up fundamental research. We recognise that while analysis of near-term prospects for a company will always be important, most of the value of a company lies in its ability to generate sustainable longterm returns.
As such, climate change (including both its transition and physical impacts) is one of the key factors we consider when analysing companies. It forms part of our core assessment of the material risks and opportunities that companies face in generating sustainable returns over the long term and accordingly is embedded into our investment process.
Physical risk and transition risk
In terms of the physical risks associated with climate change, we consider a wide range of issues; for example, everything from the availability of water, to the potential for supply chain disruption. In each case, as bottom up investors, we consider the potential materiality of various physical impacts on the businesses concerned.
Transition climate risks also span a vast area with varying degrees of materiality according to the operational reach and complexity of each business. For instance, we consider the likely required regulatory changes in each industry and region necessary to address climate change, including the potential for clearer pricing on carbon. We also look at the impact of technological change in relation to transition and the effect this has on demand for products and services; what's more, we explore how changes to consumption patterns – for example, through shifting consumer sentiment – are likely to alter existing demand and supply models.
Considering opportunities
In addition, we recognise that the transition to a lower-carbon economy will create significant opportunities. These include reduced operating costs through more efficient use of resources; the scope for new products and technologies to support the change in the energy mix; the development of new products and services to meet the potential changes in consumption patterns; and the need for companies to build resilience into their operations. As such, with an understanding of the likely changes necessary, research and analysis can identify potential opportunities across a wide range of sectors.
Integrating climate change analysis
For us, the principal responsibility for assessing, managing and integrating climate risks and opportunities into how we analyse companies lies with the portfolio managers and analysts.
Our expectation is that companies facing material risks in the transition to a lower-carbon economy will build their understanding of these and incorporate them into the strategy of the business. We have established proprietary industry frameworks which highlight the factors likely to be most material to each industry – in particular, where they are especially exposed to climate-related risks and opportunities.
We believe that the TCFD framework is a robust framework for disclosure of climate-related risks and opportunities and as such we are very supportive of it. We believe it is an important step forward for reporting on climate risks and opportunities. We have used it as an engagement framework with companies and have also used it in our Stewardship Annual Report.
To help inform our overall view of a portfolio we produce a report that identifies key exposures to carbon risk based on a carbon footprint. While carbon footprinting has some short-comings – notably the backward-looking nature and the risk of doublecounting – it can provide useful insights. Equally, it is important to include forward-looking measures which can provide insights into the preparedness for transitions and we have also been internally modelling a carbon value-at-risk (VaR) assessment based on different levels of carbon prices.
Conclusion
Climate change has significant implications for investors in terms of physical and transition risks, but also in terms of opportunities. Understanding the pathways ahead – viewed through the lenses of mitigation and adaptation – will be vital for investors. There are now useful tools available to help model and frame potential scenarios, but it is also clear that these are not set in stone and in part depend on how governments choose to address the issues.
In the corporate setting, climate change demands effective oversight by company boards. It requires companies to analyse and understand the potential impacts and opportunities presented by the transition to a lower-carbon economy and understand the potential impacts from the physical effects of climate change. It is incumbent on a company's board and management to inform investors about these impacts through effective disclosure and the provision of decision-useful information.
Asset managers have a key role to play in how they manage the risks and opportunities presented by climate change for their clients or end beneficiaries. While some investors have chosen the divestment route, we believe that the more effective route to manage risk and drive change is through active ownership and, specifically, through engagement.
As such, assessing, managing and integrating climate risks and opportunities into how we analyse companies is a vital part our investment approach, and in our view, is integral to delivering long-term sustainable value to our clients.
---
1GtCO2 is the abbreviation for a gigaton of carbon dioxide and is used to demonstrate an equivalent level of carbon dioxide emissions.
2Source: International Panel on Climate Change (IPCC). Special Report: 'Global Warming of 1.5ºC' (2018).
3Gt of CCS means gigatons of Carbon Capture Storage.
---
Regulatory information and risk warnings
This information is issued and approved by Martin Currie Investment Management Limited ('MCIM'). It does not constitute investment advice. Market and currency movements may cause the capital value of shares, and the income from them, to fall as well as rise and you may get back less than you invested.
The information contained in this document has been compiled with considerable care to ensure its accuracy. But no representation or warranty, express or implied, is made to its accuracy or completeness.
This document is intended for the recipient only and may not be distributed to third parties. The document does not form the basis of, nor should it be relied upon in connection with, any subsequent contract or agreement. It does not constitute, and may not be used for the purpose of, an offer or invitation to subscribe for or otherwise acquire shares in any of the products mentioned.
Past performance is not a guide to future returns.
Martin Currie has procured any research or analysis contained in this document for its own use. It is provided to you only incidentally, and any opinions expressed are subject to change without notice.
The views expressed are opinions of the portfolio manager as of the date of this document and are subject to change based on market and other conditions and may differ from other portfolio managers or of the firm as a whole. These opinions are not intended to be a forecast of future events, research, a guarantee of future results or investment advice.
The analysis of Environmental, Social and Governance (ESG) factors form an important part of the investment process and helps inform investment decisions. The strategy does not necessarily target particular sustainability outcomes.