A landmark moment
August 2019 was a landmark moment in recent corporate history. In a statement released by the Business Roundtable, the group consisting of over 180 CEOs from leading US companies overturned the longheld concept of shareholder primacy. The announcement marked a paradigm shift from the doctrine famously first espoused by Milton Freidman, which advocated that the 'responsibility of business is to increase its profits', in favour of broader stakeholder accountability.
The impact of the COVID-19 crisis has since provided a stern test to the stakeholder model. However, despite the truly unprecedented societal and economic challenges the world has faced this year, we believe stakeholder primacy has gathered significant momentum and that it will not only survive, but thrive through these testing times.
A stakeholder model does not avoid accountability. For us, a stakeholder model means that although the board is accountable first and foremost to shareholders (who elect them) the business is run in a way that emphasises and understands the dependencies and interrelationships between a business and its key stakeholders – customers, suppliers, employees, investors, communities and others.
We have seen strong evidence from corporate behaviour during the COVID-19 pandemic that suggests corporates have embraced this view when times are more difficult and, as such, this shift represents much more than empty rhetoric. Part of this change comes down to businesses embracing a wider purpose beyond the bottom line. We believe that a key part of driving long-term shareholder and societal value is by embracing this symbiotic relationship.
Purpose and mission
The purpose of a business frames why a company exists, but also increasingly defines how it chooses to operate. A company exists to help solve problems or address unmet needs and do so in manner that is commercially viable and profitable. However, we believe for a company to be able to do this in a sustainable long-term way, it must not come at the detriment to people or planet.
Embedding purpose comes down to accountability. In this sense the board needs to take full ownership of implementation: aligning purpose directly to strategy and articulating it throughout its corporate culture and values. Ownership of purpose should then extend throughout the organisation.
Importantly corporate purpose is distinct from both a mission statement, which is about what a company does, or a corporate vision, which is aspirational. Corporate purpose and the attendant values instead set a framework for how to manage the differing priorities of stakeholders on the resources that a company has. Crucially at this time, we believe clear corporate purpose has a heightened value in setting a framework on how to manage, and ultimately come out of, the current crisis.
we believe clear corporate purpose has a heightened value in setting a framework on how to manage, and ultimately come out of, the current crisis.
Shifting the 'Rules of the Game'
For the past 60 years, Milton Freidman's work has formed the basis of modern corporate ideology. Crystallised in his most famous quote that 'there is one and only one social responsibility of business — to use its resources and engage in activities designed to increase its profits'1, his views became entrenched in the concepts of shareholder primacy and the fiduciary duty of boards and executive teams to maximise this element of business performance above all others.
However, a lesser-known but significant additional aspect of Friedman's work is that this focus on profits is dependent on staying 'within the rules of the game'1. While this was envisioned to be primarily enforced through government rules and regulations, we would argue that the rules of the game have now changed. Purpose and behaviours matter. It is not enough simply to follow the letter of the law – corporates have to be clear that there are business and brand consequences of low standards and dubious behaviour that previously had a more limited impact.
Indeed, it is becoming more accepted that businesses function within a set of societal norms which can change over time and that can have a huge impact on economic and business success when harnessed correctly. The realisation of this dynamic is now more mainstream than ever, as evidenced in the Business Roundtable's updated language which includes commitments to customers, employees, suppliers, communities and shareholders2 compared with a prior view of only shareholder primacy.
This delivers a ringing endorsement of the potential of having purpose-driven organisations aligned with shareholders to drive solutions to long-term societal problems. It also offers the prospect of attractive returns by capitalising on emerging opportunities with the support of a shareholder base. This should enable an environment for long-term thinking, allowing a wider view of opportunities to flourish.
We believe that a recalibration of business success considering the company's ability to maintain its 'social licence' to operate, is not only beneficial but also an irreversible trend. As we have set out in our Annual Stewardship Report, 'we have reached a point where it is no longer possible, or acceptable, to think of our actions simply defined by the binary outcomes of financial risk and return'.3 For ourselves, and the companies we invest in, we believe that the greatest chance of long-term success is by being responsible actors in the wider financial ecosystem.
The impact of COVID
The impact of coronavirus and its associated fallout in respect of economic growth, corporate profits and investment returns is a significant test of a more widespread and ongoing commitment to a stakeholder model.
We have seen signals of stakeholder ideals being accelerated with a focus on employee welfare, supply chain resilience and community mindedness. Importantly, this has not come at the expense of momentum in areas such as increased adoption of more ambitious carbon-reduction targets. The picture is not flawless with areas such as progress in diversity challenged by the pandemic and certain high-profile scandals such as BooHoo suggesting that high aspirations are not always matched with progressive behaviour. How corporates have responded in these challenging circumstances, has often revealed their true colours both in a positive and negative sense. And it is likely stakeholders across the business chain will remember how companies have behaved through this crisis.
How COVID has driven corporate change
The area we have seen a greater focus on from corporates during the pandemic has been across managing the impact of COVID in relation to employees, customers, suppliers and wider communities. A Morgan Stanley compilation of US and EU corporates actions during the pandemic highlighted that the vast majority of Stoxx600 and S&P500 took remedial action in support of these stakeholders.4 The most common measures were taken in relation to employee health and safety initiatives and protecting jobs, even outside government furlough schemes.
Increasingly we have also been seeing actions to promote resilience in the supply chain and in distribution, sustaining employment, and in such circumstances, sustaining production in an environment where supply shortages have become more common. We have seen the benefits of businesses embedding a more resilient manufacturing model. For example, this has enabled drinks manufacturer Britvic to shift production to different formats more appropriate for at-home (versus on the go) consumption.
At the same time it has also continued to move forward with its circular economy ambitions related to replacing virgin plastic feedstock with recycled PET in its packaging – something that resonates with its brand proposition to consumers. This has allowed the company to run an uninterrupted supply chain and generate the capacity to continue to take market share during the downturn, despite the loss of a large percentage of sales from hospitality venues.
Similarly, companies such as Procter & Gamble, Microsoft and Unilever have exemplified a responsible approach to managing their wider business impact during the pandemic. They have provided working capital support, differential payment terms to vulnerable customers and improved flexibility to both small- & medium-sized suppliers and customers in order to help mitigate the disruption caused by the pandemic. They have also utilised their productive capacity to help address the pandemic. For instance, consumer companies have repurposed production to make hand sanitiser and Microsoft has built a local COVID tracker within its search engine Bing.
In fact, we have seen some exceptional examples of companies embracing a stakeholder model during this time. In particular, French beauty firm L'Oreal has showed a noteworthy awareness of many of the key pillars of a stakeholder model, as demonstrated in the case study below. This is part of a long-standing view from the company in terms of what it means to be a market leader in the industry and the importance of this behaviour being synonymous with maintaining a market-leading brand:
'We don't do it for competitive advantage. We do it because we think that we have to do it. If it happens also to be a competitive advantage, so be it. But it's not the number one reason for which we do it. We do it because we – we want to be exemplary. We are the number-one beauty company in the world.' 5
Jean-Paul Agon, Chairman & CEO of L'Oreal
For us, this behaviour is key. It is emblematic of a strong purpose but also acknowledges the intangible benefits for employees, customers and suppliers of being a responsible business operator. The company's altruism is impressive but as long-term investors we also believe it is inherently aligned with maintaining market-leading brands and, as such, also builds value for shareholders.
Case study: L'Oreal. Examples of effective stakeholder management during the COVID crisis
Customers: L'Oréal has chosen to help its small, professional clients and small perfumeries by deferring the payment on their debts to ease any cash flow difficulties until their activities recover. This was extended to more than 100,000 small professional clients.
Employees: The company has maintained jobs and salaries for all L'Oréal employees worldwide. In France, L'Oréal will not furlough employees, even though in many fields of activity several categories of employees are at a partial or total standstill.
Communities/Society: Production of 15 million units of hand sanitiser gel in Europe, the United States, Latin America, Asia and Africa which were distributed to healthcare facilities globally. In addition, 4 million hand creams were donated for the use of medical personnel. 70% of production facilities of L'Oreal were involved in this initiative.6
Suppliers: L'Oréal has shortened the lead time of payments to its most seriously affected suppliers which extended to support of over 9000 suppliers.
Shareholders: Despite the fact that the company postponed its planned increase in the dividend for 2020 and deferred any share buy-back activity until beyond 2020, these actions helped create liquidity to support the wider business and align the business for future success. Equity markets have responded in part to the resilience of the organisation and its long-term focus with the shares outperforming the wider market during 2020 and over the longer term. This represents the intangible value of purpose, brand and business resilience in being hallmarks of quality when viewed from a fundamental perspective.
The information provided should not be considered a recommendation to purchase or sell any particular security. It should not be assumed that any of the security transactions discussed here were or will prove to be profitable.
Building trust
One of the key reasons we believe corporates who effectively embrace a strong stakeholder model are well placed to benefit is that they counteract the perceived lack of trust in businesses. The recent Edelman Trust Barometer found that although business is seen as more competent than either non-government organisations (NGO's) or governments, there was a lack of trust in their motives. Therefore, as shown in the diagram below, a company which can embody perceptions of both good ethical practice and competence, has the chance to differentiate itself.
The same report found that consumers highlighted key areas of action around the pandemic as being correlated to increased levels of trust. The most impactful areas highlighted were putting people before profits, helping smaller suppliers and customers stay in business and protecting their employee's financial wellbeing. Indeed, this echoes responses to the virus that we have identified from companies which demonstrate an explicit stakeholder focus. Finally, the report sees a huge opportunity for businesses from redefining company purpose.7 In our view, companies that truly embrace a stakeholder model have an opportunity to both do good in a wider sense and build a durable competitive advantage that will benefit long-term shareholders.
Source: Edelman Trust Barometer and Edelman: May 2020; https://www.edelman.com/research/trust-2020-spring-update
Reputational damage
The opposite is also true of companies which have fallen short of expected standards prior to, and during the crisis. Fashion supplier BooHoo has highlighted the significant reputational and business damage that can be caused by allowing poor practice – in this case significant concerns around exploitation of workers, inadequate supervision of the supply chain and health & safety concerns. For BooHoo, these issues went beyond being just a regulatory and oversight concern to one that has affected brand perception, distribution of its product through third-party websites and the ability to convince influencers to adopt and support its brands. At the moment, the long-term damage to the business from the way it has operated during the pandemic has yet to be fully quantified. Inevitably, this underlines to us as active and engaged investors the importance of critical and frequent dialogue with corporates when stakeholder interests are compromised.
Adoption of Sustainable Development Goals (SDGs) within listed equity markets has been increasing markedly, as companies embrace this as part of their purpose.
Where COVID has accelerated existing change
It is also encouraging to see that progress in other key areas has not been stalled by the pandemic. As long-term investors we are always interested in the ambition, detail and tangible signs of progress in relation to corporate ESG initiatives. Climate change remains one area where it is clear that COVID has not damaged momentum in terms of corporate initiatives in this area.
There remains a trend towards the adoption of ambitious, time-bound and science-based targets (SBTs) for corporate emissions. This is to be applauded, but also monitored to see whether the delivery of these initiatives matches the promises made. Encouragingly we are now seemingly reaching a critical mass of more ambitious SBTs on climate change. At the end of last year, over 700 publicly listed companies had adopted SBTs for emissions reductions which is a significant level of growth since the Paris Climate Agreement was ratified in 2016.8
Source: Science Based Targets: Raising The Bar – December 2019 https://sciencebasedtargets.org/wp-content/uploads/2019/12/SBTi-Progress-Report-2019-FINAL-v1.2.pdf
Post-COVID, and in a year when it could have reasonably been expected further action may be constrained, this has grown to almost 1000.9 While Europe remains the most advanced area in this initiative with 485 corporates signing up to science-based targets, we are seeing rapid adoption in North America and emerging markets also.
We have used our platform as long-term investors to engage with our investee firms to advocate for better disclosure and meaningful action in relation to climate change. While this engagement has mainly taken place with companies such as Mastercard, Microsoft and Nike, which have all adopted targets aligned with a 1.5ºC trajectory, there continues to be an opportunity to engage with those companies who are much earlier in the journey. For example, we spent time with an Australian electricity distributor outlining the Task Force on Climate-Related Financial Disclosures (TCFD) framework and its benefits as well as sharing some examples of best practice. Encouragingly, corporates continue to develop even more ambitious targets in this area with specific targets relating to net zero now becoming more prevalent.
On balance, we view 2020 as a year of continued progress for public markets in relation to a real and ambitious climate agenda that represents a strong embodiment of the ideals of the move to a wider stakeholder model.
UN Sustainable Development Goals
Adoption of Sustainable Development Goals (SDGs) within listed equity markets has been increasing markedly, as companies embrace this as part of their purpose. At a high level, a report by PWC10 showed that 72% of corporates publicly mentioned the SDGs in their reporting and within this, key areas such as climate action were mentioned by over 80%. However, the granularity of SDG alignment requires further work. Only 14% of those referencing the SDGs mentioned specific targets, which we believe in our own analysis is the most relevant framework for assessing alignment. This is also reflected in just 1% of companies measuring their performance against SDG targets.
We will continue to push as active investors through our engagement activity to highlight the need for greater granularity on specific targets and a focus on material contributions rather than high-level alignment. The overall push towards the SDGs as a framework, however, does show that corporates understand and are supportive of the need for a more holistic framework to describe their wider stakeholder contributions.
Despite this progress, work remains to be done both in the implementation of the science-based target initiatives and in driving investment towards solutions to SDGs. In areas such as climate change mitigation, transport infrastructure and health for example there remains an estimated US$2.5 trillion investment gap to achieve the UN SDGs as a whole.11
Where progress has been more challenged
There have also been some areas where progress has been stalled and, in some cases, reversed during the pandemic.
Despite increasing awareness of diversity and growing academic evidence of its benefits in a business context, real progress here has been painfully slow. Well-known regulations and initiatives (including the Hampton Alexander and Parker reviews in the UK, the mandated one female board member for publicly listed companies in California and the global 30% Club) have raised minimum standards on board diversity, but in our view these remain imperfect ways to structurally improve diversity. The best route in our view to enabling a substantive and economically powerful focus on diversity is to embrace this throughout an organisation and in a holistic fashion.
Economic dislocation related to COVID has, if anything, made solving diversity challenges more difficult. There is strong evidence that women, in particular, have been negatively impacted by the current economic environment. Women – especially women of colour – are more likely to have been laid off or furloughed during the COVID-19 crisis12 and a recent report by McKinsey adroitly summarises the impact that many working mothers have faced:
'Working mothers have always worked a "double shift" – a full day of work, followed by hours spent caring for children and doing household labour. Now the supports that made this possible – including school and childcare – have been upended. As a result of these dynamics, more than one in four women are contemplating what many would have considered unthinkable just six months ago: downshifting their careers or leaving the workforce completely.' 13
This has a knock-on effect in that it becomes harder to drive long-term improvements in diversity across an organisation that cannot retain talent within its workforce. This is reflected in a lack of substantial progress in corporates from a diversity perspective with not enough being done to encourage diversity through an organisation all the way to the C-suite. While the data here is from the US, it is emblematic of a wider issue of fostering and encouraging diversity and development within the workplace.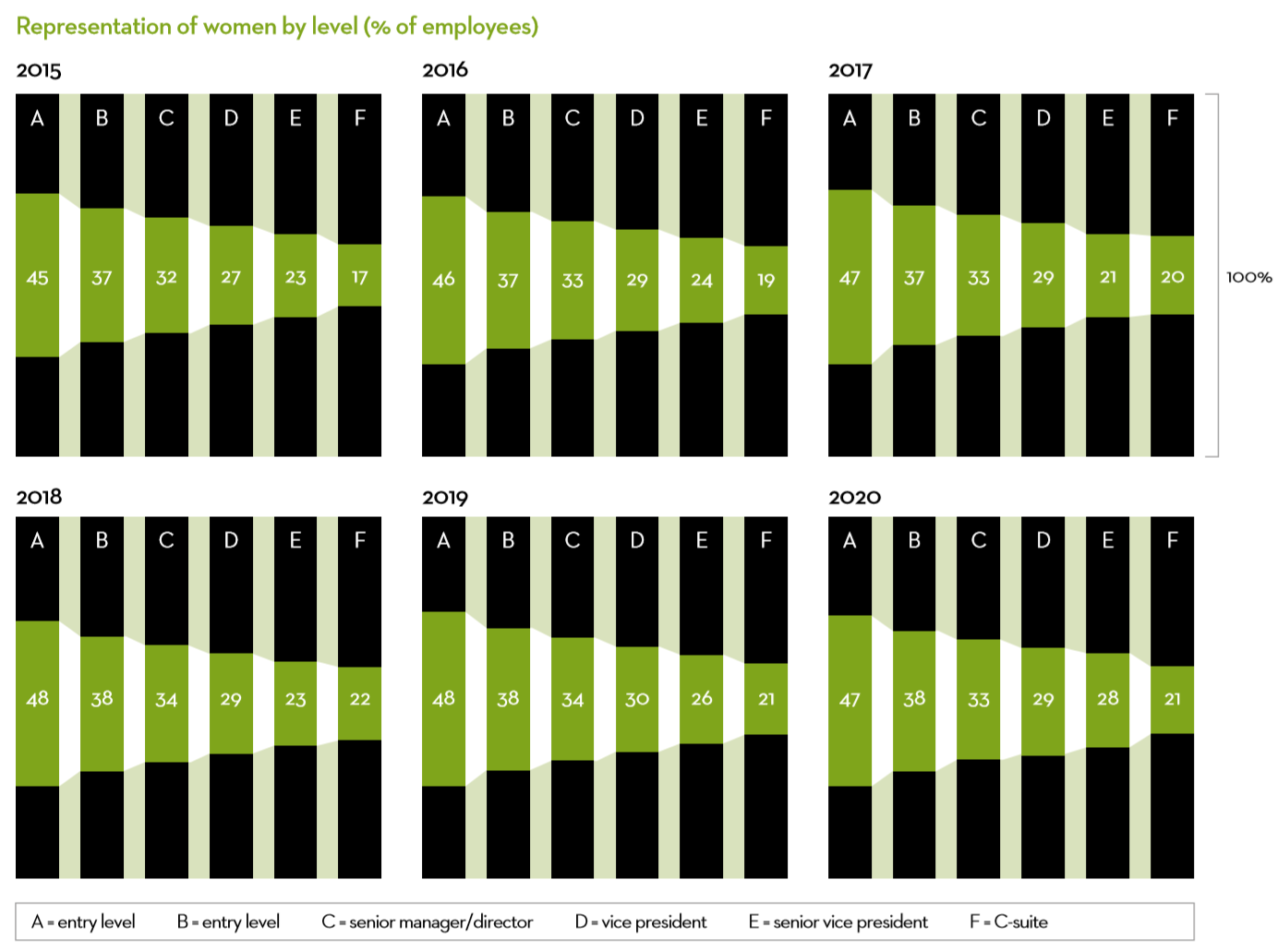 Source: McKinsey. Women in the Workplace 2020 https://www.mckinsey.com/featured-insights/diversity-and-inclusion/women-in-the-workplace
Our response
Our response to this has been to become much more proactive and structured in our engagements to understand how diversity is being embedded at a board level, but also within the executive management team.
In addition, we want to find out how our investee companies are attempting to sustainably solve these challenges by fostering an environment that encourages diversity, rather than entrenching existing structures. This is one area where we will be closely monitoring the progress of our investments over time.
In general, following the evidence we have collected during the pandemic, our response has been to focus more systematically on the social elements of our ESG analysis and engagement. For example, this has taken the form of assessing exploitation risk with a specific focus on modern slavery. This will be followed up with other projects developing an active dialogue with our investee companies on areas such as diversity where the momentum of action has not matched higher-profile areas such as climate change.
We have, however, also not forgotten that shareholders also remain key stakeholders. It has been important through the course of this year to help companies also understand the dependence that some investors (notably retirees) have on dividend income. Reflecting this, we engaged with a number of companies in Australia to ensure this was factored into the decisions they made.
The future
Based on the evidence we have examined this year, specifically in relation to positive corporate action during the crisis we believe there has been an increasing adoption of the stakeholder model.
It is clear that COVID has been a catalytic event in terms of reinforcing the benefits of a focus on corporate purpose, business resilience and greater alignment to the SDGs. The future of the stakeholder model is promising, but much remains to be done. Diversity remains a lagging area and the environmental challenges will require concerted and sustained action.
We aim to be part of that process through active engagement focused on helping facilitate strong behaviours and advocating for continued progress in key areas. For us, our fiduciary duty encompasses a much wider set of responsibilities. It requires aligning our clients' capital with the kind of corporate behaviours that will create long-term sustainable value by considering the welfare of multiple stakeholders, and not just maximising short-term shareholder value: a belief which is also aligned to our overall purpose as a business of 'Investing to Improve Lives'.
---
1Source: Milton Friedman. Capitalism and Freedom: The University of Chicago Press, 1962
2Source: Business Roundtable Statement – June 2019: https://opportunity.businessroundtable.org/ourcommitmen/
3Source: Martin Currie Stewardship Report 2020 - https://www.martincurrie.com/__data/assets/pdf_file/0024/6396/StewardshipAR2020.pdf
4Source: Morgan Stanley Covid Tracker. June 2020.
5Source: Jean-Paul Agon, Chairman & CEO of L'Oreal: Q4 2019 Earnings Conference Call.
6United Nations, Department of Economic and Social Affairs,
7Source: Edelman Trust Barometer and Edelman: May 2020; https://www.edelman.com/research/trust-2020-spring-update
8Source: Science Based Targets: Raising The Bar – December 2019 https://sciencebasedtargets.org/wp-content/uploads/2019/12/SBTi-Progress-Report-2019-FINAL-v1.2.pdf
9Source: Science Based Targets: https://sciencebasedtargets.org/companies-taking-action/
10Source: PWC: Creating a strategy for a better world https://www.pwc.com/gx/en/sustainability/SDG/sdg-2019.pdf
11Source: UNCTAD SDG Investment Trends Monitor: https://unctad.org/en/PublicationsLibrary/diaemisc2019d4_en.pdf
12Source: McKinsey & Company. COVID-19 and gender equality: Countering the regressive effects. https://www.mckinsey.com/featured-insights/future-of-work/covid-19-and-gender-equality-countering-the-regressive-effects#
13Source: McKinsey. Women in the Workplace 2020 https://www.mckinsey.com/featured-insights/diversity-and-inclusion/women-in-the-workplace
---
Regulatory information and risk warnings
This information is issued and approved by Martin Currie Investment Management Limited ('MCIM'). It does not constitute investment advice. Market and currency movements may cause the capital value of shares, and the income from them, to fall as well as rise and you may get back less than you invested.
The information contained in this document has been compiled with considerable care to ensure its accuracy. But no representation or warranty, express or implied, is made to its accuracy or completeness.
This document is intended only for a wholesale, institutional or otherwise professional audience. Martin Currie Investment Management Limited does not intend for this document to be issued to any other audience and it should not be made available to any person who does not meet this criteria. Martin Currie accepts no responsibility for dissemination of this document to a person who does not fit this criteria.
The document does not form the basis of, nor should it be relied upon in connection with, any subsequent contract or agreement. It does not constitute, and may not be used for the purpose of, an offer or invitation to subscribe for or otherwise acquire shares in any of the products mentioned.
The views expressed are opinions of the portfolio managers as of the date of this document and are subject to change based on market and other conditions and may differ from other portfolio managers or of the firm as a whole. These opinions are not intended to be a forecast of future events, research, a guarantee of future results or investment advice.
The information provided should not be considered a recommendation to purchase or sell any particular security. It should not be assumed that any of the security transactions discussed here were or will prove to be profitable.
Past performance is not a guide to future returns.
For institutional investors in the USA:
The information contained within this presentation is for Institutional Investors only who meet the definition of Accredited Investor as defined in Rule 501 of the United States Securities Act of 1933, as amended ('The 1933 Act') and the definition of Qualified Purchasers as defined in section 2 (a) (51) (A) of the United States Investment Company Act of 1940, as amended ('the 1940 Act'). It is not for intended for use by members of the general public.
For wholesale investors in Australia:
This material is provided on the basis that you are a wholesale client within the definition of ASIC Class Order 03/1099. MCIM is authorised and regulated by the FCA under UK laws, which differ from Australian laws.