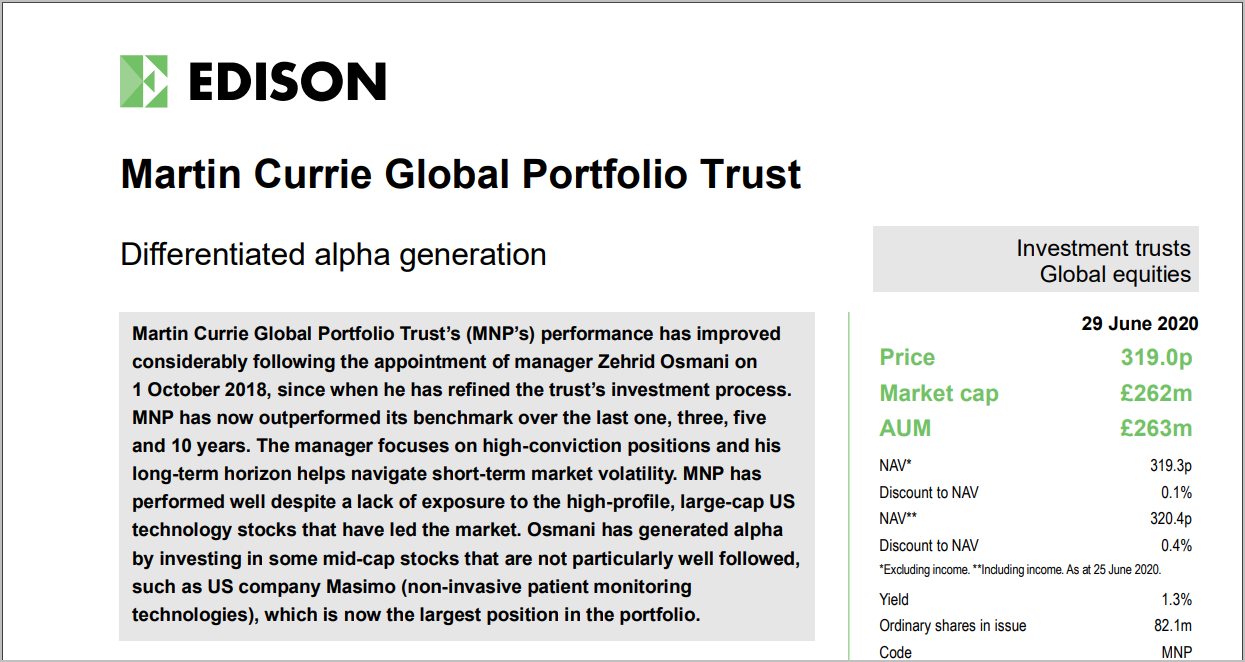 Read Edison's in-depth research note to understand their views and opinions of the company.
This research note has been commissioned by Martin Currie Global Portfolio Trust from the Edison Group. The research note does not constitute independent research for the purpose of legal and regulatory requirements and is therefore not subject to the regulatory protections afforded to independent research. In particular, the research note is not subject to any prohibition on dealing and both The Edison Group and Martin Currie, and their respective staff, may have dealt in the securities discussed in the research note.
Click below to go to the Edison research website, a third-party site.
---
Regulatory information and risk warnings
This information is issued and approved by Martin Currie Investment Management Limited ('MCIM'). It does not constitute investment advice.
Past performance is not a guide to future returns. The return may increase or decrease as a result of fluctuations in the markets, in currency and/or in the portfolio.
Full details of the investment trust can be found at: Martin Currie Global Portfolio Trust literature library.
The analysis of Environmental, Social and Governance (ESG) factors form an important part of the investment process and helps inform investment decisions. The investment strategy of the investment trust does not necessarily target particular sustainability outcomes.
Market and currency movements may cause the capital value of shares, and the income from them, to fall as well as rise and you may get back less than you invested.
The opinions contained in this document are those of the named manager(s). They may not necessarily represent the views of other Martin Currie managers, strategies or funds.
The information provided should not be considered a recommendation to purchase or sell any particular security. It should not be assumed that any of the security transactions discussed here were or will prove to be profitable.