The pandemic crisis has accelerated the shift from traditional financial services towards online channels, with a faster emergence of digital competition unencumbered by legacy networks

The disruption rate has increased, leading to a reshaping of the financial landscape

Opportunities for financial software providers helping legacy financial institutions make the digital shift to online channels

Insurance companies have the opportunity to leverage technology and data to help them mitigate risks more efficiently, but is also bringing the threat of pricing pressure

Distributed ledger technology is a nascent trend that is likely to benefit in the postpandemic world, with applications in crypto-currency but also settlement

Regulatory scrutiny will remain elevated in the sector, and is likely to continue to progress in relation to the distributed ledger technology in particular
Medium-Term opportunities in a post-pandemic world
In this series we look at the structural growth trends that have emerged and how they are captured in our thematic mega-trend framework.
The transformation of the financial sector already being disrupted by the emergence of new business models supported by technological innovation has been accelerated by the pandemic. In fact, the measures taken to fight the spread of COVID-19 have hastened the demise of traditional pillars such as branch-based banking and the use of cash in day-to-day transactions. Having discovered and embraced the advantages of online channels and digital payments, customers are not expected to revert to their old ways after the pandemic.
Coronavirus may have hastened the decline of cash use and further accelerated online and contactless shopping
Monthly transaction volumes in Link ATMs in the UK (in millions)
Change in sales volume ($) compared to 2-8 March baseline by week and payment type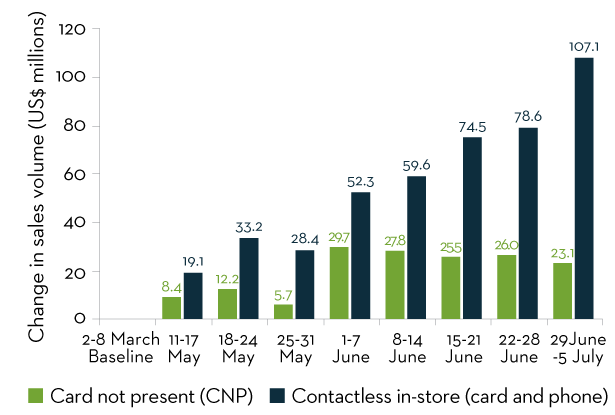 Source: Statista and Link ATM Network 9 February 2021 and CardFlight Small Business Impact report, 9 July 2020.
Therefore, we see strong growth ahead for those players that are leading the reshaping of the financial sector and that have a sustainable business model – the latter point being important given that a lot of the disruptors have yet to demonstrate clarity over their long-term strategy and a clear path to profitability. We also note that, as a result of the pandemic, incumbents such as traditional retail banks will have to increase their pace of restructuring, investing heavily in technology to ensure they can remain relevant in the new normal – as such, this will be a strong tailwind for companies providing the solutions that the disrupted players urgently need, such as cloud-native core software.
Despite the current acceleration, it is important to stress that innovation in the financial sector is still in the early innings – two emerging trends that have the power to reshape the sector are distributed ledger technologies (DLTs) and the transition of insurance companies from payers to partners.
The former is more commonly associated with crypto currencies, which provide a novel tool for payments that may revolutionise the industry but is only just starting to gain mainstream acceptance and is facing high regulatory hurdles; we also see strong – and less controversial – impact from DLT in other areas of finance that have lagged on innovation, such as securities settlement.
The latter trend sees insurers supplementing their 'payer' role – i.e. liquidating claims as they arise – with those of 'partners' and 'preventers' by leveraging technology, data and ongoing contact with their customers to help them identifying and mitigating risks more effectively, leading to better outcomes for all players. The insurance companies leading on this front will be able to increase customer satisfaction and then improve their market share and profitability at the same time. Such insurers have emerged more strongly in the health/life space, but are increasingly appearing in the Property & Casualty (P&C) space as well.
Our Long-Term Unconstrained strategies
Important information
The information provided should not be considered a recommendation to purchase or sell any particular security. It should not be assumed that any of the securities discussed here were, or will prove to be, profitable.
This information is issued and approved by Martin Currie Investment Management Limited ('MCIM'), authorised and regulated by the Financial Conduct Authority. It does not constitute investment advice. Market and currency movements may cause the capital value of shares, and the income from them, to fall as well as rise and you may get back less than you invested.
The information contained in this document has been compiled with considerable care to ensure its accuracy. However, no representation or warranty, express or implied, is made to its accuracy or completeness. Martin Currie has procured any research or analysis contained in this document for its own use. It is provided to you only incidentally and any opinions expressed are subject to change without notice.
This document is intended only for a wholesale, institutional or otherwise professional audience. Martin Currie Investment Management Limited does not intend for this document to be issued to any other audience and it should not be made available to any person who does not meet this criteria. Martin Currie accepts no responsibility for dissemination of this document to a person who does not fit this criteria.
The document does not form the basis of, nor should it be relied upon in connection with, any subsequent contract or agreement. It does not constitute, and may not be used for the purpose of, an offer or invitation to subscribe for or otherwise acquire shares in any of the products mentioned.
Past performance is not a guide to future returns.