Urgent action on climate change must be on the agenda for the UN Climate Change Conference (COP26) in Glasgow.
COP26 is taking place in November, and in the run up, governments and companies around the world have been stepping up commitments to combat global warming.
If COP26 is to be considered a success, then we need more specific action and a greater sense of urgency not just from governments, but also from companies and investors, that results in a tangible shift to the decarbonisation pathway of the wider economy.
We want to see COP26 set up a climate for real change, commitment and action from all players. In the following paper from the Martin Currie Stewardship Institute, we set out what we want to see delivered by these stakeholders.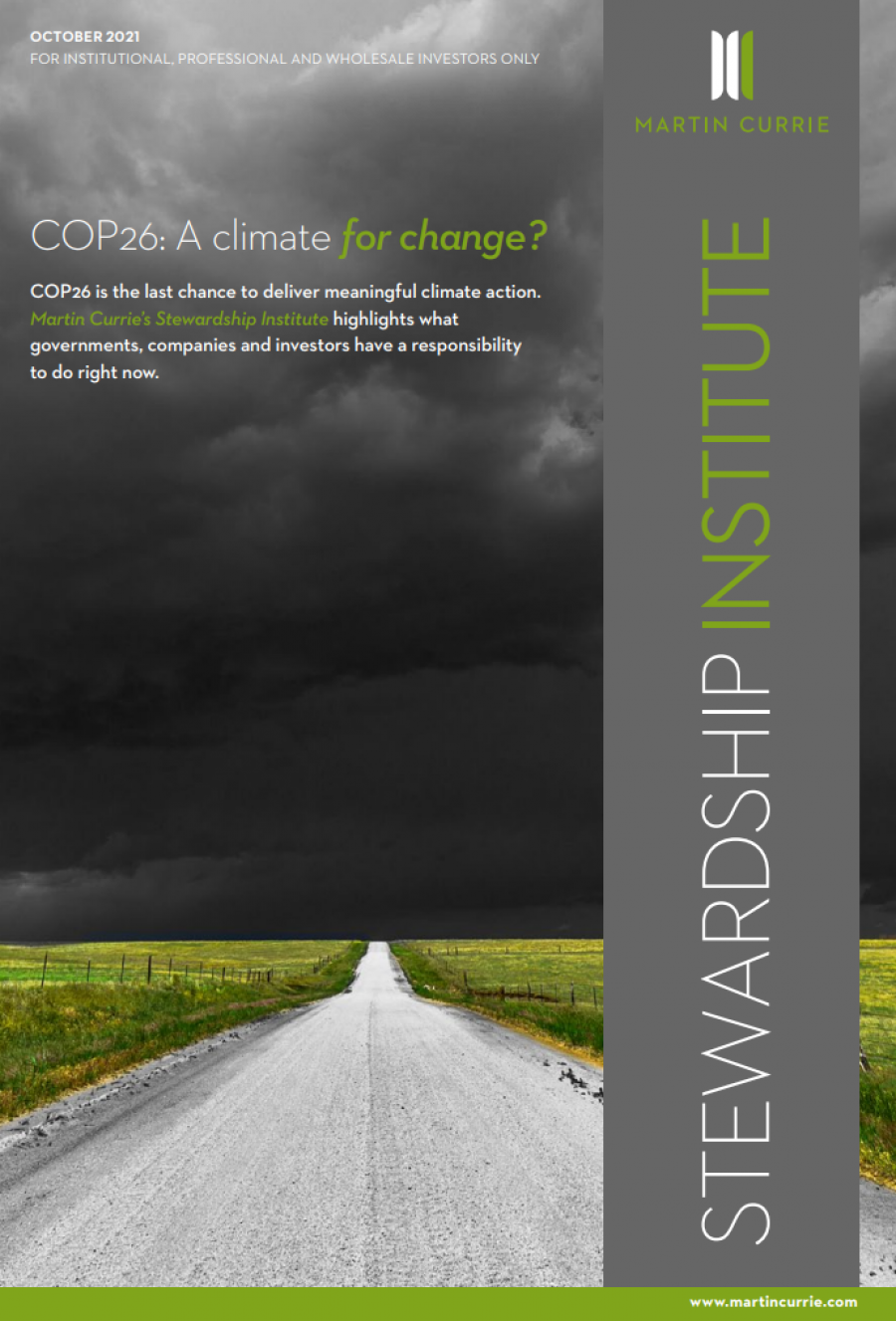 The evidence is clear – the collective response to the climate crisis has been inadequate and forceful action needs to be taken now.
---
Regulatory information and risk warnings
This information is issued and approved by Martin Currie Investment Management Limited ('MCIM'), authorised and regulated by the Financial Conduct Authority. It does not constitute investment advice. Market and currency movements may cause the capital value of shares, and the income from them, to fall as well as rise and you may get back less than you invested.
The information contained in this document has been compiled with considerable care to ensure its accuracy. However, no representation or warranty, express or implied, is made to its accuracy or completeness. Martin Currie has procured any research or analysis contained in this document for its own use. It is provided to you only incidentally and any opinions expressed are subject to change without notice.
The document does not form the basis of, nor should it be relied upon in connection with, any subsequent contract or agreement. It does not constitute, and may not be used for the purpose of, an offer or invitation to subscribe for or otherwise acquire shares in any of the products mentioned.
Past performance is not a guide to future returns.
The views expressed are opinions of the portfolio managers as of the date of this document and are subject to change based on market and other conditions and may differ from other portfolio managers or of the firm as a whole. These opinions are not intended to be a forecast of future events, research, a guarantee of future results or investment advice.
Please note the information within this report has been produced internally using unaudited data and has not been
The analysis of Environmental, Social and Governance (ESG) factors forms an important part of the investment process and helps inform investment decisions. The strategy/ies do not necessarily target particular sustainability outcomes.