Martin Currie has been a leader in all aspects of stewardship and sustainability since 2009, when we became an early signatory to the UN-supported Principles for Responsible Investment (PRI).
We are pleased to announce that under the PRI's new Reporting Framework for 2021, Martin Currie has received a 5-star rating for both Investment & Stewardship Policy and Incorporation (for Direct - Listed equity - Active fundamental), and a 4-star rating for Voting (Direct - Listed equity - Active fundamental).
PRI reporting is the largest global reporting project on responsible investment. It was developed with investors, for investors. Signatories are required to report on their responsible investment activities annually.
Martin Currie's 2021 ratings and rankings versus peers within each relevant module are outlined below: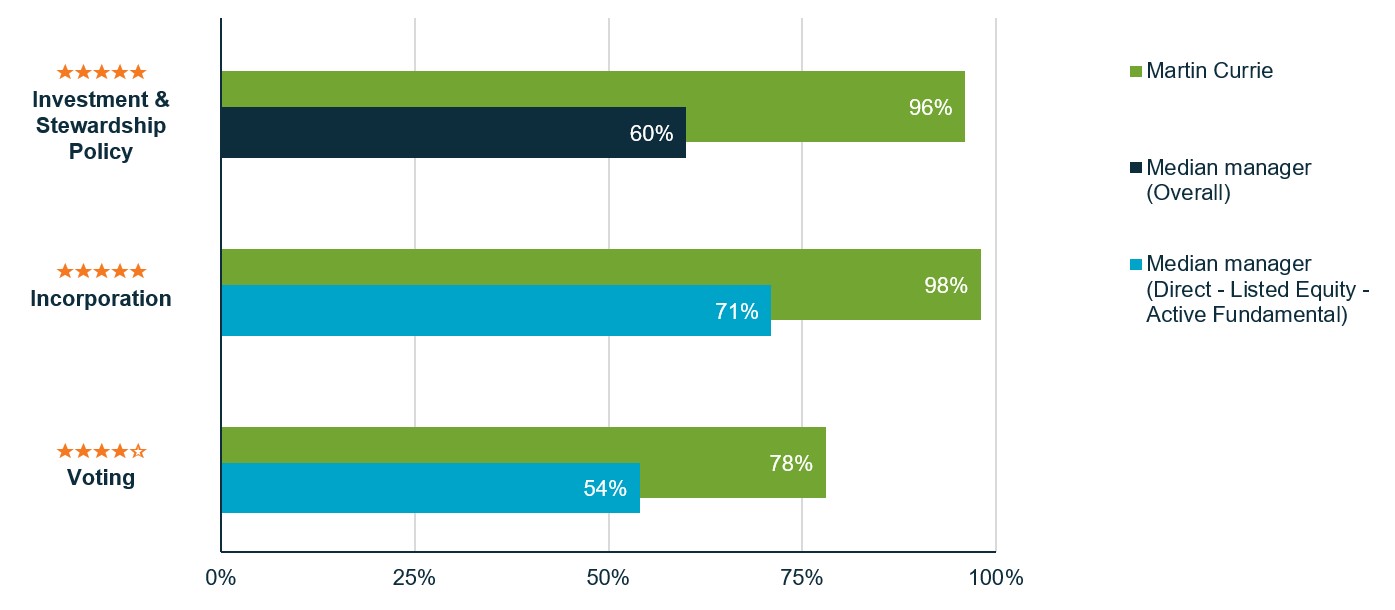 David Sheasby, Head of Stewardship and ESG, said, "Taking in consideration the median results across all reports conducted by the PRI and changes to the assessment framework, Martin Currie's strong ratings and peer rankings results for 2021 confirm our continued leadership and evolving work in this area."
"At Martin Currie, stewardship is at the heart of our client proposition. To us, ESG impacts and sustainable financial returns are fundamentally intertwined. Understanding our clients' needs and priorities and aligning these, through active ownership, with the companies that can create long-term, sustainable value."
"We have made significant advancement in our ESG capabilities over the past few years, with the development of tools such as Carbon Value-at-Risk, modern slavery assessments and SDG mapping. We are constantly looking at new ways to improve. For example, we are currently in the process of developing our reporting to support clients in their Net Zero ambitions."
Under the new Reporting Framework for 2021, the PRI introduced accountability measures around the accurate representation of PRI Assessment Reports, with the aim of improving transparency and accuracy of representation of the scores. The three previous assessment pillars, of Strategy & Governance, Incorporation and Active Ownership, were also amended to bring a specific focus towards voting.
The 2021 scoring methodology has changed to reflect the new Reporting Framework and has moved away from the letter ratings to star ratings from 1 to 5 stars (with 5 being strong) and scores. The new ratings are therefore incomparable with scores from previous PRI years.
Martin Currie was previously awarded the highest possible ratings by PRI across Strategy & Governance, Incorporation and Active Ownership activity for the years 2016, 2017, 2018, 2019.
Copies of Martin Currie's 2021 Assessment Report and Transparency Report are available on our website.
---
Regulatory information and risk warnings
This information is issued and approved by Martin Currie Investment Management Limited ('MCIM'), authorised and regulated by the Financial Conduct Authority. It does not constitute investment advice. Market and currency movements may cause the capital value of shares, and the income from them, to fall as well as rise and you may get back less than you invested.
The information contained in this document has been compiled with considerable care to ensure its accuracy. However, no representation or warranty, express or implied, is made to its accuracy or completeness. Martin Currie has procured any research or analysis contained in this document for its own use. It is provided to you only incidentally and any opinions expressed are subject to change without notice.
The document does not form the basis of, nor should it be relied upon in connection with, any subsequent contract or agreement. It does not constitute, and may not be used for the purpose of, an offer or invitation to subscribe for or otherwise acquire shares in any of the products mentioned.
Past performance is not a guide to future returns.
The distribution of specific products is restricted in certain jurisdictions, investors should be aware of these restrictions before requesting further specific information.
The views expressed are opinions of the portfolio managers as of the date of this document and are subject to change based on market and other conditions and may differ from other portfolio managers or of the firm as a whole. These opinions are not intended to be a forecast of future events, research, a guarantee of future results or investment advice.
The information provided should not be considered a recommendation to purchase or sell any particular strategy / fund / security. It should not be assumed that any of the security transactions discussed here were or will prove to be profitable.
The analysis of Environmental, Social and Governance (ESG) factors forms an important part of the investment process and helps inform investment decisions. The strategy/ies do not necessarily target particular sustainability outcomes.
Martin Currie Investment Management Limited, registered in Scotland (no SC066107) Martin Currie Inc, incorporated in New York and having a UK branch registered in Scotland (no SF000300), Saltire Court, 20 Castle Terrace, Edinburgh EH1 2ES Tel: (44) 131 229 5252 Fax: (44) 131 222 2532 www.martincurrie.com. Both companies are authorised and regulated by the Financial Conduct Authority. Martin Currie Inc, 620 Eighth Avenue, 49th Floor New York, NY 10018 is also registered with the Securities Exchange Commission. Please note that calls to the above number and any other communications may be recorded.